Krispy Kreme - American Pie Collection Reese's Peanut Butter Pie
Morning Donut Fans!
It's been ages since I last logged on and wrote about Krispy Kreme donuts. I was going to start by telling you all about some of the Halloween donuts, then I realised I hadn't finished off with the American Pie ones… 'Duh!!' Well thankfully it's not hard to forget about Krispy Kreme special donuts. So here it is…. another one off the list. Reese's Peanut Butter Pie!!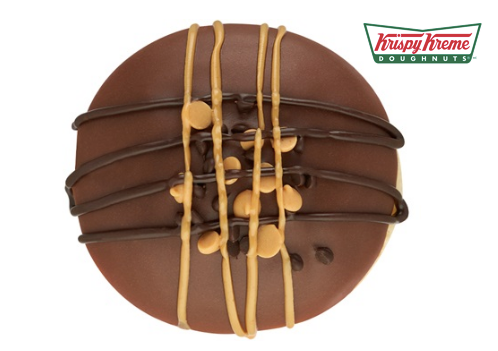 Reese's Peanut Butter Pie
"Nutty Reese's kreme filling, hand dipped in chocolate icing and topped with Reese's peanut butter chips and decoration."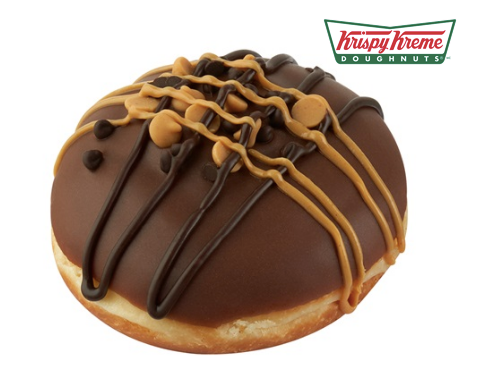 I do love peanut butter and chocolate, so I was really happy that this one made it into Krispy Kreme's American Pie collection. Let's face it, it just wouldn't be American without the combination of peanut butter and chocolate would it? This donut is perfectly round with a gorgeous chocolate flavour icing. Really like the drizzle of chocolate and peanut butter icing over the top too. Plus, those little chips of chocolate and peanut butter… Mmm… Those chips add a really nice bite when you take a mouthful of this donut. The centre was oozing with peanut kreme. It was so fluffy and tasty. Love the flavour of the peanut kreme mixed with the chocolate icing on top. A very delicious donut.
Peanut butter and chocolate is always a winner in my eyes, especially when it is paired with a Krispy Kreme donut. You just can't go wrong with the flavours. That sweet and salty combo… my favourite! Krispy Kreme do keep the Reese's peanut butter around quite a lot. As mentioned, I really love this donut… what I would like to see is Reese's peanut butter with jam next. We have had this one before and it's been at leat a year, maybe longer since Krispy Kreme boring out the donut. Really do miss it. Please bring it back!!!
Next on the agenda is Krispy Kreme's Halloween collection!! Woo!!!
KRISPY KREME AMERICAN PIE COLLECTION
Maple Pecan Pie
Cherry Pie
Banana Kreme Pie
Krispy Kreme - Original Filled Salted Caramel
Krispy Kreme - Original Filled Nutty Chocolatta
Krispy Kreme - Mother's Day Donuts
KRISPY KREME EASTER COLLECTION
Lemon Glazed Ring
Lemon Chick
Easter Egg
Bunny Bum
KRISPY KREME CHRISTMAS COLLECTION
Winter Berry
Rudolph
Merry Sparkle
KRISPY KREME HALLOWEEN COLLECTION
Spooky Sprinkles
Vimto Ring
Jack-O-Lantern
Vimto Shimmer
Frankie Frankestein