Mini Strawberry Sprinkles
Morning All,
Krispy Kreme released a box of six mini donuts. Took me ages to get out of mu comfort zone with their main donuts, but I knew at some point, I would have to get a box of these baby donuts. The box contains three different flavours and you get two of each donut. The first one I am going to tell you about it the Mini Strawberry Sprinkles.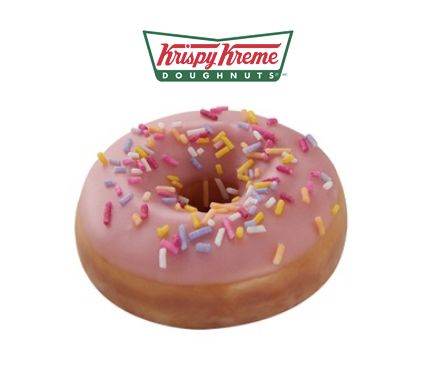 Mini Strawberry Sprinkles
Mini Strawberry Sprinkles, big on taste, mini in size!"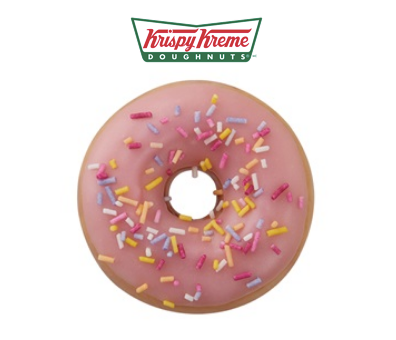 Ok, so here goes. My first experience of one of Krispy Kreme's mini donuts, the Strawberry Sprinkles. When they say mini, they really are mini! They are about the size of a tangerine, just not as wide as a tangerine! Haha! The donut first appears to be a miniature Signature ring with a strawberry pink icing with hundreds and thousands. When I bite the donut, I didn't get the background taste of the Signature ring that I was expecting. I also thought the strawberry icing was going to taste similar to their Strawberries and Kreme donut. It didn't taste anything of the sort. What I did get was more of a strawberry milkshake flavour. It wasn't horrible, but at the same time it wasn't what I would call nice. It tasted more like a fake strawberry flavoured white chocolate rounds that you could by from the sweet shop for a few pence! The hundreds and thousands made this donut overly sweet and I have a sweet tooth!
I was really looking forward to try this donut, but I was left feeling deflate. If you like strawberry milkshake, then this donut is for you. It didn't sing to my tastebuds though and there were two of these I had to get through. I would say this was probably aimed at people or kids with an unsophisticated palate, unlike myself who has the palate of a super taster.
Two more minis to go! What will be next? Will it taste much better??
Krispy Kreme - Pudsey Doughnut
Krispy Kreme - Limited Edition KitKat
KRISPY KREME DUO'S
Praline Chocolate Cheesecake DUOGHNUT
Double Chocolate DUOGHNUT
KRISPY KREME CHRISTMAS COLLECTION 2019
Festive Cherry Sparkle
Speculoos Shimmer
White Chocolate Shimmer
Poppy Penguin
Rudolph the Reindeer
KRISPY KREME HALLOWEEN COLLECTION - 2019
Jack o' Lantern
Toffee Apple
Sid the Slime Monster
KRISPY KREME AMERICAN PIE COLLECTION
Reese's Peanut Butter Pie
Maple Pecan Pie
Cherry Pie
Banana Kreme Pie
Krispy Kreme - Original Filled Salted Caramel
Krispy Kreme - Original Filled Nutty Chocolatta
Krispy Kreme - Mother's Day Donuts
KRISPY KREME EASTER COLLECTION
Lemon Glazed Ring
Lemon Chick
Easter Egg
Bunny Bum
KRISPY KREME CHRISTMAS COLLECTION
Winter Berry
Rudolph
Merry Sparkle
KRISPY KREME HALLOWEEN COLLECTION
Spooky Sprinkles
Vimto Ring
Jack-O-Lantern
Vimto Shimmer
Frankie Frankestein