Krispy Kreme Halloween Collection 2019 - Sid the Slime Monster
More donuts for you! Yes, you!
Back on it telling you all my thoughts on Krispy Kreme's donuts. Yes I have been away for months, but I still can't get enough of their bad boys. I wish they would stop bringing them out so often though… I don't think my waistline can take it anymore let alone my bank account! I am really looking forward to tell you what I think of this years Halloween donuts. I am going to start off with Sid. Meet Sid…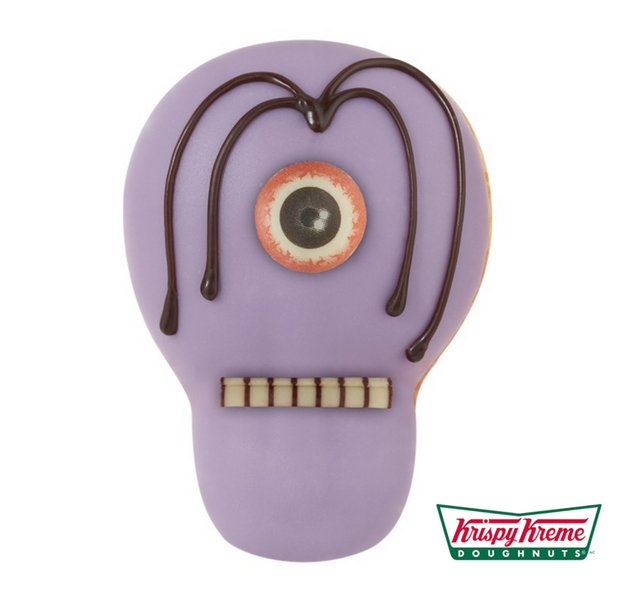 Sid the Slime Monster
"A gruesome one eyed monster oozing with fruity slime, a tasty mix of raspberry and blackcurrant! Take a bite if you dare!."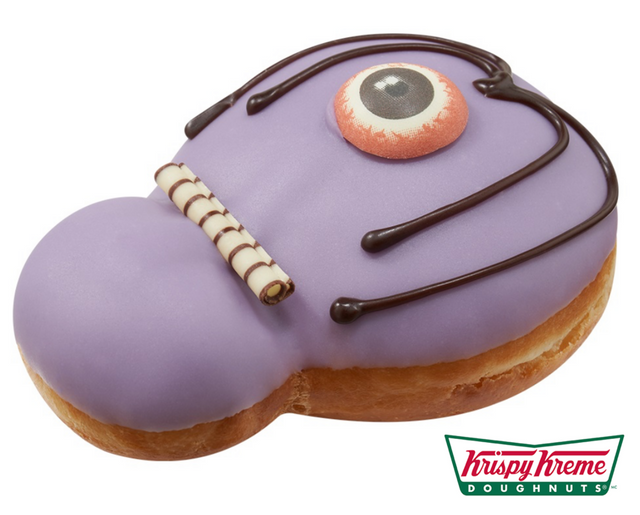 When I saw this donut, I loved the look of Sid. Krispy Kreme haven't done a monster shaped like this one before. Definitely reminds me of a cross between a monster and a skull. The one eye is really spooky though, even if I do say so myself. And those teeth!! Well I have to say this one is a very delicious monster indeed! Nothing spooky about him at all! Haha. Looks scary on the outside, but is sweet on the inside. The jam in the centre was extremely fruity. I was half expecting not to like this one at all. I'm not a fan of blackcurrant but I do love raspberry. The jam was a nice consistency, Not too thick and not too runny. Just right! There were no bits in the jam either. Just nice and smooth… how I like it. It tasted divine! Really what I wasn't expecting. The sweet flavour of the raspberry and the tart flavour of the blackcurrant was a match made in heaven.
I can't tell you how good this donut tasted. I put it off right up until the day before Halloween before I got some Halloween donuts. I wish I got them sooner! I really wasn't looking forward to trying Sid. But he was soooooo tasty!! I did buy 2 boxes of three donuts so I could double up on the donuts. The only thing is, I wish I doubled up on Sid. Being the one I was least looking forward to, turned out to be one of my favourites for sure! I hope he makes a surprise appearance… but somehow I think there's more change of a snowball in hell instead. Krispy Kreme… can you make this flavour again please!!! Very very soon If I had my way… wink wink
Oooooh…. I wonder what scary donut will be next… keep your eyes peeled!
KRISPY KREME AMERICAN PIE COLLECTION
Reese's Peanut Butter Pie
Maple Pecan Pie
Cherry Pie
Banana Kreme Pie
Krispy Kreme - Original Filled Salted Caramel
Krispy Kreme - Original Filled Nutty Chocolatta
Krispy Kreme - Mother's Day Donuts
KRISPY KREME EASTER COLLECTION
Lemon Glazed Ring
Lemon Chick
Easter Egg
Bunny Bum
KRISPY KREME CHRISTMAS COLLECTION
Winter Berry
Rudolph
Merry Sparkle
KRISPY KREME HALLOWEEN COLLECTION
Spooky Sprinkles
Vimto Ring
Jack-O-Lantern
Vimto Shimmer
Frankie Frankestein