Krispy Kreme - Mother's Day Donuts
Hi Steemit!
Another day, another donut! My regular follows will know what an avid Krispy Kreme fan I am. I am still trying to post about all the donuts I have had the pleasure of eating. Slowly slowly I am catching up. Today I bring to you Krispy Kreme's Mother's Day Collection. This lot came out way back in March… thankfully I kept a picture to remind myself of these babies…. were they delicious? Read on to find out more!
Mother's Day Donuts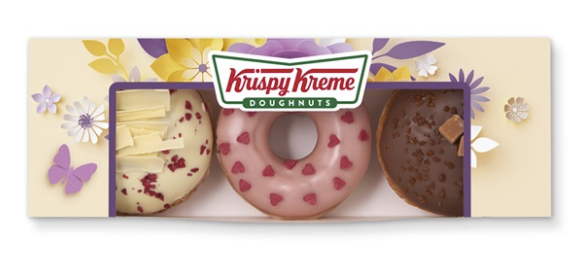 Raspberry White Chocolate
"White chocolate kreme & raspberry filling, with white chocolate shavings and berry bits."
This was definitely my favourite. The donut was really spongy and it was filled with a delicious kreme and raspberry filling. The filling was so fruity and it was a nice contrast to the kreme that was on the inside too. The white chocolate on top was really creamy and I loved the little dried raspberry bits on top. A really yummy donut and not too sweet either.
Mother's Day Ring
"Krispy Kreme's Signature Ring doughnut hand dipped in strawberry flavoured icing and decorated with heart sprinkles."
I wasn't overly impressed with the Mother's day ring.I do love a Signature ring donut, but the icing on this tasted just like a fake strawberry milkshake. The hearts were very hard too. Too much crunch if you ask me… I nearly broke my tooth! I've had much better strawberry flavoured donuts… this was definitely at the bottom of the pile.
Thorntons Doughnut
"Filled with smooth toffee sauce, hand decorated with Thorntons toffee pieces and vanilla fudge cubes."
You can't have Mother's day without a bit of chocolate. I really enjoyed this donut. Krispy Kreme have brought this one out before, so I knew what to expect. First of all I pick off the fudge cube and chew it. I don't normally like fudge, but this one was really tasty. The chocolate on top was nice and rich and full of a good chocolatey flavour… well you wouldn't expect anything else being Thorntons chocolate. I really liked the oozing toffee sauce. When I bit into this donut, a big dribble of sauce landed on my lip! I was in a bit of a mess… but I didn't care because this was a great tasting donut! I'm pretty sure this one will show its face again sometime in the future. You can't go wrong with chocolate and toffee, can you?!
It was nice to see Krispy Kreme bring out a collection of new donuts for Mother's Day. Last year they did a Mother's Day box but it was full of donuts you could get off the shelf anyway, so it didn't seem at all special. I was happy overall with the box that I was given this year. I just with a little bit more thought and flavour went into the Mother's Day ring. It was such a let down because it looked so pretty… thankfully the other donuts made up for it! Do keep an eye out for some more donuts… I have loads to get through!
KRISPY KREME EASTER COLLECTION
Lemon Glazed Ring
Lemon Chick
Easter Egg
Bunny Bum
KRISPY KREME CHRISTMAS COLLECTION
Winter Berry
Rudolph
Merry Sparkle
KRISPY KREME HALLOWEEN COLLECTION
Spooky Sprinkles
Vimto Ring
Jack-O-Lantern
Vimto Shimmer
Frankie Frankestein
KRISPY KREME CARAMEL SELECTION
Caramel Glazed