Krispy Kreme Halloween Collection - Spooky Sprinkles
Good afternoon Krispy Kreme Friends,
Can you believe I'm still writing about the Krispy Kreme Halloween donuts from last year! I mean October was 3 months ago. Believe it or not, I still can remember my experience and taste of these Krispy Kreme feinds. Here it is, the final one of the Krispy Kreme Halloween collection.
Spooky Sprinkles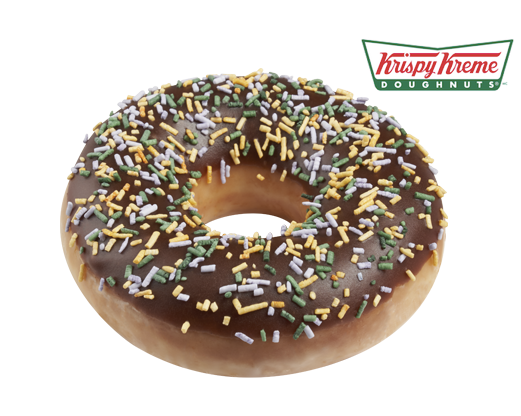 "Krispy Kreme's signature ring doughnut, hand decorated with chocolate icing and Halloween sprinkles."
Ok, this one wasn't going to be too much of a 'shocker' when it comes to Halloween donuts. Basically it's a Krispy Kreme Original Glazed covered in chocolate with sprinkles. It tastes the same as every chocolate sprinkle they have done over the different celebration events over the year. The donut tastes good, the chocolate tastes good and the sprinkles give a nice texture. This time the sprinkles are white, yellow and green. Not too spooky if you ask me. I think it would have looked a lot spookier if the colours were bright purple, neon orange and a neon green.
This donut was my second favourite. That unmistakable Original Glazed donut covered in chocolate and sprinkles, In first place had to be the Jack-O-Lantern. You can't go wrong with a decadent chocolate and orange donut and it really looked the part, but seriously, the other flavours???…. someone really needs their tastebuds testing in the production department. I have never had a donut that I've turned my nose up to because of it's taste. They really were bad. Hopefully they won't be making a re-appearence in 2019!
KRISPY KREME HALLOWEEN COLLECTION
Vimto Ring
Jack-O-Lantern
Vimto Shimmer
Frankie Frankestein
KRISPY KREME CARAMEL SELECTION
Caramel Glazed