Krispy Kreme American Pie Collection - Maple Pecan Pie
Afternoon Krispy Kremers
I'm still cracking on with my reviews of Krispy Kreme's American Pie collection. If you read my previous donut posts, you will see my last two donuts were not up to Krispy Kreme's high standard… well not in my eyes anyway. Have a read of this and see what I think of this one.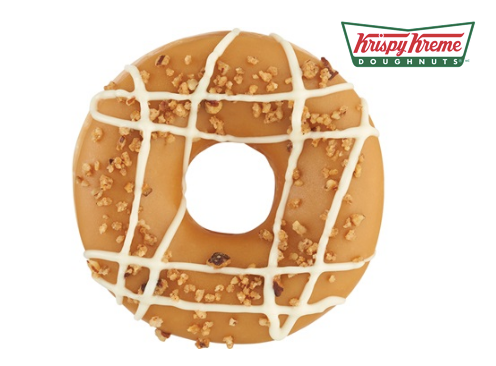 Maple Pecan Pie
"Krispy Kreme's signature ring doughnut, hand dipped in maple icing, sprinkled with crunchy pecan pieces and finished with white chocolate flavour icing."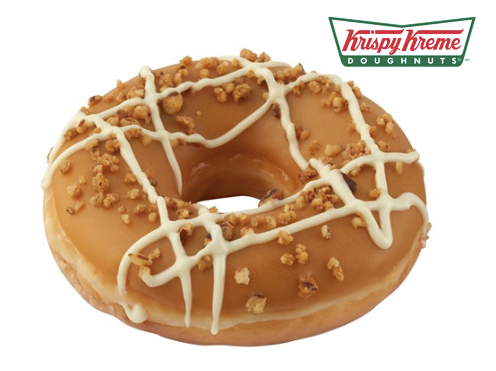 Well well well…. another day, another donut. Today I bring you Maple Pecan Pie. This donut is a Signature Ring. It does look fatter than normal, but I'm not complaining. The donut is fluffy and spongy and its dipped in maple icing. The icing does taste like maple syrup and it's very sweet. I do love the nuts on top. They add to the flavour and remove some of the sweetness of the maple icing. This is a good thing or I would say the donut would end up being overly sweet. I do have a sweet tooth and any sweeter would be far too much, even for me. You can't really taste the white chocolate in the icing. It gets lost amongst the maple and can nut flavour. You definitely need those pecans there too for that added crunch and texture. The icing itself is more for a decorate look as opposed to being an added flavour.
**I have to say so far… this one is up there with one of the best donuts Krispy Kreme have produced. Usually when I buy my donuts, I go for the filled ones. This one was a very good ringed donut. One I would definitely go for again… and maybe I have already!' if you like your maple syrup and you love your nuts, then this one is a sure fire treat for you. Well done Krispy Kreme. I was starting to lose faith in these American donuts… this one as perked me right back up again.
Keep an eye out for future donuts of the American Pie collection… I can't wait to tell you my findings!
KRISPY KREME AMERICAN PIE COLLECTION
Cherry Pie
Banana Kreme Pie
Krispy Kreme - Original Filled Salted Caramel
Krispy Kreme - Original Filled Nutty Chocolatta
Krispy Kreme - Mother's Day Donuts
KRISPY KREME EASTER COLLECTION
Lemon Glazed Ring
Lemon Chick
Easter Egg
Bunny Bum
KRISPY KREME CHRISTMAS COLLECTION
Winter Berry
Rudolph
Merry Sparkle
KRISPY KREME HALLOWEEN COLLECTION
Spooky Sprinkles
Vimto Ring
Jack-O-Lantern
Vimto Shimmer
Frankie Frankestein