Krispy Kreme Halloween Collection - Vimto Shimmer
Hi Sweeties!
Another day, another Halloween donut! After the disgust of Frankie Frankenstein, I knew I had to give another donut a try. Hopefully this one was going to be more enjoyable than the last. I mean, let's face it… It shouldn't be too difficult because the last one was horrid!
Vimto Shimmer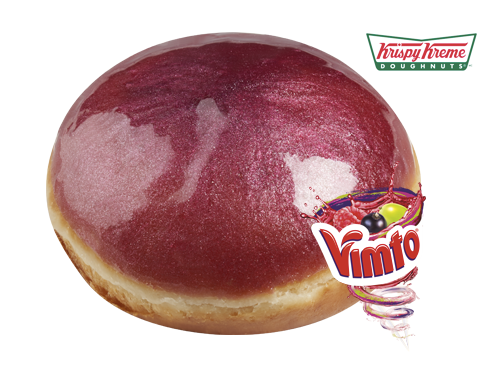 "Made with the secret Vimto flavour, bite into a delicious Vimto flavour frosting."
I have heard of the Vimto fruit flavoured drink, but I have never drank it before. It sounded really nice. I do like fruit flavoured desserts, so this one was singing to me. The donut has a really nice purple shimmer icing. When I first saw the donut, it didn't have any description of what the centre would be, if there was a centre at all. I didn't think Krispy Kreme would do a round donut and not fill it… that's not them. It was nice when I got to the store that they did have a description saying it had a Vimto flavoured filling. Great! I thought. I didn't just want an iced donut. Anyway, when I got home, it was time for me to tuck into this treat. I took my first bite. I got the flavour of the Vimto icing. It was very faint in flavour though. It was a mixed berry flavour… but it was so mild. I even said to my husband that they could have made the flavour stronger… then I got to the middle. The donut had a Vimto kreme filling. This was very strong in flavour. So strong in fact, I don't think it tasted very fruity at all… more chemically! I was disappointed. What are Krispy Kreme doing to me???
I had never not finished a donut before, not until I tasted Frankie Frankenstein, but it has happened again with this Vimto one. I ate half of the donut and gave the other half to my husband. The weird thing is, I was talking to my brother in law about the Vimto donuts when I first heard of them. He said "That sounds disgusting!" My brother in law has a very picky appetite, so it was no surprise when he said the donut sounded horrible. Thing is… he was right! I really felt like I had wasted my money. That's two donuts in a row I haven't enjoyed. Thank God I got an offer for buy one, get one free! I would have felt really short changed if I had paid for both of these donuts in full. I really hope the other donuts in the collection are nice, because I really don't want to irritate my tastebuds anymore and I definitely wont be buying the drink either!
KRISPY KREME HALLOWEEN COLLECTION
Frankie Frankestein
KRISPY KREME CARAMEL SELECTION
Caramel Glazed