Mini Chocolate Sprinkles
Good Afternoon Steemit,
As mentioned yesterday I finally got my hands on a box of Krispy Kreme Mini donuts. The Strawberry Sprinkles didn't really appeal to me that much, but I'm sure it would have appealed to others, especially if you like strawberry milkshake. I am going to tell you about my experience with the Mini Chocolate Sprinkles. Fingers crossed it's a good one!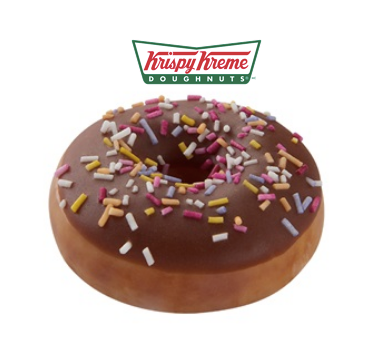 Mini Chocolate Sprinkles
Mini Chocolate Sprinkles, big on taste, mini in size!"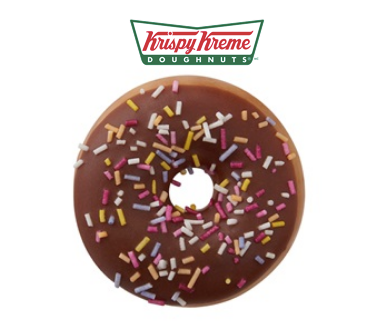 The Mini Chocolate Sprinkle donut looks just like the Mini Strawberry one but brown rather than pink! It does have a nice weight to it, as did the Strawberry Sprinkles given the fact that these are mini's! This donut did smell rather chocolatey so I had high expectations for it. The donut itself had a lovely texture when I bit into it and the chocolate icing on top did in fact taste of chocolate!! Thank God! It wasn't a deep chocolate flavour, but it was enough for me to go Mmm. The icing covers the donut really nicely too. Sometimes icing can be too thin and it looks more like a glaze. It wasn't too thick either. You wouldn't want thick icing on a small donut, but I'm not against thick icing at all! I just love anything sweet! The hundreds and thousands actually added to the flavour of the donut too. Somehow it lifted the flavour of the chocolate. I really liked this one. Great job!
This donut was far better that what I thought I was going to get after the disastrous Mini Strawberry Sprinkles. I would highly recommend a nice cup of coffee to go with this little chocolatey thing. Not because I think it needs it, it doesn't. But I really do like the little chocolate donut and I can imagine sitting down to a cup of coffee and having a box of six chocolate donuts. The only thing with this, is that you would have to buy three boxes because you can't buy the Mini's individually! I'm not going to complain. I love eating donuts!
Two down, one to go…
KRISPY KREME MINI'S
Mini Strawberry Sprinkles
Krispy Kreme - Pudsey Doughnut
Krispy Kreme - Limited Edition KitKat
KRISPY KREME DUO'S
Praline Chocolate Cheesecake DUOGHNUT
Double Chocolate DUOGHNUT
KRISPY KREME CHRISTMAS COLLECTION 2019
Festive Cherry Sparkle
Speculoos Shimmer
White Chocolate Shimmer
Poppy Penguin
Rudolph the Reindeer
KRISPY KREME HALLOWEEN COLLECTION - 2019
Jack o' Lantern
Toffee Apple
Sid the Slime Monster
KRISPY KREME AMERICAN PIE COLLECTION
Reese's Peanut Butter Pie
Maple Pecan Pie
Cherry Pie
Banana Kreme Pie
Krispy Kreme - Original Filled Salted Caramel
Krispy Kreme - Original Filled Nutty Chocolatta
Krispy Kreme - Mother's Day Donuts
KRISPY KREME EASTER COLLECTION
Lemon Glazed Ring
Lemon Chick
Easter Egg
Bunny Bum
KRISPY KREME CHRISTMAS COLLECTION
Winter Berry
Rudolph
Merry Sparkle
KRISPY KREME HALLOWEEN COLLECTION
Spooky Sprinkles
Vimto Ring
Jack-O-Lantern
Vimto Shimmer
Frankie Frankestein