Krispy Kreme Easter Collection - Lemon Glazed Ring
Hello Again Krispy Kreme Fans!
After writing about Krispy Kremes Lemon Chick donut, I am down to the last Easter donut… Their Lemon Glazed Ring! Let's see what this one is all about, shall we?
Lemon Glazed Ring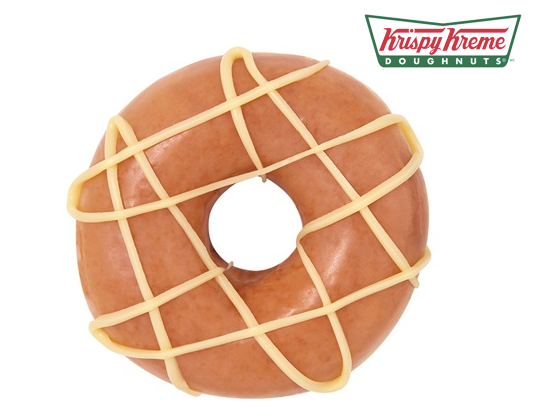 "Krispy Kreme's signature ring doughnut coated with a zesty lemon glaze and hand decorated with a lemon icing drizzle."
It just wouldn't be a Krispy Kreme collection without a take on their Signature Ring donut. This one is another lemon flavoured donut. I must admit, when I took my bite of this one, I struggled to get that 'Zesty, lemony taste.' I thought this donut was their Original Glazed donut with a lemon drizzle, because that's where I got most of the lemon flavour from.
There isn't a lot I can say about this donut. It was nice and fluffy as you expect their rings to be, but I was just let down by the lack of lemon flavour. Maybe they should have 'double dipped' their donuts in the lemon icing and maybe that would have given the donut a punch of flavour. The lemon drizzle was nice and at first it did remind me of a hot cross bun… but I wanted more flavour! So to my conclusion here is my order of preference with the Easter donuts. In first place has to be the Lemon Chick, now that does give me that lemon hit I'm after. Looks great and tastes great! A definite Easter treat! In second place comes the Easter Egg. I wouldn't normally put a chocolate donut in a high position, but the centre was soooooo fluffy and creamy like a mousse, I just had to put this one in second place, plus it really looks like an Easter egg! In third place is the Bunny Bum. Definitely a lovely looking and imaginative donut. Loved the bunny feet and the tail, but the flavour was a bit 'Meh.' Don't get me wrong, I really did love the strawberry and cream flavour, it just felt like their Strawberries and Kreme donut repackaged. In last place unfortunately goes to their Lemon Glazed Ring. A bit boring really and not much flavour. I've had much better rings in the past. In actual fact I have a couple to write about so keep your 'Eyes Peeled' if you want to find out more.
KRISPY KREME EASTER COLLECTION
Lemon Chick
Easter Egg
Bunny Bum
KRISPY KREME CHRISTMAS COLLECTION
Winter Berry
Rudolph
Merry Sparkle
KRISPY KREME HALLOWEEN COLLECTION
Spooky Sprinkles
Vimto Ring
Jack-O-Lantern
Vimto Shimmer
Frankie Frankestein
KRISPY KREME CARAMEL SELECTION
Caramel Glazed