Krispy Kreme Christmas Collection 2019 - Festive Cherry Parcel
Afternoon Donut Lovers!
I am on my final parcel from Krispy Kreme's Christmas donuts. This one I was looking forward to the most. You may have seen over the last couple of posts that I haven't been impressed with their 'gifts'. Read on to see what I thought of this one.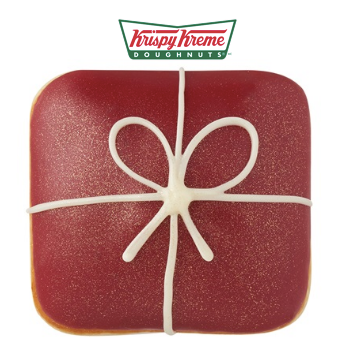 Festive Cherry Parcel
"With a fruity cherry filling hand dipped in strawberry icing and finished with white icing and gold shimmer."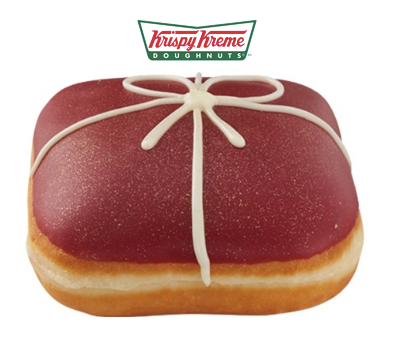 The parcel I was most looking forward to receive! With its glossy red, shimmery icing and one of my favourite flavours... cherry!! I have to say again, like the White Chocolate Shimmer, you had to hold the donut up to the light to get a really good glimpse of the shimmer, otherwise it looks like a plain red donut. Again, you have the same iced bow as you had on all of the donuts. It didn't really look that special either, just a nice colour. Anyway, the icing was a bit sticky when you bite into it and I didn't realise it was strawberry flavoured. I thought the whole donut was meant to be cherry. I finally got to the cherry centre… It was the most revolting thing I ever tasted! Not the fruity cherry flavour I was expecting. What I got was a chemically flavoured goo. Tasted just like fake cherries! YUK!! I had two bites of this donut before I binned it, and before you say it's me and my tastebuds. My other half had one too and said the same thing. Both of us chucked it in the bin! The only other time I have done this to a donut is when they brought out the Vimto flavoured ones one year. I didn't finish them either, but I have to say as disgusting as they were, they were better than this!
Oh My God!!! What are you doing to me Krispy Kreme? The donuts I put off the longest because I had loads of other donuts in the build up to this, saved what I thought would be my favourite one to last and it turned out to be one of the most awful flavours that I have ever encountered! Seriously wouldn't recommend this one if it comes out again (which I really hope it doesn't). On the whole, I'd rather have the Christmas animal donuts than any of these parcels.
There are a couple more donuts left from Christmas 2019 so fingers crossed I will have something 100% better to say than these ones. The Festive Cherry Parcel is definitely the unwanted gift. I know you shouldn't look a gift horse in the mouth, but save your money and don't buy this one.
KRISPY KREME CHRISTMAS COLLECTION 2019
Speculoos Shimmer
White Chocolate Shimmer
Poppy Penguin
Rudolph the Reindeer
KRISPY KREME HALLOWEEN COLLECTION - 2019
Jack o' Lantern
Toffee Apple
Sid the Slime Monster
KRISPY KREME AMERICAN PIE COLLECTION
Reese's Peanut Butter Pie
Maple Pecan Pie
Cherry Pie
Banana Kreme Pie
Krispy Kreme - Original Filled Salted Caramel
Krispy Kreme - Original Filled Nutty Chocolatta
Krispy Kreme - Mother's Day Donuts
KRISPY KREME EASTER COLLECTION
Lemon Glazed Ring
Lemon Chick
Easter Egg
Bunny Bum
KRISPY KREME CHRISTMAS COLLECTION
Winter Berry
Rudolph
Merry Sparkle
KRISPY KREME HALLOWEEN COLLECTION
Spooky Sprinkles
Vimto Ring
Jack-O-Lantern
Vimto Shimmer
Frankie Frankestein