Krispy Kreme Christmas Collection 2019 - White Chocolate Shimmer Parcel
Good Afternoon,
Cracking on with Krispy Kreme's Christmas Collection donuts, I am now moving on to some Christmas presents that Krispy Kreme brought out last year. Can't say I have ever seen Parcels by them. Krispy Kreme brought out three Parcels in 2019. I will tell you my thoughts on each of them and see whether they were a surprise, an expected gift or an unwanted gift. I will first start with the White Chocolate Shimmer Parcel.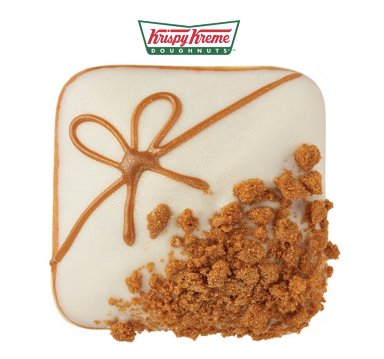 White Chocolate Shimmer Parcel
"Lotus Biscoff & white chocolate Kreme filling, finished with Lotus Biscoff crumb and gold shimmer."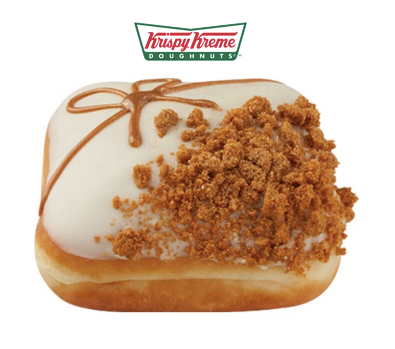 So here it is, my first every parcel donut from Krispy Kreme. Basically a square circle shaped (a square with round corners which is what I like to call this shape) donut. The white chocolate icing and Biscoff crumb really do shimmer… but only if u get them in the right light. I was trying to take a picture to show my mum what I had purchased and it took me ages to get a decent shot with the don't sparkling! Anyhow, Its nice to see the bow to make it look like a parcel, but it does feel a little bit lack lustre CONSIDERING IT'S A CHRISTMAS DONUT! The donut itself was nice to eat. You had that lovely white icing on top with a caramel flavoured bow and this little crunch bits of Biscoff biscuits. In the middle you had the smooth and soft Biscoff and white chocolate filling. From what I remember, it was very sweet. Maybe a little bit too sweet, even for me and I love sweet things!
On the whole, this was a nice donut, but I was a bit disappointed when it was advertised. The Lotus Biscoff donut was already out at the time when they brought this one out. I was expecting to see something different in flavour. Basically, they took a Lotus Biscoff donut and made it square circled shape with a few little adjustments. Hopefully this year, Krispy Kreme will come out with something a bit more adventurous. Nice donut but left with a 'Meh' feeling.
Hopefully the next parcel with be a gift worth waiting for.
KRISPY KREME CHRISTMAS COLLECTION 2019
Poppy Penguin
Rudolph the Reindeer
KRISPY KREME HALLOWEEN COLLECTION - 2019
Jack o' Lantern
Toffee Apple
Sid the Slime Monster
KRISPY KREME AMERICAN PIE COLLECTION
Reese's Peanut Butter Pie
Maple Pecan Pie
Cherry Pie
Banana Kreme Pie
Krispy Kreme - Original Filled Salted Caramel
Krispy Kreme - Original Filled Nutty Chocolatta
Krispy Kreme - Mother's Day Donuts
KRISPY KREME EASTER COLLECTION
Lemon Glazed Ring
Lemon Chick
Easter Egg
Bunny Bum
KRISPY KREME CHRISTMAS COLLECTION
Winter Berry
Rudolph
Merry Sparkle
KRISPY KREME HALLOWEEN COLLECTION
Spooky Sprinkles
Vimto Ring
Jack-O-Lantern
Vimto Shimmer
Frankie Frankestein