Krispy Kreme Easter Collection - Lemon Chick
Good Morning!!!
Still on the Krispy Kreme Easter collection here. So far I have told you about the Bunny Bum and the Easter Egg, now I am about to tell you about another one… the Lemon Chick!
Lemon Chick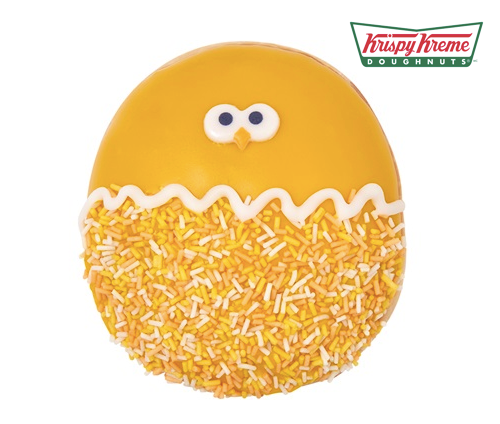 "With a zesty lemon and kreme filling and hand decorated with colourful sprinkles!"
I thought the Bunny Bum was cute… this one is even cuter! I love the way those little eyes look at you, enticing you in to have a bite. This one is another filled donut. Full to the max! The icing is a bright, vibrant yellow colour and the sprinkles are yellow and white. The chick looks like it it poking its head out of the shell. When I took my first bite, I took it from the sprinkle end. It was so crunchy! It was nice to have some texture as so far the donuts have all been soft. This donut is delicious! It reminds me of the Lemon Meringue, only better! The donut is filled to the brim with what I can only describe as a lemon curd with their signature white kreme. Sometimes when I have a filled donut, I am left disappointed with the lack of filling or I have to eat 75% of the donut to find any middle. I'm pleased to say I found it with the first bite and it was there until the last!
I was so glad that this one was lemon flavoured. Krispy Kreme have a lot of the same old flavours lately, so it was nice to have something different. Yes, you can get the Lemon Meringue in their stores, but not in their cabinets. This one is in the cabinets too. Another donut I wish they would keep around for longer, not just for the Easter period. So far, this donut is my favourite one out of the Easter specials. I'm surprised they haven't done a hot cross bun flavoured one. Personally, I hate hot cross buns, but I'm sure if they put their mind to it, they could make one that's even delicious to my taste buds! I love this little fella… "Cheap! Cheap!!!"
KRISPY KREME EASTER COLLECTION
Easter Egg
Bunny Bum
KRISPY KREME CHRISTMAS COLLECTION
Winter Berry
Rudolph
Merry Sparkle
KRISPY KREME HALLOWEEN COLLECTION
Spooky Sprinkles
Vimto Ring
Jack-O-Lantern
Vimto Shimmer
Frankie Frankestein
KRISPY KREME CARAMEL SELECTION
Caramel Glazed