Double Chocolate DUOGHNUT
Good Afternoon,
First of all, you may think I have made a spelling mistake with the heading to this post. I can assure you, I have not. This is what Krispy Kreme decided on naming this donut. Yeah, I thought it was a typo too, but I guess it's a play on words… duo for double. Hey ho, not a name I would have used however, someone thought it was a good idea. Let's see what this one is all about.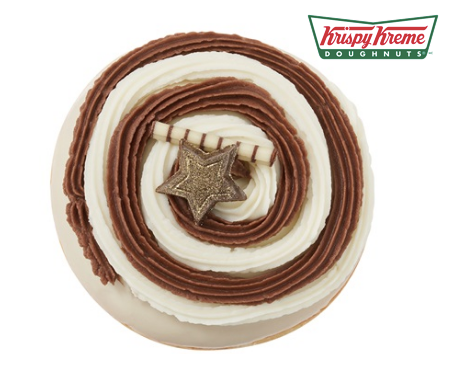 Double Chocolate DUOGHNUT
"A duo of indulgent chocolate flavour fillings, hand decorated with chocolate and vanilla frosting swirls, a chocolate star and scroll."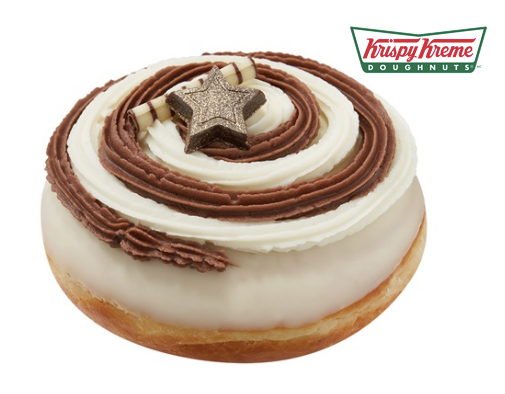 I was really looking forward to get my teeth into this donut. I haven't ever seen one like this before from Krispy Kreme. It's been a while since Krispy Kreme have brought out some different chocolate flavour ones, so I was all for this. I have to say when I saw this in the cabinet, it really did stand out. Had that kinda wintery, snowy feel about it. This tasted so chocolatey and good. Before I did anything else, I picked off the chocolate star and chocolate scroll and eat them. 'Very chocolatey'. Then the donut… Firstly, you have the chocolate and vanilla swirls that are sat on top of an iced donut. I believe the icing underneath is white chocolate or vanilla. I couldn't really tell with the swirls on top, but that didn't matter. They all worked perfectly together. The frosting was firm, but soft enough for the swirls to keep their shape. Then we got to the filling. Yum… more chocolate!! If I'm perfectly hones, I can't remember if it was one chocolate flavour or two chocolate flavours in the middle. I believe this one came out November / December time. Either way, what I do remember was that the centre was well filled and it was such a lovely flavour. I don't like a dry donut, so when this one was full to the brim of filling, I was very happy. No one likes to be short changed when it comes to filling on a donut, do they?
This donut is a chocoholics dream all encased in one perfectly round donut. If you're like me though, you can't just have one.
Another DUOGHNUT is on the horizon… keep an eye out for this special one.
KRISPY KREME CHRISTMAS COLLECTION 2019
Festive Cherry Sparkle
Speculoos Shimmer
White Chocolate Shimmer
Poppy Penguin
Rudolph the Reindeer
KRISPY KREME HALLOWEEN COLLECTION - 2019
Jack o' Lantern
Toffee Apple
Sid the Slime Monster
KRISPY KREME AMERICAN PIE COLLECTION
Reese's Peanut Butter Pie
Maple Pecan Pie
Cherry Pie
Banana Kreme Pie
Krispy Kreme - Original Filled Salted Caramel
Krispy Kreme - Original Filled Nutty Chocolatta
Krispy Kreme - Mother's Day Donuts
KRISPY KREME EASTER COLLECTION
Lemon Glazed Ring
Lemon Chick
Easter Egg
Bunny Bum
KRISPY KREME CHRISTMAS COLLECTION
Winter Berry
Rudolph
Merry Sparkle
KRISPY KREME HALLOWEEN COLLECTION
Spooky Sprinkles
Vimto Ring
Jack-O-Lantern
Vimto Shimmer
Frankie Frankestein