Limited Edition KitKat
Good Afternoon Steemit,
I have some more chocolate donuts from Krispy Kreme. These ones are Limited Edition KitKat ones!! Not technically a DUO donut like the Double Chocolate DUOGHNUT or Praline Chocolate Cheesecake DUOGHNUT but when you look at these donuts, you'll soon realise why I put them in the same category… two types of chocolate donut goodness!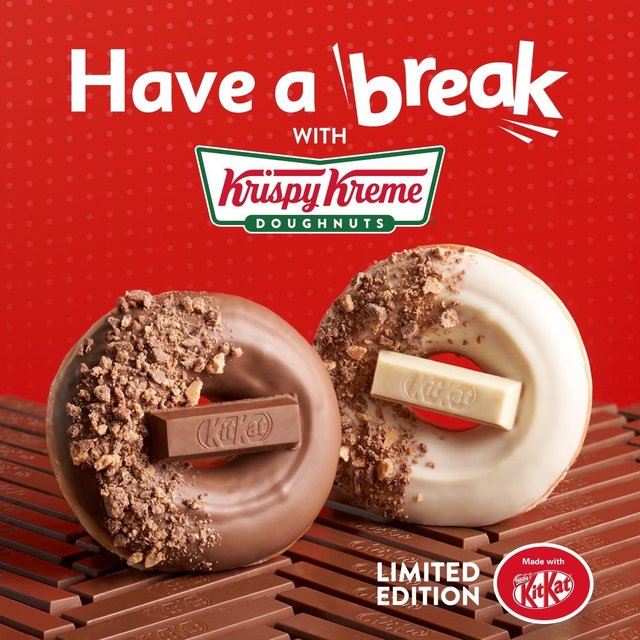 Limited Edition KitKat
The range consists of two varieties; the Original Glazed ring with a milk chocolate or white chocolate spin… dusted with crushed KitKat pieces & finished with a KitKat Bite."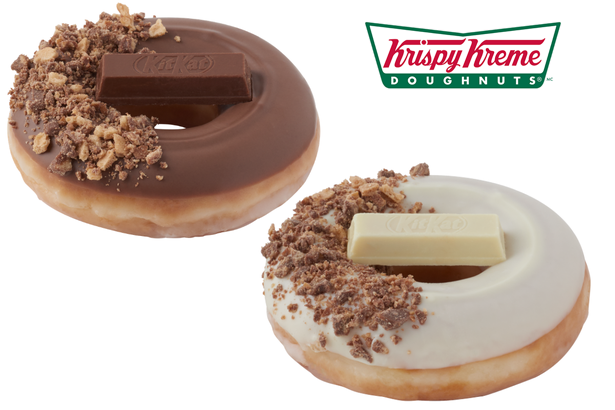 Yummy! We have some more chocolate rigged donuts. This time topped with one of my favourite chocolate bars… it has to be the KitKat! You can't beat an Original Glazed donut, so to see it topped off with chocolate icing, crushed KitKat pieces and the piste de resistance a miniature KitKat bar!! And to make it even better… there's two to choose from!! The milk chocolate one or the white chocolate one. Naturally, I had to get one of each. It's be rude not to. I went in for the milk chocolate one first. I picked off the bar and munched it straight away… Yes!! it's a mini KitKat alright! The taste of the chocolate and the crunch of the wafer was soon good. Then onto the donut. The donut needed to have the crushed KitKat pieces to give some texture once the chocolate bar had gone, or the donut would just seem like a chocolate glazed ring. The chocolate flavour was lovely but not a deep, rich flavour that you normally get from Krispy Kreme. The chocolate did taste like your conventional confectionary chocolate. Still nice though, but it was even better when you worked your way round to the other side of the donut with the crunchy pieces. Onto the white chocolate one. This time I took the KitKat bar off and put it to one side. Again same goes as with the milk chocolate donut about the crunch pieces being needed for texture. The white chocolate was really creamy. Then once I finish the donut, I pop the mini KitKat bar in my mouth and savour every flavour and texture. God they were nice! Shame they weren't around for that long.
The only thing I would say about these donuts is that it's a must you have them at room temperature, because when you bite into these when they are the slightest bit cold, the chocolate icing cracks and falls off the donut, so you are pretty much left with a plain OG. Thankfully when I made the mistake once, I didn't make it again. They were delicious when warm and the chocolate just melts away in the mouth like a gorgeous puddle of love!
That's it with the 'DUO' donuts… what are we going to have next?
KRISPY KREME DUO'S
Praline Chocolate Cheesecake DUOGHNUT
Double Chocolate DUOGHNUT
KRISPY KREME CHRISTMAS COLLECTION 2019
Festive Cherry Sparkle
Speculoos Shimmer
White Chocolate Shimmer
Poppy Penguin
Rudolph the Reindeer
KRISPY KREME HALLOWEEN COLLECTION - 2019
Jack o' Lantern
Toffee Apple
Sid the Slime Monster
KRISPY KREME AMERICAN PIE COLLECTION
Reese's Peanut Butter Pie
Maple Pecan Pie
Cherry Pie
Banana Kreme Pie
Krispy Kreme - Original Filled Salted Caramel
Krispy Kreme - Original Filled Nutty Chocolatta
Krispy Kreme - Mother's Day Donuts
KRISPY KREME EASTER COLLECTION
Lemon Glazed Ring
Lemon Chick
Easter Egg
Bunny Bum
KRISPY KREME CHRISTMAS COLLECTION
Winter Berry
Rudolph
Merry Sparkle
KRISPY KREME HALLOWEEN COLLECTION
Spooky Sprinkles
Vimto Ring
Jack-O-Lantern
Vimto Shimmer
Frankie Frankestein