Krispy Kreme Christmas Collection 2019 - Rudolph the Reindeer
Afternoon Everyone,
It was a tough end of year which is why I haven't posted about Krispy Kreme's Donuts in months. Finally managed to get back on track. I'm still going to tell you what I though of every donut I have had over the end of last year and what I've had this year. There have definitely been some exciting donuts. First of all I am going to tell you about the ones I had over the Christmas period.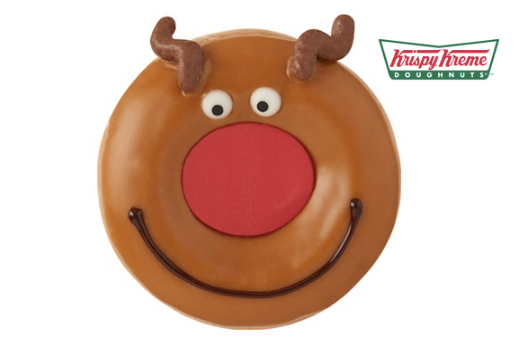 Rudolph the Reindeer
"Krispy Kreme's signature ring doughnut, dipped in caramel flavour icing and hand decorated with chocolate coated pretzels.
This donut is a Krispy Kreme Christmas Classic. They brought the same one out Christmas 2018 and 2017. I'm so glad they did. This donut is definitely one of my favourites. Not only does it look amazing and Chrismassy, but it smells so much of caramel and tastes yummy too. To begin with, you have Krispy Kreme's Original Glazed donut. It's so fluffy and sweet. The glaze screams Krispy Kreme. On top of the donut, you have the dark caramel icing. Nice and brown to represent a reindeer. I love the caramel flavour. I reckon it would be nice as a salted caramel flavour. I mean you have the pretzel antlers which are salty, so why not make the caramel salty too? I love that sweet and savoury combination of flavours. I'm such a fan of Rudolph's nose. Big and red! The fondant nose is soft and it's nice with the crunch of the antlers. I love the chocolate covered antlers. I wish they were bigger! Maybe if Krispy Kreme bring Rudolph out this year, he will have huge antlers!!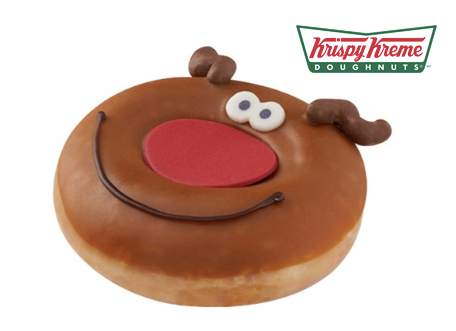 Krispy Kreme Christmas donuts are always worth looking forward to. It's like a surprise waiting to happen. I always wonder what they will bring out for events and celebrations over the year. All I've got to say about Rudolph was that he was really yummy!! Come back in 2020!!
KRISPY KREME HALLOWEEN COLLECTION - 2019
Jack o' Lantern
Toffee Apple
Sid the Slime Monster
KRISPY KREME AMERICAN PIE COLLECTION
Reese's Peanut Butter Pie
Maple Pecan Pie
Cherry Pie
Banana Kreme Pie
Krispy Kreme - Original Filled Salted Caramel
Krispy Kreme - Original Filled Nutty Chocolatta
Krispy Kreme - Mother's Day Donuts
KRISPY KREME EASTER COLLECTION
Lemon Glazed Ring
Lemon Chick
Easter Egg
Bunny Bum
KRISPY KREME CHRISTMAS COLLECTION
Winter Berry
Rudolph
Merry Sparkle
KRISPY KREME HALLOWEEN COLLECTION
Spooky Sprinkles
Vimto Ring
Jack-O-Lantern
Vimto Shimmer
Frankie Frankestein