Krispy Kreme Christmas Collection 2019 - Poppy Penguin
Hello again donut fans,
As mentioned in my previous post I am getting back in the swing of things of telling you all about some amazing donuts I've had towards the end of last year. I have had so many donuts because Krispy Kreme seem to being out new ones every week! Thank God I work out, or I would be the size of a house! or in this instance, Santa Claus! I have lots of lovely Christmas donuts to tell you about. I have just said about Rudolph the Reindeer, now let's see what Poppy Penguin is all about.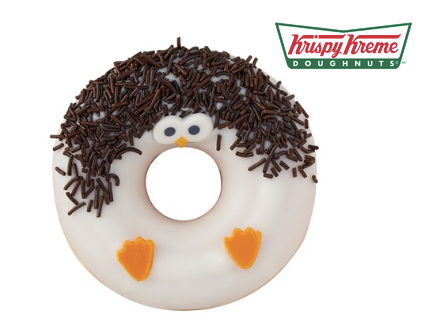 Poppy Penguin
"Krispy Kreme's signature ring donut hand dipped in white icing and finished with chocolate vermicelli and fondant icing decorations."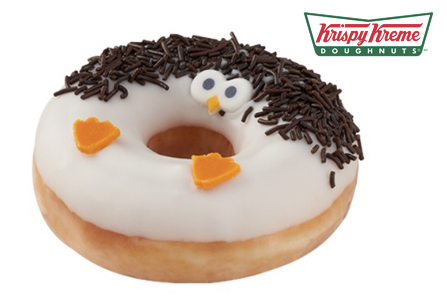 As with Rudolph, Poppy's base is an Original Glazed donut. I'm pretty happy about this because I love their Signature Ring and I don't normally have one if I am buying a box of three… or six… or a dozen!! Haha! The white icing is more like a fondant. The icing isn't sticky and you don't have to keep licking your fingers with every bite (unless you want to!) I thought Poppy would be overly sickly with all that icing, but the vermicelli chocolate hair is a tiny bit bitter, so it cuts through all that sweetness of the main icing. I love the little fondant accents that make Poppy, Poppy. Those little eyes and beak and not to mention the lovely little feet!! Just Aww!!
Poppy is one seriously cute Penguin. I love her look and with all her friends starting at you when you walk into the store. Seeing them all lined up like that. Just makes you want to take them all home with you… and then devour the lot! Sorry Poppy, buy you are too delicious not to!
Nice Job Krispy Kreme! I wouldn't mind seeing Poppy and her friends being brought back for the winter / festive period. Just delicious!!
KRISPY KREME CHRISTMAS COLLECTION 2019
Rudolph the Reindeer
KRISPY KREME HALLOWEEN COLLECTION - 2019
Jack o' Lantern
Toffee Apple
Sid the Slime Monster
KRISPY KREME AMERICAN PIE COLLECTION
Reese's Peanut Butter Pie
Maple Pecan Pie
Cherry Pie
Banana Kreme Pie
Krispy Kreme - Original Filled Salted Caramel
Krispy Kreme - Original Filled Nutty Chocolatta
Krispy Kreme - Mother's Day Donuts
KRISPY KREME EASTER COLLECTION
Lemon Glazed Ring
Lemon Chick
Easter Egg
Bunny Bum
KRISPY KREME CHRISTMAS COLLECTION
Winter Berry
Rudolph
Merry Sparkle
KRISPY KREME HALLOWEEN COLLECTION
Spooky Sprinkles
Vimto Ring
Jack-O-Lantern
Vimto Shimmer
Frankie Frankestein