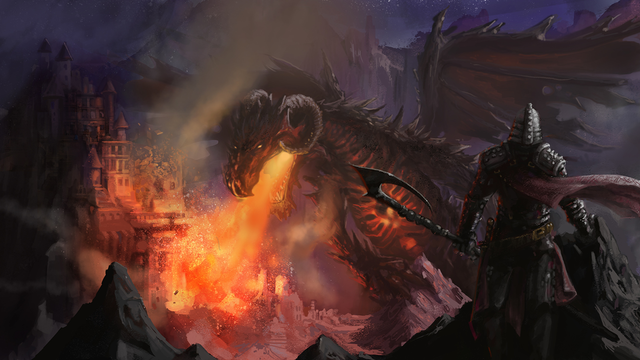 src
The thing I love the most about epic music is the way it can spark the imagination.
The imagination is a powerful tools which has helped to shape humanity for eons, without the ability to dream thing up in our mind we surely would not be where we are now.
Like the great Muhammad Ali said:
"A man who has no imagination, has no wings".
Without an imagination I think it would hold people back from becoming who they are, as to aspire to become something is to dream and imagine it first in our minds.
Our imaginations can influence just about everything we do and is certainly true in decision making. In order to make a decision we must first think about imaginary scenarios or outcomes, then after some consideration about these imaginary scenarios we come to a conclusion and a decision is made.
I find it interesting just how multi faceted our imaginations can be.
When I listen to epic music I find it sparks my imagination usually in two distinct ways.
The first way is with a fictional imaginary way. I often dream up worlds or creatures which have never existed and would not even be possible. You could call this fantasy or make believe.
Although I know that it's impossible for these imaginations to ever exist, I still love to envision it.
The second way I imagine things is with a real sense of realism.
I find my imagination will take me to places in time when things were really similar, often when I'm listening to Epic Music it takes me back to a time where there were castles and kings. Although it's imaginary it is very factually based and could very well have happened some time in the past.
While I do have a fairly active imagination, nothing ever sparks it up quite like Epic Music can.
Often when I'm in the gym I like to just switch to auto pilot and not really think about my training, I chuck on some epic music and just drift away and let my mind run wild.
I really enjoy sharing this series with people. I guess epic music is not as well known as other genres so it is my mission to unite people with this music.
If you enjoy classical sounding music, orchestral pieces or the sound of a choir then your bound to find something in the series you like.
Here is some feedback from @mgood
this is the first time I am checking out your Epic music. Very cool. I really love the Wolf and the Moon.
Yes, very epic and uplifting. I feel like I'm waiting for something that's about to happen.
The Wolf and the Moon - they could use it for Game of Thrones, IMHO.
Cheers.
Here is some feeback from @musclegirlfusion
This is awesome!! Im sorry I'm seeing this for just the first time!!
Sometimes when I'm doing cardio and I'm feeling blah I listen to this kind of music to wake me up!
Spotify has a playlist called Warrior Workout that has similar themed music! Ill check yours out as well!
Here is some feedback from @jennifer78
I have never heard of this genre, but I am looking into it right now!
Thank you for this. It sounds a little industrial as well and I like it! Thank you for the suggestions!
Let's look at a couple of other tracks I really enjoy.
---

---
☠️ Peter Gundry - The Last of Her Kind ☠️
 
I find the compositions from Peter Gundry to be some of the best at driving the imagination in a fictional way. I find his music is written for that.
When I listen to this track enchanted forests really do come to mind.
I always love the string work of Peter Gundry, he always has a really quirky and somewhat out there way. I find his way of playing the violin has a really eerie feel to it.
 

---

---
☠️ Antti Martikainen - The Lone Wanderer ☠️
 
Here is another Epic Music track that I really love from Antti Martikainen.
This track has a real western feel to it which is rather unique. Obviously when I listen to this track I can't help but thing about traveling through the desert horseback with a pistol on my side, stopping in at random bars and getting into gun fights.
I also love how this track goes for a decent amount of time, so you can really let your imagination run wild.
 

---

---
☠️ Groove Addicts - Seafights ☠️
 
I really love this tune from Groove Addicts.
This has pirates written all over it but I also imagine great battles and stuff like that when I listen to it.
This is one of those epic tracks that really stands out. Although it is only a short track it's one that I keep coming back for. Some times I just let it loop for a wee little while.
I would have loved it if them made it a bit longer, but I guess that is the point of this track. It's meant to be short but really powerful.
 

---

---
☠️ Glory Oath + Blood - Weapon of Vengeance ☠️
 
Here is another great composer Glory Oath + Blood, pretty cool name for a composer huh. How could you not like it :D
I really love the way this track starts out, it has that feeling like something is about to happen. I find it has a typical movie feel about it.
This song really reminds me of The Dark Knight for some reason.
When I listen to this track I do think about super heroes.
 
---

---
I have also put together a playlist of all the epic music covered in my series. Click here to check it out

☠️☠️☠️☠️ Related Posts ☠️☠️☠️☠️
 
☣️ Epic Music Series - Epic Music and More of my Favorite Tracks Part 31
☣️ Epic Music Series - Epic Music and More of my Favorite Tracks Part 30
☣️ Epic Music Series - Epic Music and More of my Favorite Tracks Part 29
☣️ Epic Music Series - Epic Music and More of my Favorite Tracks Part 28
☣️ Epic Music Series - Epic Music and More of my Favorite Tracks Part 27
☣️ Epic Music Series - Epic Music and More of my Favorite Tracks Part 26
☣️ Epic Music Series - Epic Music and More of my Favorite Tracks Part 25
☣️ Epic Music Series - Epic Music and More of my Favorite Tracks Part 24
☣️ Epic Music Series - Epic Music and More of my Favorite Tracks Part 23
☣️ Epic Music Series - Epic Music and More of my Favorite Tracks Part 22
☣️ Epic Music Series - Epic Music and More of my Favorite Tracks Part 21
☣️ Epic Music Series - Epic Music and More of my Favorite Tracks Part 20
☣️ Epic Music Series - Epic Music and More of my Favorite Tracks Part 19
☣️ Epic Music Series - Epic Music and More of my Favorite Tracks Part 18
☣️ Epic Music Series - Epic Music and More of my Favorite Tracks Part 17
☣️ Epic Music Series - Epic Music and More of my Favorite Tracks Part 16
☣️ Epic Music Series - Epic Music and More of my Favorite Tracks Part 15
☣️ Epic Music Series - Epic Music and More of my Favorite Tracks Part 14
☣️ Epic Music Series - Epic Music and More of my Favorite Tracks Part 13
☣️ Epic Music Series - Epic Music and More of my Favorite Tracks Part 12
☣️ Epic Music Series - Epic Music and More of my Favorite Tracks Part 11
☣️ Epic Music Series - Epic Music and More of my Favorite Tracks Part 10
☣️ Epic Music Series - Epic Music and More of my Favorite Tracks Part 9
☣️ Epic Music Series - Epic Music and More of my Favorite Tracks Part 8
☣️ Epic Music Series - Epic Music and More of my Favorite Tracks Part 7
☣️ Epic Music Series - Epic Music and More of my Favorite Tracks Part 6
☣️ Epic Music Series - Epic Music and More of my Favorite Tracks Part 5
☣️ Epic Music Series - Epic Music and More of my Favorite Tracks Part 4
☣️ Epic Music Series - Epic Music and More of my Favorite Tracks Part 3
☣️ Epic Music Series - Epic Music and More of my Favorite Tracks
☣️ Epic Music Series - Introduction to Epic Music and my Favorite Track