Sneaky Ninja Reminder of How he Works - (Vote worth $160 now!!)
Sneaky Ninja Reminder of How he Works
(Vote worth $160 now!!)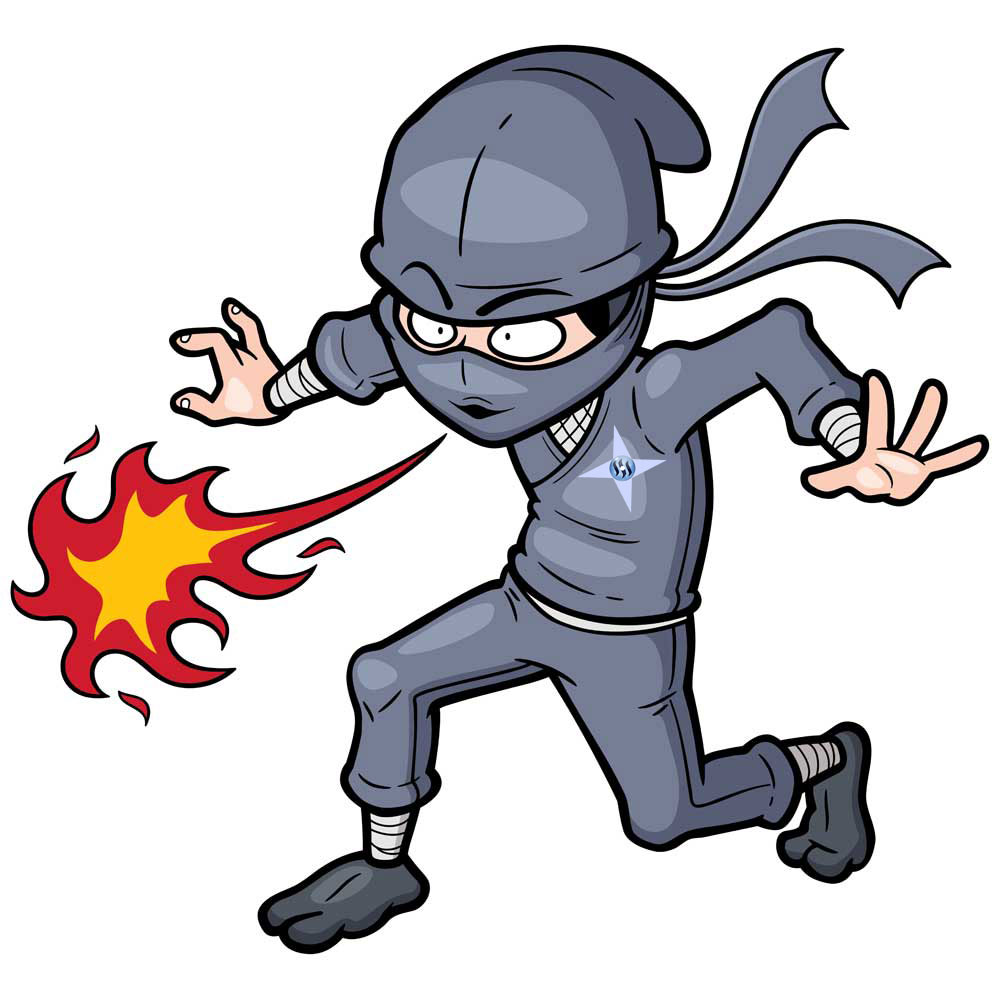 Sneaky Ninja is Still Hot!!
As of right now his full vote is worth $160!! (A lot more in USD)
Here is a reminder of how Sneaky Ninja works.
Ok, Sneaky Ninja is a bid bot much like all other bid bots.
Unlike most bidbots, Sneaky is also a character with a running story as well so be sure to check out his story as it unfolds. Here are links to his previous backstory post: Part 1 - Part 2 - Part 3 - Part 4 if you would like to read them.
He votes every 2.4 hrs with his entire 100% vote (currently $160).
This enables you to place a Bid on a partial upvote at his full strength. So if your bid equals 5% of the all bids within the same 2.4 hour time period, then he will upvote your post with 5% of his full vote respectively.
So, you will basically never get the exact same vote for the exact same bid each time. The vote value you´ll receive fully depends on the total bids submitted and the size of your bid respectively.
Let me give you an example of how it works.
Let's say 5 fish buy in during a 2.4 hour period at these percentages of the total buy in for that period...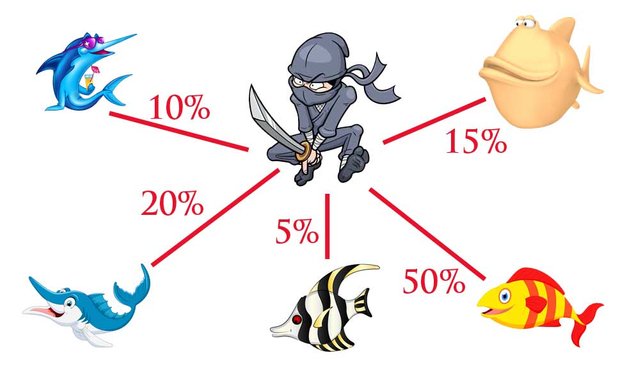 Let's also assume that Sneaky Ninja's 100% upvote is worth $10.
This is what the payout would look like...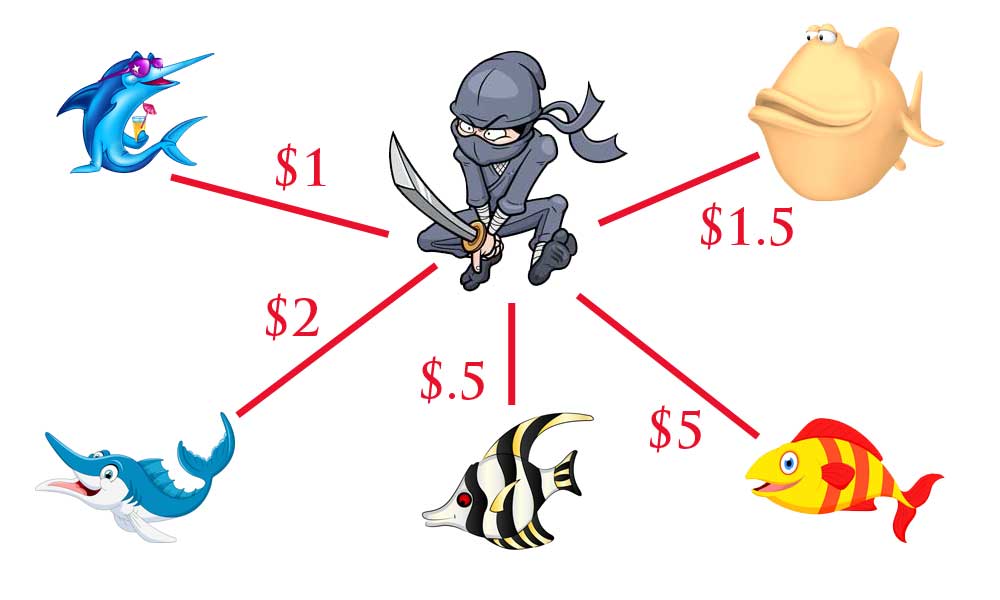 Let's look at another example.
Three fish buy in for these amounts and percentages during the same 2.4 hr period...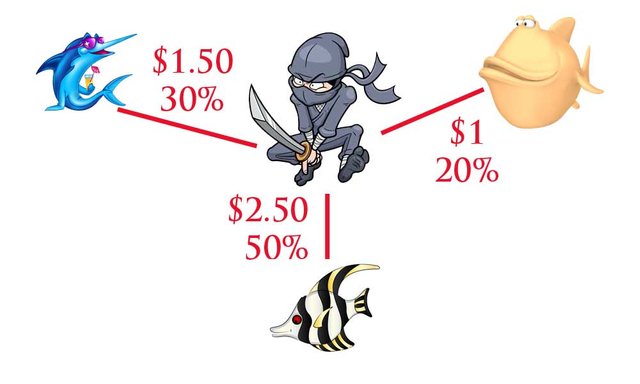 If Sneaky Ninja's 100% upvote is again worth $10 then the payout would look something like this...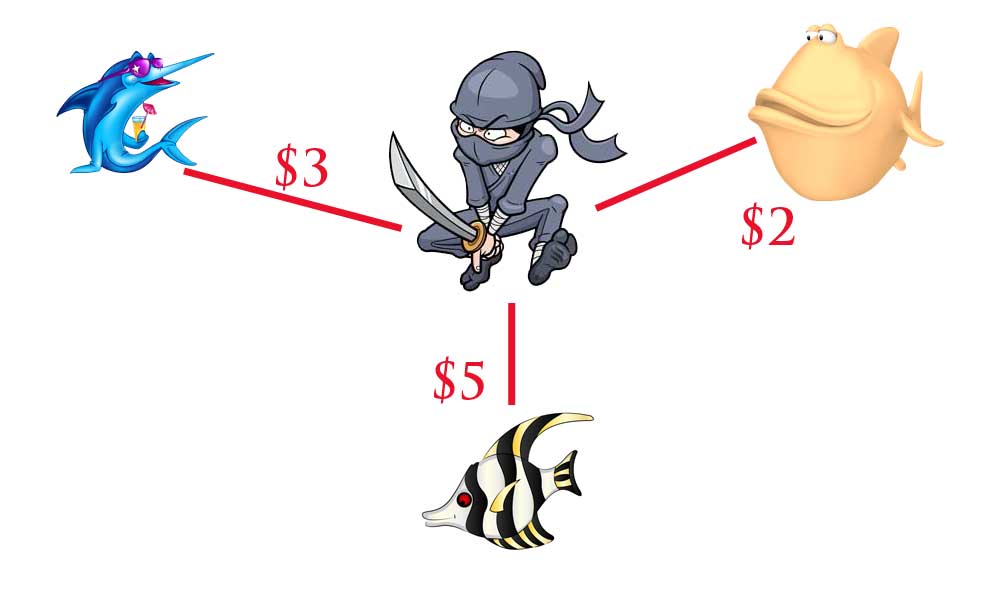 Get it?
Now, if you would like an easy way to know what your vote may look like @yabapmatt has created a handy tool called the Steemit Bot Tracker for this. This tool works very well at showing you how the bidding rounds are doing and just how your vote may land.
This is a link to the Steem Bot Tracker
As always, I appreciate all of the support that you all have given to Sneaky Ninja. 😃
May all your battles be victories!
Happy Bidding!!


Many thanks,
Kozeni (小銭)
@sneaky-ninja
Sworn defender and protector of Sōsharumedia (ソーシャルメディア)
Trained by @michaeldavid,
Supreme Jōki (蒸気) Master and warrior for @thealliance


P.S.

Sneaky Ninja Backstory Part 5 is coming soon!