Hey!
Today's dinner was what I'd call one of Finnish tradition dishes; Earlies with onion and herring. I bought these Gin herrings just to try them. I think they were excellent, but Vera thought they were too sweet.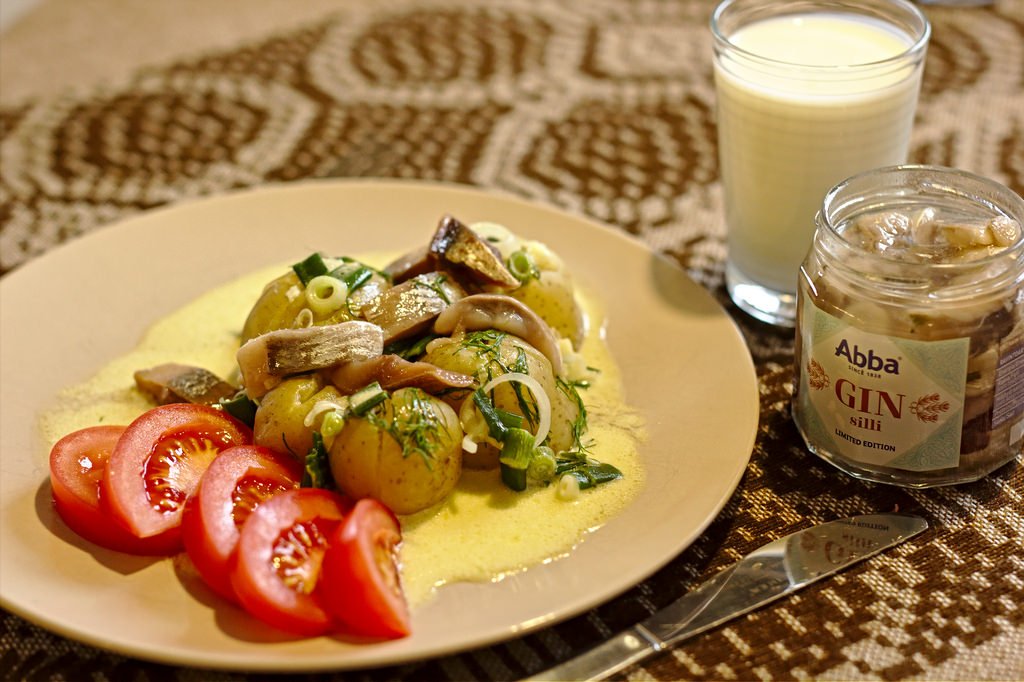 Yummy!
Camera body:

Lens:

Aperture:

Exposure:

ISO-
sensitivity

Canon EOS 550D

Sigma 50mm
ƒ/1.4 Art

ƒ/2.2

1/50

Dual-ISO
400+800
It's very easy to cook. Ingredients and cooking instructions follow...
You'll need:
1–2kg fresh early potatoes
2tbsp butter
2dl cream
freshly cut spring onions or young onion sprouts
fresh dill
a can of herring
Wash the potatoes and boil them until you can easily push a fork through, don't keep them boiling too long, for they get mushed very easily.
While the potatoes are boiling, melt some butter and boil the onions in it for a while, add cream but do not boil the cream. (Corrected this part, as you *do* need to cook the onions a bit.)
Once the potatoes are done, pour the water out and cut the fresh dill over the potatoes.
Done! Now you can set the dish however with simple accompaniments to your liking.
I hope you like it. :)
---
---
Public OPED Project Announcement:
One Photo Everyday is not just a challenge nor just a series of posts on Steemit but it's our way of providing valuable pictures everyday to our amazing community in order to promote the storytelling through the lens of the cameras.
Feel free to join our discord server.
We've created channels where people can find other like-minded photographers wanting to pursue a daily routine, and create their own 365 project. If you fall into motivational or inspirational problems, there'll be a channel where you may seek help. There's also a channel for sharing tips and advice in photography.
---
---
---
Previously in 365, One photo every day:
Once again! Mobile shot of Ninnu (354/365)
Guess what this is... (355/365)
Birthday Cake (356/365)
Saab JAS 39 Gripen (357/365)
Found this flower in our woods, can you guess what it is? (358/365)
Ninnu in a raincoat (359/365)
Clouds (360/365)
---
If you liked the post, consider buying me a beer:

---