Edit: After 3 hours, the contest is now over! @artofwisdom, @adeyemidrey and @xawi finally came up with the correct answer: Rubus odoratus, the purple-flowered raspberry.)
Congratulations to the winners! Prizes have been sent!
Good Evening! It's contest time! :)
It seems that the lower body workouts really take out all the juices in me. Soon after returning home, I noticed my back started aching, and my general energy levels were so down that I had to lie down. So I dozed off and woke up at 17:00 losing most of the day. Now I still haven't edited those fighter-jets, so I'm posting this out of the way first.
I didn't get a chance to do a proper OPED shoot today, so while Vera and I were walking Ninnu after my waking up (or was it before dozing off?) I noticed these flowers, and Vera told me I could take a quick shot of them.
Anyway, we know what this flower is. Do you?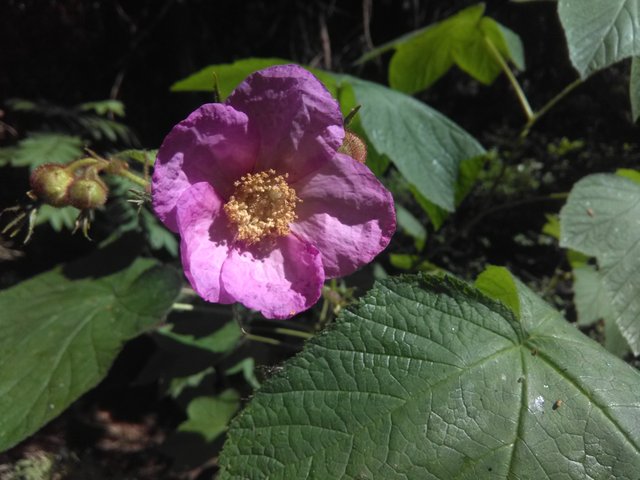 First three with the right answer will be awarded 5SBD, a Steem Monsters booster pack, and a delegation of 50SP.
I'll go take Ninnu for a walk now, and I'll check your answers when I get back. I'm hoping someone gets it right. (At least this isn't as easy as the previous one with the pea pod.)
---
Edit:
Since there were no correct answers yet, I'll give you guys some tips.
It's not a rose
It's not an anemone
one two of the given answers may give an additional hint, as it they came closer than others.
The large leaves that you see are part of the same plant.
produces big, furry, edible berries
As an additional tip, here is a photo of the leaves and stalk: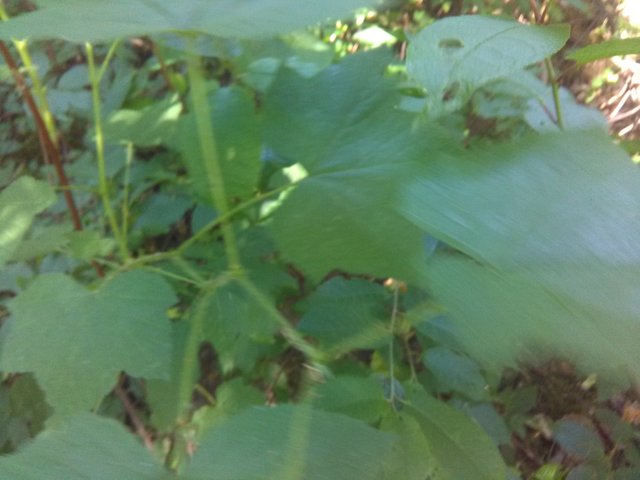 Good luck! :)
---
---
Public OPED Project Announcement:
One Photo Everyday is not just a challenge nor just a series of posts on Steemit but it's our way of providing valuable pictures everyday to our amazing community in order to promote the storytelling through the lens of the cameras.
Feel free to join our discord server.
We've created channels where people can find other like-minded photographers wanting to pursue a daily routine, and create their own 365 project. If you fall into motivational or inspirational problems, there'll be a channel where you may seek help. There's also a channel for sharing tips and advice in photography.
---
---
---
Previously in 365, One photo every day:
Lazy bastard mode engaged. (351/365)
Miniature city and a model railway at a Toy Museum in Jämsä (352/365)
The First Ride (353/365)
Once again! Mobile shot of Ninnu (354/365)
Guess what this is... (355/365)
Birthday Cake (356/365)
Saab JAS 39 Gripen (357/365)
---
If you liked the post, consider buying me a beer:


---