Hello again!
Here's the first shot I processed from today's set of over 1500 photos! :)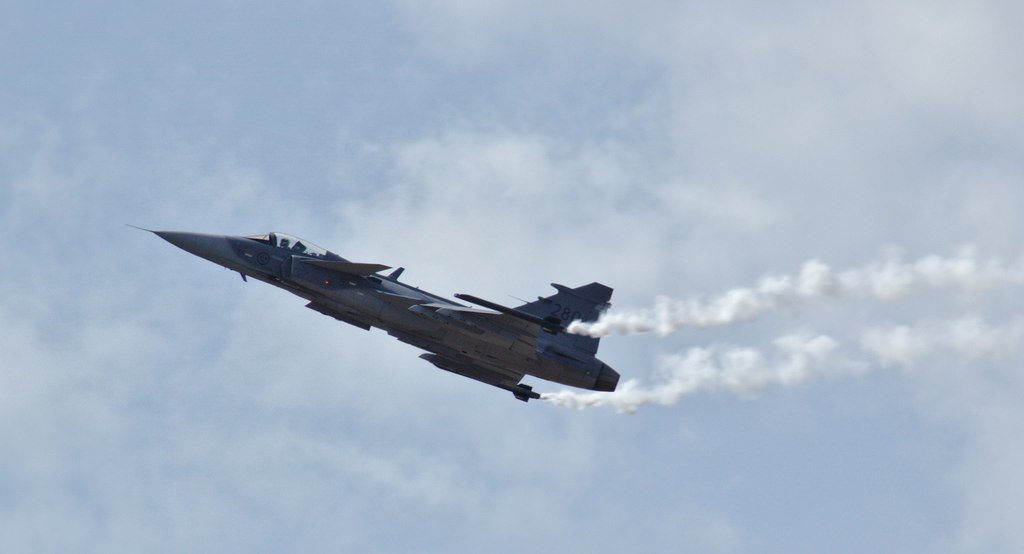 Saab JAS 39 Gripen
Camera body:

Lens:

Focal
length:

Aperture:

Exposure:

ISO-
sensitivity

Canon EOS 550D

Canon
EF 75-300mm
ƒ/4-5.6 III

300 mm

ƒ/11

1/400

Dual-ISO
100+800
I'll get some sleep now, but I'll let the computer crunch all the rest of those files into editable photos while I sleep. When I get back from gym today I'll be doing some editing and post more!
See you tomorrow then!
---
---
Public OPED Project Announcement:
One Photo Everyday is not just a challenge nor just a series of posts on Steemit but it's our way of providing valuable pictures everyday to our amazing community in order to promote the storytelling through the lens of the cameras.
Feel free to join our discord server.
We've created channels where people can find other like-minded photographers wanting to pursue a daily routine, and create their own 365 project. If you fall into motivational or inspirational problems, there'll be a channel where you may seek help. There's also a channel for sharing tips and advice in photography.
---
---
---
Previously in 365, One photo every day:
One photo every day: Käpytikanpojan aamiaishetki :: Great spotted woodpecker chick having a breakfast (350/365)
Lazy bastard mode engaged. (351/365)
Miniature city and a model railway at a Toy Museum in Jämsä (352/365)
The First Ride (353/365)
Once again! Mobile shot of Ninnu (354/365)
Guess what this is... (355/365)
Birthday Cake (356/365)
---
If you liked the post, consider buying me a beer:

---