If @papa-pepper loves it, then who wouldn't? 
Where i live people are so keen about that cutie-pie face. A cute face and some really light-skin is pretty much equal to life itself. The obsession is that huge!
 But how about other factors that make up a face? Yes, even to a cute face, there are other dimensions! 
How about facial value? How about knowing the value of that cute face or light-skin? How about actually feeling your sexy? How about likeability?
Yes, that's it......................
How about "likeability"?
Hahaha, who can tell me that @merej99 isn't drop-dead gorgeous? If you can erupt likeabilty anywhere you go, what do you call that? Yes, wear those simple eye-glasses of yours and simply walk that room and people just can resist say, Hey Meredith!
Likeability is a rare gem and even till date, few people have it! It is a gift and if you have it, you will know it! It is real! 
It is different! It is special! And it is way different from a cute face or a hot body. 
What is am saying is, you can be the hottest hottie on Mama Earth and still not be likeable!
Don't Leave
You walk into the room and people can just connect with you instantaneously, face or no face. It just happens! 
Hahaha, all this is far from the point or may be it is not. My point is; IF @PAPA-PEPPER LOVES IT, THEN WHO WOULDN'T?
That man is grown and with beards, you just have to like him. That guy is drop-dead handsome! It is not easy to go somewhere and storm the place with your presence. Even snakes like him! Peppers voluntary lose their sting a bit, when in his presence. It is that simple! 
Life is very many simple things and when it comes down to it, it is that down-to-earth real crappy imperfect person, that really counts. When you have to swim for survival in a deep sea of mud, that is not the time to see how well your Givenchy neck-tie is knotted. @papa-pepper fully knows this and this is also a gift. 
Understanding real life and humans is a gift. 
It's A Small World
It is small world in reality. Always think tomorrow and be nice to people. Don't underestimate anyone today as it is not about you, it is about the generations after you. It is your generation, that may be the one stuck in the same life as my generation and needing each other!
Nobody's knows tomorrow!
I am doing my #steemgig today for free, for @papa-pepper and for the first steemian who leaves me a comment apart from @papa-pepper. 
Here is the #steemgig, that i am currently offering at really negotiable prices for steemians:
Further evidence that @papa-pepper has always been likeable, can be seen it his steemit journey. I want to unfold this journey for every steemian to see and especially for @papa-pepper, so that he is reminded about the beauty he has shared to the world.
It has always been beyond steemit in reality! Our posts here, reshapes the entire web and is here to stay for generations and can touch or fix an unborn person's life. That is how big it really is. 
100 years from now, people will type Papa-Pepper etc on google or on that new search engine called SurpassingGoogle (made up of Human intel) in existence then, and here is a glimpse of the beautiful things they will find:
(This is the beauty of #steemgigs like this, they can form rare gifts)
The First 50 Steemit Posts Of @papa-pepper, starting 8 months ago!
Note: @papa-pepper has written many things on the web. His steemit-post-count is currently 15,034 and this includes comments etc. Look at this as it will help you understand @papa-pepper's steemit journey better:
I start the scroll-down to his very first post at 12:30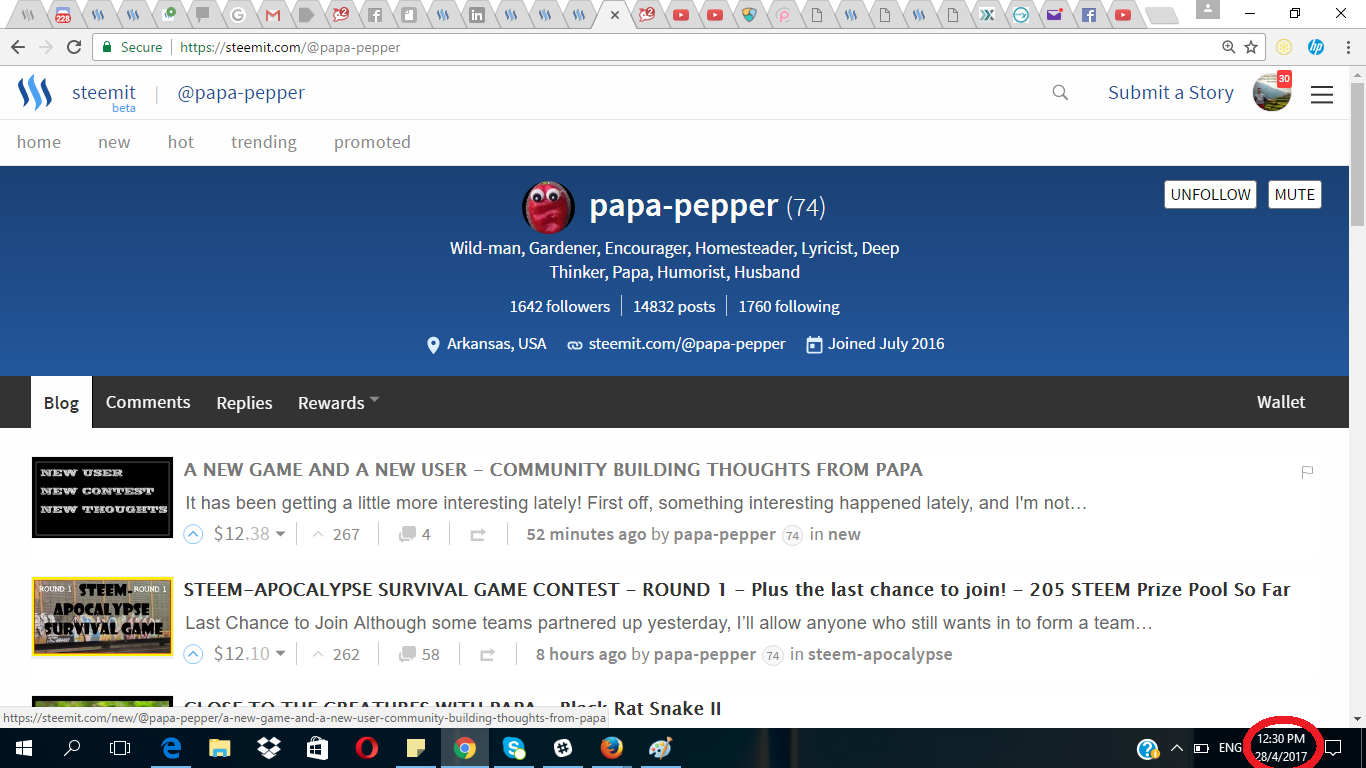 And ended the scroll down and got to his very first post at 12.44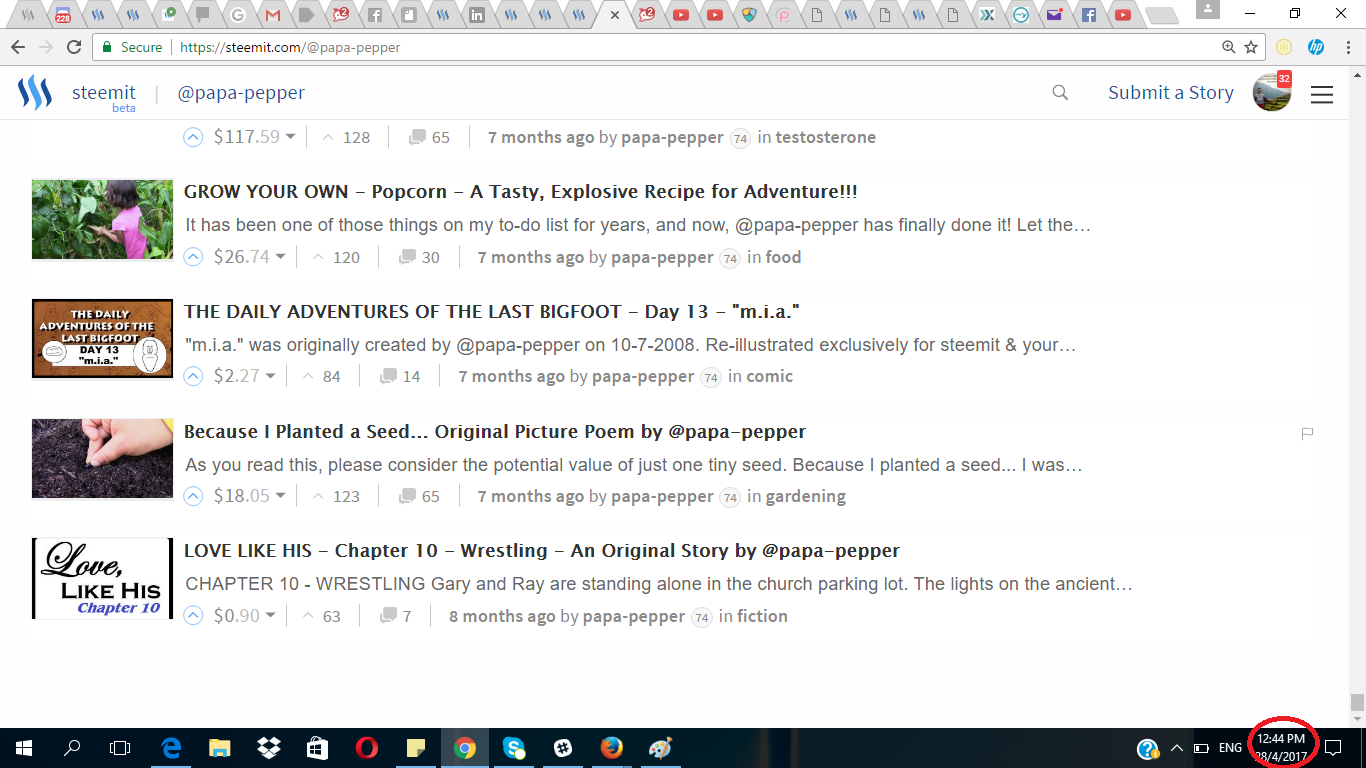 Join this community-driven cause by doing a #steemgig or #steemgigs today! Let's see what 5,000 #steemgigs can do for the beauty of steemit especially on the outside, in terms of steemit growth!
If you have a question about a steem GIG or want to avail of one, check out @steemgigs and leave a comment. All our current #steemgigs are findable there!
Your boy Terry
For greater things ahead, the bigger picture and a strong solid team of true fans of FANS, join us below and be assured that we will always readily celebrate you and admire your growth and it will be beautiful testimonies all the way!   
or