Weekly Curation Report by @steemcurator07 (Curating India)
Hello there @steemitblog and @steemcurator01 as today it has became 8 days since I received keys for @steemcurator07 to curate newcomers from India.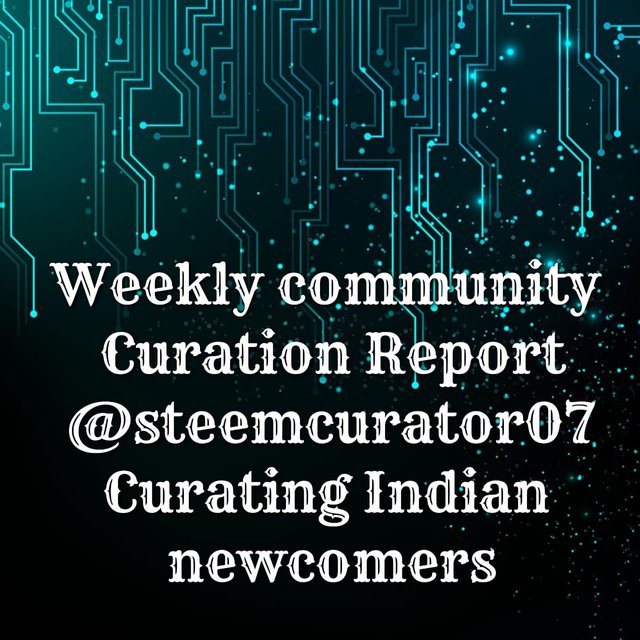 I'm in contact with @randulakoralage, @toufiq777 and @tarpan on WhatsApp. We have created a group there to coordinate for @steemcurator07 account and I created a schedule to use @steemcurator07 account that way all of us will get chance every 3 days to support the newcomers from our respective countries.
I focused on curating the very first diary entry of the Indian newcomers who participated in diary game for the first time
Other than This I'm trying to bring more users to join the diary game. With more users I meant the people who are active on steemit but are unaware of the challenges provided by @steemitblog, I have been leaving comments on people posts who are posting in @appics from India, curating some of their post with @steemcurator07 to get their attention and then leave a proper comment with all the details for joining the diary game and it is kind of working.
Meet @ahlawat he's an active user on steemit from India but he was unaware of @steemitblog and now he have participated in the diary game and have made first entry and i believe he will be posting regularly
Here is the link to his diary entry
List of overall users supported by @steemcurator07
This week I got @steemcurator07 two times to support the Indian newcomers
More than 80% of the above user are newcomers who have participated in diary game for the first time and their first diary entry was supported by @steemcurator07 account
Therfore, I have a request to you @steemcurator01 please see if you can increase delegation in @steemcurator07 account or perhaps in our personal account, because India and Bangladesh are the fastest growing community on steemit. Lots of users are joining and posting entries daily. Currently there are more than 50 newcomers from Bangladesh Posting diary entries daily and same from India More than 50 users posting entries daily. So to manage and support such a large number of users we will need more delegations. Any amount would be much appreciated!
Thank you for all your support Steemit team @steemcurator01 and please consider about increasing delegations.