ohh , how sweet you are , making a whole romantic place with your lovely cat and listening to the poetry I wrote about u ❤️ <3
I am so happy that you loved it .
I still dont know why you take the bus a lot ? do u have to travel to berlin every week ? I m confused haha
anyway I m writing to u before getting asleep, I feel so tired, need a panda sleep, haha but I wanted to talk about your name as I did my research and understand


so Talha is an Arabic name , it means a big tree, big trees are the source of oxygen , it absorbs the co2 to produce o2, it gives shade when it shot , and with it we can make a lot of things .and as you ,you are a good person who gives without asking, just like when the tree gives o2, also your arms are always open, to spread love and protect people .it reminds me of when u were in Merzouga and u started warming people's hands as u told me ..you are growing high and high just like a big tree but with a strong root.


So i think that your name represent you .about your family name " Gürlek" i think it s a turkish word , but i couldn't understand the meaning but instead I have something more interesting :D it's like a DNA journey but of your family name :
I found this web site "http://forebears.io/surnames/gürlek" it shows you all your origin countries , isn't that crazy ?


I mean look at this :
You are a man of the world ❤️ <3 as I am a woman of the world
for that I've a question , veda told me that she lives in Germany but now in Turkey because she has an origin from there , are u like her ?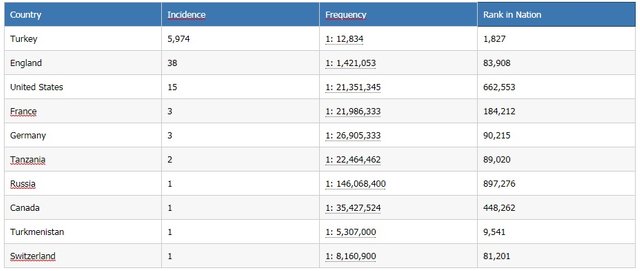 Here a list to start from the beginning of our journey...