Super Kids
Wear them proudly.
These are our American colors (flag), red, white, and blue. Only thing cooler than Superman, might be Batman, Battletoads, and the green, mean, fighting machine, Teenage Mutant Ninja Turtles (TMNT).
We bleed this.
Our skin is white. Days before adventuring out to Disneyland for the Christmas of 1992, we posed for the mommy camera as miniature models. I'm Superman and Crystal is Supergirl. These were our pajamas. Fighting nightmares one day at a time.
Christmas 1992
That Christmas, Crystal went with mom to see her parents in Roseburg, Oregon. Ricky, Katie, and Joey (me), went off with dad to see his relatives and also mom's brother, Brian Morehead, and Brian's family, in Los Angeles, California, and around there, during probably the last month of December of '92.
One day, we were at Disneyland.
In this photo here, you can see me & my sister on a small red couch in the living room of our 3 bedrooms trailer home. I'm holding what appears to be a Battletoad frog. Behind us is our school desk as we were homeschooled in Oregon in the 90's.
Best Friends
On the wall, a poster says "Best Friends" & it contains a photo of 2 people, I'm thinking Katie & Katrina, Kathy, or maybe Crystal. I went on to draw pictures of me & my best friends & family, starting in around '97, annually for a few years. Two bread boxes on the counter. Our television on top of an old desk. I'm still using that same desk right now to type this. Duct-taped stools. Carpet meeting our kitchen floors. Crystal sporting turtle slippers. I'm wearing a hat. A brown dresser.
This could have been our Halloween costumes, if it weren't.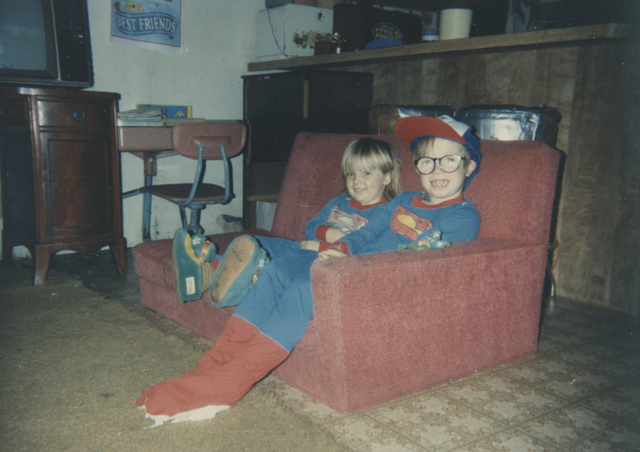 Super Kids
By Joey Arnold