Favorite Drinks
What do you drink? What are your favorite beverages, drinks, water, soda, pop, wine, beer, liquids, and why? Please let me know in the comments, below. Here are some of my favorite drinks as follows:
I'm not drinking soda because cranberry cleans my teeth like a fine wine, it renews me like Tommy Robinson in popular culture, and cranberry juice is just magic, like grapes. We feel better when we drink water and juice. Natural sugars are better than fake sugars and other fake things that are added to foods and drinks. We are all our own doctors. We do better when we eat from our own gardens and when we live in boat plane cars and as we live in the ground in forests. We can live longer and be happier in so many ways with Oatmeal and with Victory.

I like sweet lemon juice and lemon water. I eat raw lemons, too.

Love tea, especially green tea. So romantic. So relaxing.

Especially like the coffee in Vietnam. Wakes me up. Good to the last drop.

I'm drinking water each day. Many people don't drink pure water. Some water is Fake-Filtered and there is some bad stuff that is put in some bottled water. Plastic gets into water because plastic bottled water leaks BPA.

Favorite Drinks
2018-05-29 Tuesday 07:12 AM LMS: Favorite Drinks
Written By Oatmeal Joey Arnold
Published at 08:34 AM

Was Banned For This Hitler Photo!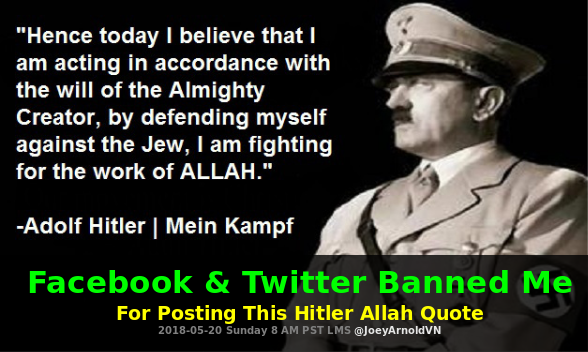 Facebook & Twitter Banned Me (2018-05) For Posting This Hitler Photo.
My Employment
(Web-Designer) @Shelton Music Store in Shelton, WA,(Film-Maker) @Arnold Attic,Camp-Counselor, English-Teacher in Vietnam, carpenter, musician, dishwasher, artist, journalist, creator, & more... (See More)
Litecoin -LRxpufCqg95g3BYuAKHev6NVWp6Sgb7jiz
Bitcoin ---1JY9EVYaB8SafhK8TvFoqs7vyRzmcRJGyv

My Biography
More About Me: My Back Story
Lived in Oregon, New York, West Virginia, Vietnam, Hawaii, Quebec, California, Seattle, Idaho, Cambodia, Oregon, South Carolina, & more... (See More)
My Social Networks
Bitchute,Blogspot,Busy,Disqus,Dlive,Dmania,Dsound,Dtube,Facebook,Freedom,Gab,GitHub,Google,Linkedin,Medium,Minds,Periscope,PewTube,Steemit,Steepshot,Tumblr,Twitter,Utopian,WikiTree,WP,YouTube,Zappl, & more...(See More)
My Favorite Websites
AIG,Crowder,DailyBeast,DailyCaller,Dnews,DrBerg,Drudge,Eagle,FreedomPressFreedomToons,FreeGeek,Hagmann,InfoWars,IntelliHub,Lionel,Lisa,Mark,Milo,NaturalNews,NewsWars,Rebel,RSBN,Savage,Tommy,Veritas,WikiLeaks,WND, & more...(See More)
My Following List
@Cernovich @GrrrGraphics @JoeyArnoldVN @Stefan.Molyneux, and more... (See More)
Code for justified text: <div class="text-justify">TEXT</div>
Code for smaller font: <sup>TEXT</sup> or <sub>TEXT</sub>

My Favorite Things
Animals - Steemit Communities - Television Series - Games/Sports - Vehicles - Verses/Quotes/Inspiration - Food/Health - Cartoons - People - Sitcoms - Space Series - Open Mic - 30 Year Old Man Evicted From Parent's Home - Predictive Programming - Solo Review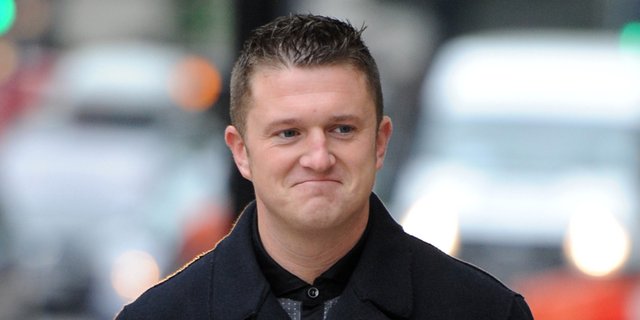 Tommy Robinson was imprisoned 2018-05-25 in the UK for journalism.