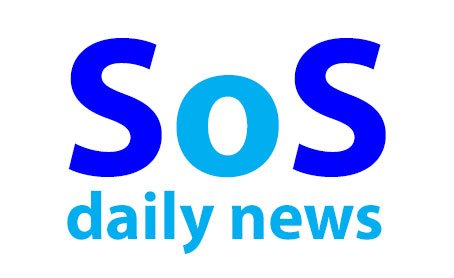 A big day for Steem...
Out on the exchanges the price of STEEM has continued its upward trajectory reaching $0.38.
In tandem with this STEEM's ranking on CoinMarketCap.com has risen to #42.
Back on the home front top 20 witness @thecryptodrive has launched a Community Petition calling on Steemit Inc to stop their powerdown.
---
---
Steem Rises...
The price of STEEM has continued its recent impressive rise.
It is now standing at around $0.38 to take it back to its level at the beginning of December.
Most importantly this is not the usual upward coat-tailing following a rise in the Bitcoin price. The value of STEEM in BTC (orange line in the graph below) shows a significant uptick demonstrating a breakaway from following the BTC price trend.
As a consequence STEEM is experiencing a very pleasing climb in the CoinMarketCap.com rankings - now reaching as high as #41 - a rise of 10 places in the past week.
What is causing the price rise is not totally clear.
In a comment on a post from @taskmaster4450, @themarkymark identifies Bithumb unlocking the Steem wallet as the main cause rather than any internal activity.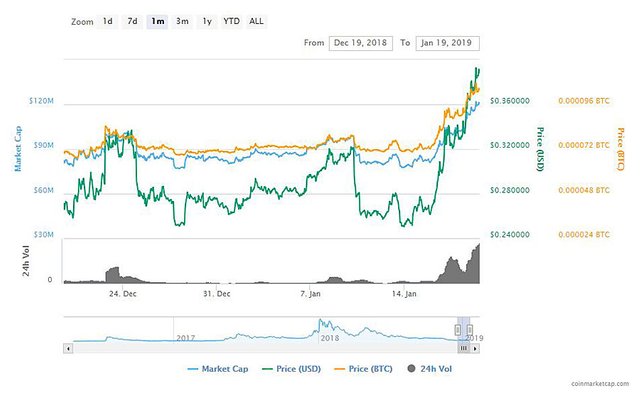 ---
---
Urgent Community Petition
Meanwhile back on Steem disquiet and dissent is growing in some quarters about Steemit Inc's powerdown of its SteemPower.
The powerdown, along with the move of 1 million liquid STEEM to the Bittrex exchange, was initiated a week ago by Steemit Inc in response to the perceived threat of HardFork 21.
The HardFork 21 Pull Request, lodged by former Steemit Inc contractor (Johan Nordberg @almost-digital), contained code to fork out all the accounts owned by Steemit Inc.
For this HF21 to be accepted it would require a super majority (15/17?) of the Top 20 Witnesses to adopt it.
This was, and is, considered a near impossibility.
Many witnesses and senior steemians view Steemit Inc's powerdown as a major overreaction that has serious negative impacts on Steem, both internally and externally.
In an effort to get Steemit Inc to cancel the powerdown top 20 witness @thecryptodrive has launched a Community Petition to send a message to CEO Ned Scott.
Alongside the petition witnesses have begun posting their own personal statements and open letters to Ned, declaring that they would not support a hardfork that forks out Steemit Inc's stake, and requesting for the powerdown to be halted. The tag 'stopthepowerdown' is being used.
So far around half a dozen of the top 20 witnesses have posted, along with a number of lower ranked witnesses. The posts are listed below.
This is a complex subject so a careful read of @thecryptodrive's post and associated comments is highly recommended...
---
---
(change on previous day in brackets // n/c = no change)
| | | |
| --- | --- | --- |
| Steem price | US$ 0.373 | 2019-01-19 04:00am UTC |
| SBD price | US$ 0.889 | 2019-01-19 04:00am UTC |
| Market Cap | US$ 115,642,309 | 2019-01-19 04:00am UTC |
| CoinMarketCap Ranking | #42 (+6) | 2019-01-19 04:00am UTC |
| No. of Whales | 36 (n/c) | 2019-01-17 |
| No. of Orcas | 320 (+1) | 2019-01-17 |
| No. of Dolphins | 1978 (n/c) | 2019-01-17 |
| No. of Minnows | 9098 (+1) | 2019-01-17 |
| Alexa rank (steemit.com) | #4160 (-2) | 2019-01-19 02:58pm UTC |
Follow @penguinpablo for more statistics.
---
NEWS FROM STEEMIT INC
@ned - The Guiding Mission, Vision and Values of Steemit, Inc
@steemitblog - Hivemind + Ruby
@steemitblog - Hivemind is Live!
---
NEWS FROM THE WITNESSES
The Community Petition from Top 20 witness @thecryptodrive...
Urgent Community Petition: Steemit Inc. to Stop 34 Mil SP Powerdown!
---
Open Letters to Ned and responses to the Community Petition...
#1 @aggroed - Deescalating and working towards a mutually beneficial solution
#2 @timcliff - Open Letter to Ned/Steemit
#8 @ausbitbank - Steemit Inc - Please stop your powerdown
#10 @lukestokes - Is Steem Centrally Controlled?
#19 @drakos - My Statement Concerning the Potential Freeze of Steemit Inc's Accounts
#20 @therealwolf - Public Witness Statement @therealwolf
#37 @blockbrothers - Statement from the @blockbrothers
#48 @firepower - Public Witness Statement @firepower
#50 @fyrst-witness - I do NOT support a fork to REMOVE anyones stake!
#54 @steemed - I Support Forking Out Steemit
#57 @neoxian - Dear Readers, I am against a Hard Fork that would steal, destroy or freeze someone's money
#62 @liberosist - Witness statement
#63 @ats-david - Open Letter to STINC and Everyone Else
#64 @guiltyparties - Open Letter to Ned and Steemit Inc
#79 @mahdiyari - Witness statement
#95 @krnel - Keep Your STEEM Powered Up, or Power It Down, Your Choice
#119 @fbslo - Witness @fbslo statement
#141 @isnochys - Open Note to Steemit and Ned, I guess
@smooth - Who likes hard forking?
---
Other witness news...
#37 @blockbrothers / @exyle - Vlog 388: My take from the State of the Steem forum from last night (18th January 2019)
#52 @helpie / @meno - Remembering the Kool aid
#69 @steemcommunity / @paulag - Churn Rates on STEEM 2018 Review
#95 @krnel - KURE - A Community Platform and Curation Network Remedy for Steem!
#104 @crowdwitness - MinnowSupportProject Witness Vote Application
#119 @fbslo - EtherSteem Update: Ether Steem Token (ETHSTEEM) & Accounts
#181 @pcste - @pcste witness update 17/01/2019
To keep up to date with more posts from witnesses follow @witnesspage ...
---
NEWS FROM KEY PLAYERS & INFLUENCERS
@drutter - STEEM price skyrockets on heavy volume!
@ezzy - So Ned was on @Pennsif's "State of Steem" Show Last Night...
@lordbutterfly - Will we finally see Bithumb open STEEM transfers?
@lostmine27 - Analysis of SBD supply balance trend
@midlet - Thoughts and Summary of State of Steem Forum
@mindtrap - @pumpkin's influence is like...
@nathen007 - It's rather odd...
@organduo - 10 things I learned from posting on Steem every day for 1 year
@shredz7 - 1 Year on Steem!!! - And Why We Need Communities
@surfermarly - Marketing For Steem - An Open Proposal
@taskmaster4450 - Ned Talks And The Price Of STEEM Jumps
@tcpolymath - The anatomy of a pivot
---
NEWS FROM COMMUNITIES
@deepdives - Dark Dives - Special Ongoing Deep Dives Investigation
@dolphincouncil - The Dolphin Council
@dolphincouncil / @underground - Dolphin Council Update : The DOLPHIN 🐬 COUNCIL is MERGING with the DOLPHIN 🐬 COUNCIL!!!
@homesteaderscoop - Communities, Onboarding and Gift Economy - Fundition Proposal for Homesteaders Co-op
@openmic / @luzcypher - @sndbox Is Calling All Logo Designers And Artists To Help Design The @OpenMic Dapp Logo
---
NEWS FROM EVENTS & MEETUPS
JANUARY 2019
@travelling-two - London Steem Meet Up - 18th Janaury 2019
APRIL 2019
@steemcampuk / @lloyddavis - Save The Date - Saturday 6 April, SteemCampUK event in the Midlands, UK
MAY 2019
@dtube.forum - Early Birds of @dtube.forum 18/01/2019
DECEMBER 2019
@steemfiesta - SteemFIESTA 2019 - The First Five Days of DECEMBER - Summer in the South!
---
NEWS FROM DAPPS, APPS & DEVS
@fbslo - EtherSteem Update: Ether Steem Token (ETHSTEEM) & Accounts
@partiko - Start Using Partiko and Get 15 Steem Power Delegation
@share2steem - Share2Steem Is One Of The Top Ten Steem Dapps
---
If you want to check on progress of development on Steem, check out the GitHub here...
If you want to check on the current list of full API Nodes witness @holger80 provides this via @fullnodeupdate...
---
MEDIA COVERAGE OF STEEM & STEEMIT INC
Hacked - STEEM Coin on the Move While Steemit Loses 20 Million Visitors in Six Months
---
This is #47 (18 Jan '19) of this daily news service.
Please let me know of any important posts or key data that should be included. Comment below or message me on Discord Pennsif#9921
---
[ graphic by @pennsif // graph from CoinMarketCap.com ]