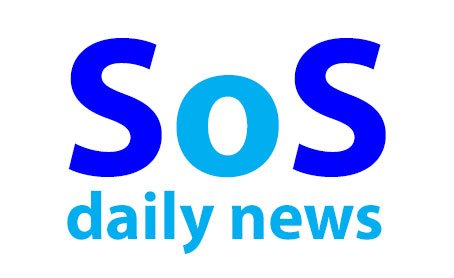 One main topic dominating the news...
Steemit Inc powering down and @misterdelegation (ie Steemit Inc) withdrawing its delegations from @dsound, @musing and @sndbox.
Many posts, many opinions on all this. Read them and make your own decision.
And Ned appears...
---
---
Steemit Inc acts
After the surprise submission of @jnordberg's (aka @almost-digital) Hardfork 21 'Freedom' Pull Request that would nullify the stake of all the Steemit Inc accounts, Steemit Inc has acted swiftly.
The company has moved over one million liquid STEEM to the Bittrex exchange, and begun a power down of the rest of their undelegated Steem Power (34 million SP).
Alongside this Steemit Inc removed the @misterdelegation delegations to @dsound, @musing, @sndbox and a couple of smaller accounts.
The first reaction post came from witness #22 @therealwolf...
Reaction posts followed from a number of other commentators including...
Read. Absorb. Decide.
---
---
Ned pops up on Discord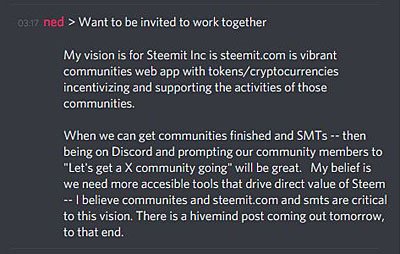 Ned Scott, Steemit Inc CEO, made an unscheduled appearance on @aggroed's show on MSP Waves last night.
After typing a number of responses in chat, he was then persuaded to come on air.
Witness and long-time Steemit investor @fyrstikken and host @aggroed had a lively discussion with Ned for an hour or so.
One of Ned's main points was his desire to complete the developments to enable Hivemind and Communities to become a reality.
While still in chat he spelt out his current vision...
My vision is for Steemit Inc is steemit.com is vibrant communities web app with tokens/cryptocurrencies incentivizing and supporting the activities of those communities.

When we can get communities finished and SMTs -- then being on Discord and prompting our community members to "Let's get a X community going" will be great. My belief is we need more accessible tools that drive direct value of Steem -- I believe communities and steemit.com and smts are critical to this vision. There is a hivemind post coming out tomorrow, to that end.
Ned also agreed to look into options for enhancing communication channels with the community at large.
One possibility mooted was a Steemit Inc Discord server. Alternatively @fyrstikken suggested a forum.steemit.com setup. This could be built using @buildteam's TokenBB forum system that is currently being developed.
Look out for more information coming from Steemit Inc very soon...
---
(change on previous day in brackets // n/c = no change)
| | | |
| --- | --- | --- |
| Steem price | US$ 0.256 | 2019-01-14 04:27am UTC |
| SBD price | US$ 0.720 | 2019-01-14 04:27am UTC |
| Market Cap | US$ 79,168,128 | 2019-01-14 04:27am UTC |
| CoinMarketCap Ranking | #51 (n/c) | 2019-01-14 04:27am UTC |
| No. of Whales | 36 (n/c) | 2019-01-12 |
| No. of Orcas | 315 (n/c) | 2019-01-12 |
| No. of Dolphins | 1971 (+4) | 2019-01-12 |
| No. of Minnows | 9098 (+3) | 2019-01-12 |
| Alexa rank (steemit.com) | #4121 (-4) | 2019-01-14 04:27am UTC |
Follow @penguinpablo for more statistics.
---
NEWS FROM STEEMIT INC
@bryan-imhoff - Ned Lives! (Some May Consider That a B Horror Movie Title...)
@steemitblog - Testing Ads on Steemit.com
@steemitdev - New Year, New DevPortal Updates
@steemitdev - Additional Public API Change
---
NEWS FROM THE WITNESSES
#11 @lukestokes - Exchange Transfer Report: 1/6/2018 to 1/12/2018
#22 @therealwolf - Dear Ned & Steemit Inc
#44 @jackmiller - Approaching The End Of A Hands On Testing Of Some Things We Have Out There
#97 @krnel - Steemit is Powering Down 34 Million SP, Transferring to Bittrex, and Pulling Delegations - Why It's Good News!
#97 @krnel - Steemit Inc. Powerdown Due to Fears of Having Accounts/Stake Stolen in Future HardFork
#97 @krnel - React(ing) Before Express(ing)
#113 @pjau - Witness "pjau" Update Week 36
To keep up to date with more posts from witnesses follow @witnesspage ...
---
NEWS FROM KEY PLAYERS & INFLUENCERS
@ew-and-patterns - SBD update 13.01.19
@ew-and-patterns - Are steem wallets still safe? Likely YES!
@meno - Things I don't understand
@mindtrap - Just a few hours back @musing @dsound @sndbox got their delegations pulled away....and steemit account started a full power down...
@princessmewmew - We Want Steem Paired With USD On Bittrex. When Do We Want It? Now!
@socky - Campaign to get SBD listed on Binance Jan 13, 2019
@tarazkp - Thoughts on the most Steem, control and economic protection
@tarazkp - Another day another drama
@taskmaster4450 - First @ned And Now Steemit: The Powering Down Continues
@taskmaster4450 - Change In Steem Distribution Levels 1/13/19
@tcpolymath - Let us not use pull requests as political footballs
@whatsup - Regarding the Github Issue to Fork out SteemIt Inc.'s Stake
---
NEWS FROM COMMUNITIES
@steemchurch / @sirknight - SteemChurch Strategy Update: Smart Tokens on Telos - calling our smart contract engineers
---
NEWS FROM EVENTS & MEETUPS
JANUARY 2019
@redrica - First London Steem Meetup of 2019 | Friday 18th Jan 12pm onwards | High Street Kensington
MAY 2019
@dtube.forum - Time Schedule of the DTube Forum
DECEMBER 2019
@steemfiesta - SteemFIESTA 2019 - The First Five Days of DECEMBER - Summer in the South!
---
NEWS FROM DAPPS, APPS & DEVS
@inertia - Top Ranked steem-ua Delegators
@partiko - Partiko Weekly Report #14 - Be a Mentor
@spunkeemonkee / @dreemsteem - What else is in STORE for Spunkee Monkee??
@steemauto / @flauwy - How To Support Your Favorite Steemians And Earn More Curation Rewards With SteemAuto Fanbase
@stratos / @shredz7 - A Model For a Decentralized Open Company + Stratos Update
---
NEWS FROM GAMES
@magicdice / @niallon11 - Magic Dice dividends shares
---
If you want to check on progress of development on Steem, check out the GitHub here...
If you want to check on the current list of full API Nodes witness @holger80 provides this via @fullnodeupdate...
---
MEDIA COVERAGE OF STEEM & STEEMIT INC
Captainaltcoin.com - How about that for decentralization: Steemit censoring content on their platform
Heavy - The Dark Overlord Update: Hacker Group Banned on Steemit, Reddit & Twitter
---
This is #42 (13 Jan '19) of this daily news service.
Please let me know of any important posts or key data that should be included. Comment below or message me on Discord Pennsif#9921
---
[ graphics by @pennsif ]