@Witnesspage - Update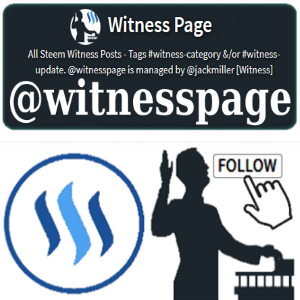 During the past months @witnesspage has been readily relaying all the witness related posts from all our active witnesses.
Namely, all the posts that all our Steem Witnesses post with one of the following tags:
Occasionally a post that is not written by witnesses, yet is a 101 interview with a witness has been resteemed also, as a means to promote some of the efforts that fellow Steemians are going to in the hope of promoting more 101 interaction with our witnesses.
---
So what this means is that by following @witnesspage you shall have all the relative witness posts by all our witnesses in your feed.
---
It also means that anyone can go to @witnesspage and view all the relative witness related posts by all our witnesses in one place, without opening up dozens of new browser windows/tabs.
---
So @witnesspage offers a solution to the common questions heard out there:
"Where can one find ALL the Witness posts?"
"What are the Witnesses doing? Where can I see this?"
"Why isn't here a page where I can see what the Witnesses are saying?"
---
None of the above is "news" as @witnesspage has been running for a while now.
However, what is noticeable is that many people still haven't heard about @witnesspage, so @jackmiller, the creator of this account and the above listed service has loaned 500 Steem to help promote it and get the word out about it.
But that isn't the "news" or "update".
---
The "news" or should I say update is that @witnesspage now has a webpage with the same name.
www.witnesspage.com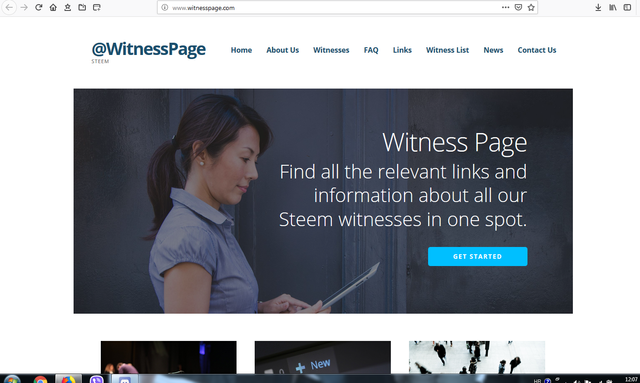 The sole purpose of this webpage is to assist all the "educational services" out there among our wonderful Steemian communities.
It is set up so simple and straight forwards that it is hard to get lost and with a click or two anyone can easily get back on track to where they wanted to be.
---
One of the things about this page is that isn't "finished" and probably "never" will be.
As the Frequently Asked Questions (FAQ) are being left to people who work with new Steemians.
Yes, you read that right.
WHY?
Well, most of us tend to answer questions in ways that are somewhat overwhelming to new members, while the people out there who work in community projects helping our new fellow Steemians get acquainted with everything are used to wording things in an effective and "understandable" manner.
When I say "educational services" I am referring to projects like "The Welcome Wagon" as one perfect example.
These people know exactly how to communicate the information and know exactly what questions new users of Steem ask.
So it is only appropriate that this ever so important segment of this page be left to these qualified people, with all the experience in the field.
---
This update as mentioned earlier is short and precise in with only one goal in mind:
To ensure that the service @witnesspage is promoted and put to good use by many more Steemians.
---
Thank you for your time
STEEM ON
Yours truly