Week 12 - Pay It Forward Curation Contest
Before we get into week 12's post I wanted to take a minute to thank all the hard work done by those who have in the past entered the PIF Curation Contest. Here is the list of 93 amazing steemians that have taken their time to help Curate and Featured hundreds of deserving blog posts.
@accio, @agmoore, @angelro, @aninamaev, @backpackingchef, @bananamemos, @barski, @bashadow, @bengy, @bjgeese, @bmotives, @buckaroo, @cicisaja, @cuppcake, @davemccoy, @derekfreeman, @digitalmind, @dipoabasch, @dixiesilverminer, @djoi, @donna-metcalfe, @doomsdaychassis, @e-rich, @ecid, @elsiekjay, @energyaddict22, @eventspeaker, @f3nix, @fiberartists, @fitinfun, @freedomshift, @futurefarmers, @ginnyannette, @habeebability, @headchange, @hetty-rowan, @honeysim, @iexplore, @illusion16, @imagendevoz, @insideoutlet, @johndoer123, @josephlacsamana, @jrvacation, @k0wski, @kandywriter, @leeart, @madpotters, @magicalmoonlight, @mariannewest, @me2selah, @mightypanda, @mr-bike, @mtnmeadowmomma, @mysecondself01, @nikema, @permieemmy, @plushzilla, @practicalthought, @psionic-tremors, @pundito, @rentmoney, @reonlouw, @revisesociology, @ridoykhan22, @sams-world, @sanbi, @scrawly, @seanytan, @sherbanu, @soyjohancy, @sue-stevenson, @thaishps, @thehoneys, @thelaundrylady, @tony19r, @trincowski, @triplef, @trudeehunter, @tryskele, @tygertyger, @udywriter, @vcg5000, @victorsilab, @viking-ventures, @vipnata, @wanderlass, @wholeself-in, @wilfredn, @williamgabriel, @wolfhart, @zanoni, @ziggypepper
Each person listed took their time at least once to enter the contest featuring other bloggers to help them gain exposure. Would love to see as many of you come back and make another entry as possible. Right now as a whole steemit is having a slow down probably due to a combination of summer and low steem prices so rewards are "lower". But honestly this is the exact time you need to be earning as much as possible. Your SP payout from posts is higher now then when prices are high and total SP earned should be the real goal.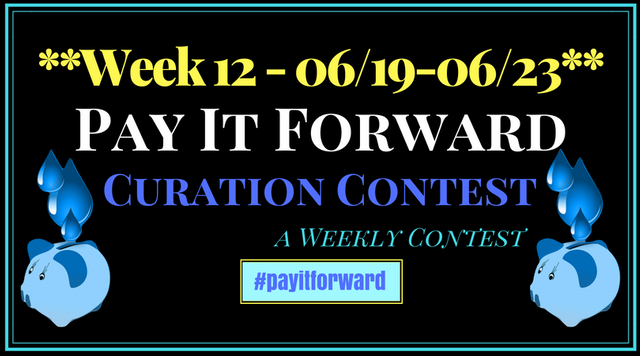 New Account!
@pifc account has been created. Everyone should start following @pifc now and if possible please help power up the account. This account will be used to support the contest entries and featured bloggers. More voting power it can grow the more power it will have to help you grow in the future. Please lend a hand when @pifc posts it's Power Up posts over the next few weeks. Any and all support will be greatly appreciated.
Week 12 Rules (No Changes From Week 11)
For week 11 and future weeks you will need a curation style entry that includes 2 High Quality Original Content Blog Posts from Level 50 or Below Bloggers.
Curation Style Post of 2 Bloggers who are posting Quality Original Content
Link to 1 recent blog post per featured blogger. Keep in mind that many will follow this link and upvote so pick a post that isn't close to payout!
Include a link to this contest in your entry post
The 2 bloggers you curate Must Be Rank 50 or Lower!
You need to comment on this post with a link to your post, this is how I track everything!
Optional: Themed 3rd Featured Blogger (New Theme)
New Theme for the Optional Featured Blogger! This week besides your 2 Mandatory Featured Bloggers the bonus Feature spot will be a witness you support and why you support them.
👉👉Clarification for Quality Required for valid Entry👈👈
We are looking for Quality Original Content. We want to see no less then 200 words of original written content. So a single photo is fine as long as there is 200 words with it.
To make it easy to estimate 200 words figure there needs to be 12 lines of content.
Posts from Parley and dmania are not acceptable.
---
---
Prizes: Steem Basic Income
This week at least 6 winners are going to get a sponsorship for #steembasicincome!
There will be 1 SBI Sponsorship per 8 entries into the contest on a random basis (minimum of 2).
There will be 4 Judges Choice SBI Sponsorships awarded based the quality of the bloggers you feature in the eyes of our Judges, @tryskele , @lynncoyle1, @energyaddict22, & @wolfhart.
@steembasicincome is run by @josephsavage and is a great program designed to provide a lifetime income to members who have SBI Shares.
Prizes: Steem-Bounty
@steem-bounty of 3 SBD has been created. I will only upvote entries for the Author's 80% of the Bounty. No other comments will be upvoted as the goal is to reward those who enter the contest.
@steem-bounty is run by @knircky and I'd like to ask that you set @steem-bounty as a witness. In order to do so you can go to: https://steemit.com/~witnesses and enter the "steem-bounty" account into the text field and click vote.
---
---
Contest Date Range
To make sure that there is time for all entries to be viewed and the featured bloggers all get the exposure which this contest is designed to provide we will be only taking entries from Tuesday- Saturday 11:59pm CDT (CDT is Central Daylight Time). Need this time to revolve around my time so I can make changes to the posts at a set time for me, midnight.
If your unsure how CDT converts this link should show you your local time for 11:59pm.
Week 10's Winners Post will be on Wednesday June 20th 12:01am CST US.
Week 11's Winners Post will be on Wednesday June 27th 12:01am CST US.
Week 12's Contest will start with a post on Tuesday June 26th 12:01am CST US.
** Fair warning I will flag you if you are trying to boost your comment to get more of the bounty. This includes use of paid votes to increase your portion of the community side of the bounty.
---
---
Featured Blogger SBI Share Bonus
This bonus is fully funded with sponsorship from those listed below. Thank you all for your continued support!
---
---
Post written on @esteemapp which is run by witness @good-karma (a Witness I support). This project will be featured this week most likely, but wanted to give you a heads up now. @esteemapp has some great features and maybe most important to me is the ability to schedule a post.
Besides this benefit the interface is just easier to use. Formatting doesn't need to be done in code so for the average person this makes creating nice flowing posts much easier. Here is their most recent post on tips/features of esteem and at the bottom is a list of other posts related to the features. As you can see there are a ton of features that are currently missing from Steemit.com. Oh and can't forget they have a functioning android and apple app. Anyways more to come on this app including screenshots.
---
---
Current Entries - Please Visit!!!
This is the real purpose of this contest, visit these posts and help upvote the bloggers featured. This list will be updated as new entries are added. Please check back during the week!!