My Entry: Week 12 - Pay It Forward Curation Contest
Pay It Forward Curation Contest-Week 12 - Participate here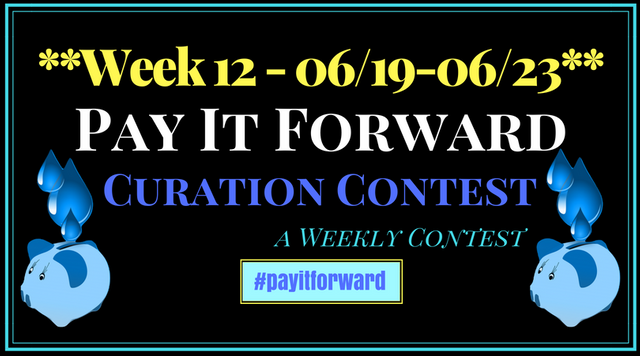 Source
---
@liverussian – reputation 47
How she introduces her self:
Teaching the Russain language to foreigners; I love what I do! Actually I love many other things: pencil drawing, needle felting, poetry, life!
---
This is one of those talented Steemians who certainly has options when it comes to success on steemit.
---
MY MAIN CRITICISM:
---
@tomboy – reputation 46
How she introduces her self:
A writer •blogger • Smartphone Photographer • Nature Lover •Movie Fanatic •Novel Reader •Foodie • Lover of Korean Dramas
---
I simply love coming across the blogs of multi-potentialites, and for me @tomboy represents just that. I think that this Steemian is vastly under-valued, but that is because there are some quality issues. Let me point out some of her strengths before diving into potential growth points.
---
MY MAIN CRITICISM:
---
Favourite Witness:
When it comes to witnesses I'm completely out at sea. I've heard of some, but don't truly know what their values are or what they represent. The other dilemma that I am confronted with is which witness active and which is not. Not to mention which witnesses are outside the top twenty.
For this reason I have contemplated selecting a proxy (the other button one can use when selecting a witness). So without further ado, I have nominated @thedarkhorse as my proxy.
Why did I select the @thedarkhorse?