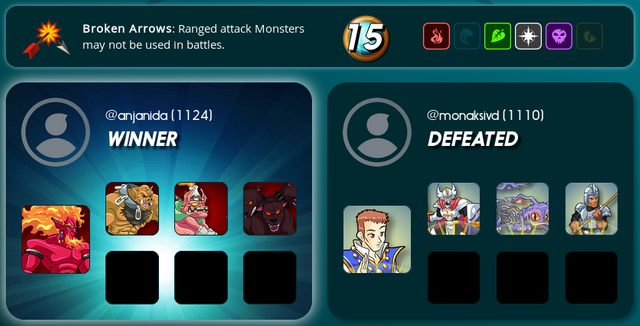 Great start into the season
To be frank, I first had 12 battles with only 1 victory for my daily Fire quest against @gritata. Great match by the way. [1] Pretty devastating in the long run. Some of those I won with Level 3 Earth and some opponents fled, namely @soly, @preferansist, and @sm-pro. (Tell me why!) That is why I played in Silver and this way I kept Silver III position.
Since I so far have only Fire level 1 cards, winning in Silver III is not easy. Yet I had one victory with Fire. So only 4 victories left, right?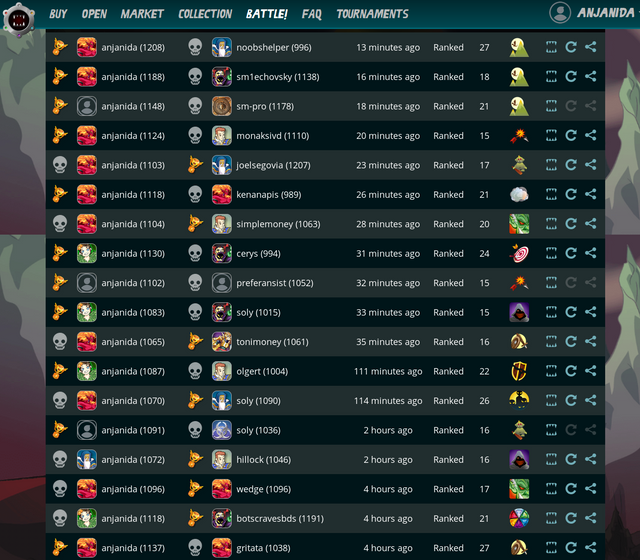 At my battle against @kenanapis I figured out a new strategy. Pit Ogre in tank position and Cerberus at the far end keeping himself healthy until he possibly will be in the first row. This time with "fog of war", so no sneak or sniper.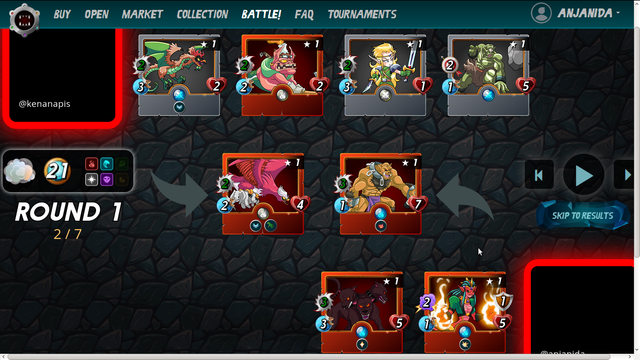 https://steemmonsters.com?battle=0bab8b7b669994cdea458659f63c284b535ecd28&ref=anjanida
I changed this strategy for the next battle - and got defeated by @joelsegovia.
Then I figured out that Cerebus at the far end keeps himself healthy even against some sneak attaks. This was when I had have a Fire streak and I wanted to show you my strategy.
I would like to even see it challanged, so come to https://t.me/Splinterlands Telegram and ask for @anjanida. We may do a non-automated challenge.
With this strategy I then won three times in a row, no matter how much Mana.
First with only 15 Mana against @monaksivd. My Kobold Miner sneaking from in between. Silvershield Paladin level 2 at the opponents tank position. Sneaky Feral Spirit without a chance against my Cerberus. Like hitting against a wall. Pit Ogre and Kobold Miner patiently attaking from both sides until their victory after round 7.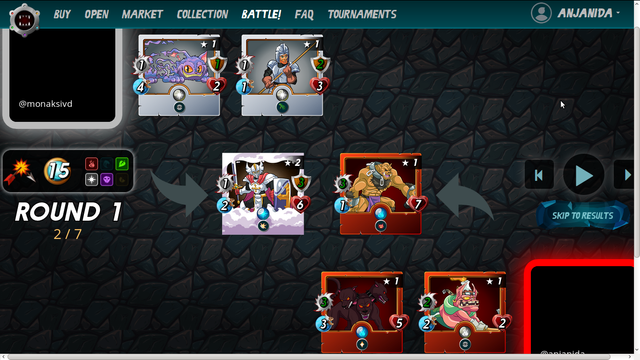 https://steemmonsters.com?battle=04bc9caa63d11ccac6dcd850571596844d58c2e4&ref=anjanida
Then with 18 Mana against @sm1echovsky. Fire Beetle with sniper joining in behind Kobold Miner with sneak again. Haunted Spirit at the opponents tank position. My sniper and sneak took out his sniper imidiately and went against the tank. Cerberus playing with his opposed sneaky Skeleton Assassin. Admitting all opposing cards only at level 1 as well. Yet since his Haunted Spirit tank got stunned multiple times by my Pit Ogre, it could not heal itself and got easily defeated.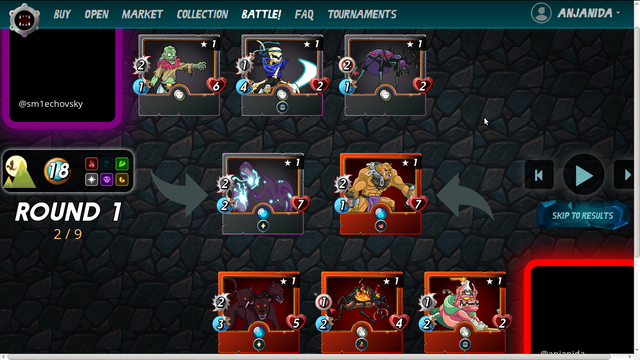 https://steemmonsters.com?battle=8aee9c383e9c387cbb5f31a09233d1c00aafdf2d&ref=anjanida
The last one has been quite a tight win against @noobshelper. Mana cap of 27. Cerberus had nothing to do due to no sneak attakers. Nobody to play with. My Giant Roc supporting my tank via reach and Centaur joining in behind Fire Beetle with sniper as well. First both of us alternately taking out one card at a time. Then me falling behind three, two, one, with only Cerberus left against four cards. However, he got the job done alone eventually! Awesome battle!! Only ending after round 17 against Water Elemental!
https://steemmonsters.com?battle=90a92ce4bf3dd3c2b37511ae8ff060bbd4d2461e&ref=anjanida
So here again is my strategy from the back-end: Pit Ogre at tank position, Cerberus at the far end, and any sneaker and sniper you can get your hands on in between.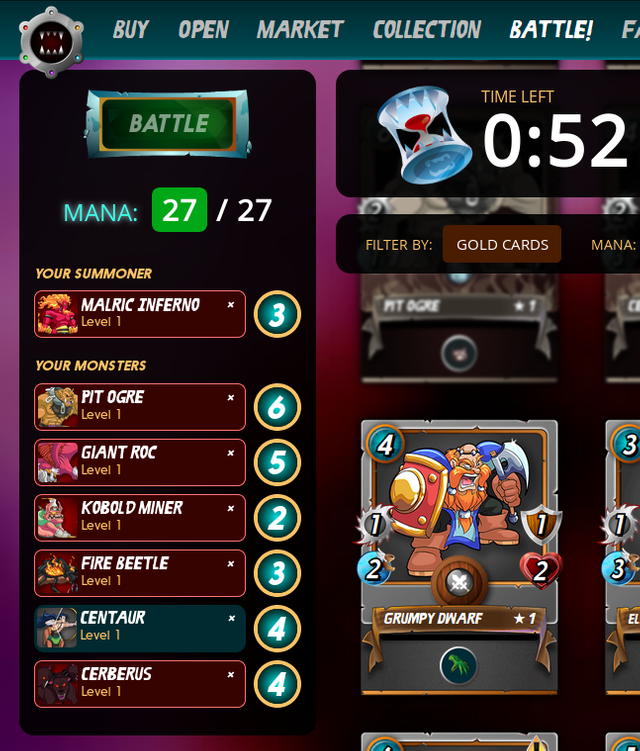 And guess what, ...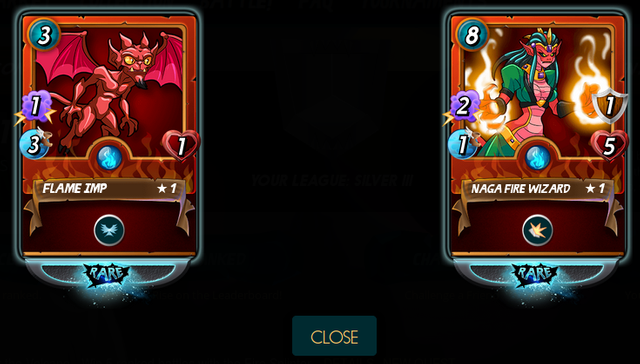 ... eventually I won two rare Fire Splinter cards on top of that. Yeah! So get the fire started!
And please come back for more.
PS: Please also be inspired to upvote/comment/resteem. We really enjoy to make the peanuts till ring until it's all gone (keyword Voting Power) [2]. If an article is already more than 7 days old, please visit the author and upvote some current comments or articles.
PPS: Don't forget to challange my strategy and get in touch via our Official Splinterlands Telegram Group at https://t.me/Splinterlands
PPPS: And if you speak and write German or want to improve on it, let us start a German language group from there, right?
Footnote
Our past blog posts
Some past blog posts I translated into German
Our past blog posts in German