My son's very first season bonus
It is a week ago already that we celebrated our first season ending. As I have told you before [1] we had only about three days left until we started playing Steem Monsters late into that season.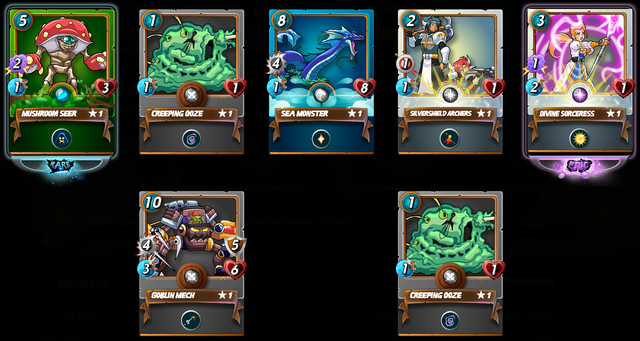 As you can see in the graphic we have had our first epic card. We have seen the Divine Sorceress with our opponents. Looks like a pretty cheap card for battles with little mana or for a huge crowd of cards.
My son has been espessially excited about the Sea Monster. We have seen a lot of opponets battling with it in tank position (first row) and truly being a tank. With a mama cost of 8 it is relatively easy to summon. And with 8 health and a healing ability of +2 it gives every opponent the rest.
I could tell you something about every card. Please let me keep it short on the farther.
We already knew the Goblin Mech from a quest reward I received with my @anjanida account. You may have seen me defeating my son with its support. Now he had got his own on his team and my strength vanishes. I do not even have a Sea Monster to this very day. (Though I received another two Goblin Mech in my season bonus.)
The Mushroom Seer has been a great exitement as well. And the Creeping Ooze is the first card that my son now possesses even three times, two times from this reward.
Now, this has only been our first season. We are exitingly looking fordward to more and more discoveries.
So please come back for more.
Footnote
Our past blog posts
Some past blog posts I translated into German
Our past blog posts in German