Steems Stärke ist "Community" gewesen und nach HF20 wird dies noch mehr hervorgebracht werden. 
Nun, Skalierbarkeit usw. werden uns jetzt mehr als je zuvor in die Hände gelegt. Wir können jetzt eine bewusste Rolle spielen, indem wir Anderen und den Gemeinschaften, die wir erwachsen lassen, helfen, die Blockchain zu nutzen, und es ist an der Zeit, die Schönheit der "Gemeinschaft" und die Auswirkungen von HF20 anzuwenden.
Wenn neue Steemians etc. die Blockchain nicht genug nutzen können, können wir helfen; "wir, die wir vor ihnen hier waren". 
@blocktrades hat einen vergünstigten Preis auf ihre Delegationsfunktion angeboten, post-HF20 und es ist möglich, während dieses Zeitraums mindestens 2 Steem im Wert einer Delegation zu nutzen.
Wir können sie leicht anweisen, wie man das macht, oder dies für sie tun, wo wir extra Steem haben.
2 Steem im Wert einer Delegation = 35 SP für 3 Monate
35 SP kann einem Benutzer eine zusätzliche Verfügung für etwa 50 Kommentare (über einen Zeitraum von 5 Tagen) geben. Außerdem ermutigt dies einen neuen Nutzer, gibt ihm ein wenig mehr Freiheit und unterstreicht das Vorhandensein einer wirklich soliden Community. 
Es kann ihnen auch helfen, die Notwendigkeit von Power-Ups und die Schönheit darin zu erkennen. Und dann können sie vielleicht besser wissen, wie sie Andere, die eine ähnliche Not haben, anleiten oder ihnen sogar helfen, und die Gemeinschaft weiter stärken.
Die Inanspruchnahme einer Delegation über https://blocktrades.us ist ganz einfach und auch fast verzögerungsfrei möglich. 
Ich empfehle, die Anweisungen zu lesen, die die Blocktrades-Website zur Verfügung stellt, da es bei solchen Angelegenheiten am besten ist, den Vorgang bewusst wissend durchzuführen, damit es keine Fehler gibt. @blocktrades neigt dazu, im Fehlerfall eine "Rückerstattung" vorzunehmen, aber dies ist nicht der allgemeine Fall, bei jeder Börse.
Direkt nachdem du Steem/SBD und Steem Power Delegation (90-Days) ausgewählt hast, musst du den Steem-Benutzernamen des Empfängers eingeben.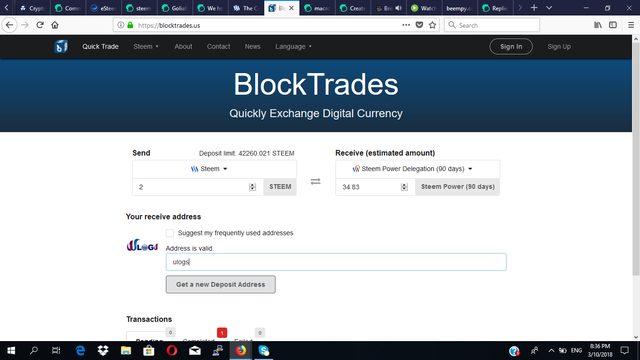 Hiernach zeigt dir blocktrades.us ein Memo, das du kopieren sollst. 
Dann besuche einfach steemit.com und mache einen Transfer auf das Benutzerkonto "@blocktrades", mit der Menge an Steem, die du vorher ausgewählt hast und füge das Memo, das du kopiert hast, in die memo Feld während deines Steem Transfers.
 Dein Junge Terry
[..] Mehr Informationen zum Autor siehe im Originalartikel
---
This is a translation of https://steemit.com/steemit/@surpassinggoogle/if-you-find-a-steemit-user-struggling-with-resource-credits-this-is-a-short-post-that-helps
Please notice: This translation is done by an ambitious newbie. Please esteem this by leaving an individual comment and upvote and don't forget to esteem the English original posting as well.