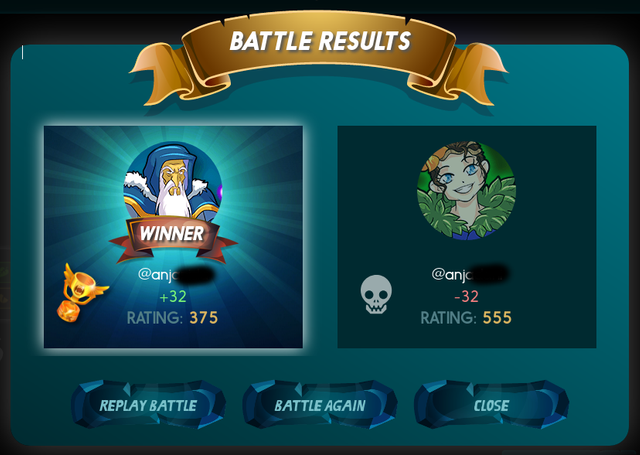 We had our first rated internal monsters battle
It did not take long that my son played Steem Monsters again. He even had his first turnament and went out of resource credits (RC) later on, but that is for a different story. However, he played from another Laptop with a big enough screen we have in a small office area. This way at one point I could fire up my own monster account @anjanida and started rumbling on my own.
We already checked out what it means to start a challenge with another distinct player, whereby both player have to be online at the same time of course. We did that with my smaller AspireOne laptop yesterday, wherewith the kids mostly play Gcompris or Minetest. Unfortunately the display is all to small for having a good experience with Steem Monsters. And furthermore a challenge has no affect on your league rank, so it is only half the fun when it comes to achievements.
This time, by accident, we simultaneously waited for an opponent. We had been in different rooms and have had not noticed it at first. Yet then, while watching the battle, my daughter remarked that she knows my opponent as being her brother. She can barely read at age 5, though obviously enough to recognize a player's name in a split second. So obviously we battled against each other in a rated battle.
You may want to watch it, so I better do not tell you the result. (That is why I brushed over the graphics.) It had been a blast!
You can review the battle at
https://steemmonsters.com?battle=b76cb3cb1bd95398accc8c87812d3d247a32b69a&ref=anjadani
So by now we have deliberately done what had been an accident before: From time to time we simultaneously look for opponents, though it has not happened again that we had have a second rated internal battle so far. Yet my daughter had a practice battle with him, but I will save this for another story.
So please come back for more.
PS: Just as I have had finished this blog post and before I had published it (due to a lack of RC), we had our second rated internal match. Yet I will save this for another story as well for a funny surprise.
PPS: Many thanks to @luegenbaron for the delegated 15 SP to be able to publish the German version of this article sooner than expected and to play the next quest and more in Steem Monsters. Thank you! A post about RC will follow.
Our past blog posts
https://steemit.com/introduceyourself/@anjadani/introducing-ourselves
Our past blog post in German
https://steemit.com/vorstellung/@anjadani/wir-stellen-uns-vor