Weekly overview of the Blog category - Week 14, 2019
This week, we seem to be under assault. Specifically, we've had more irrelevant posts than at any time in the recent past. 17 posts were deemed irrelevant for one reason or another, and I'll go into detail about this later. Apart from that, it was actually a pretty good week. We've had a nice improvement in our scores of relevant posts in the blog category! Also, as usual, I'll remind you of our IndieGogo campaign, which has recently been refreshed. We're also on Fundition. Looking forward to your support.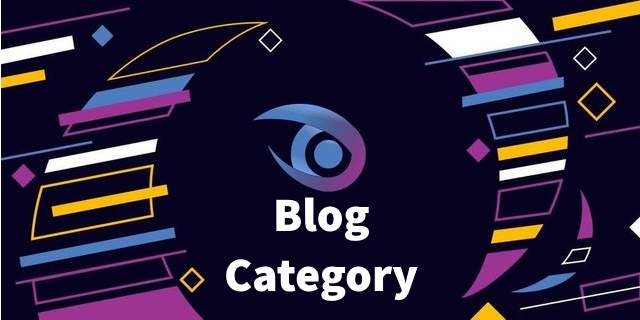 Scores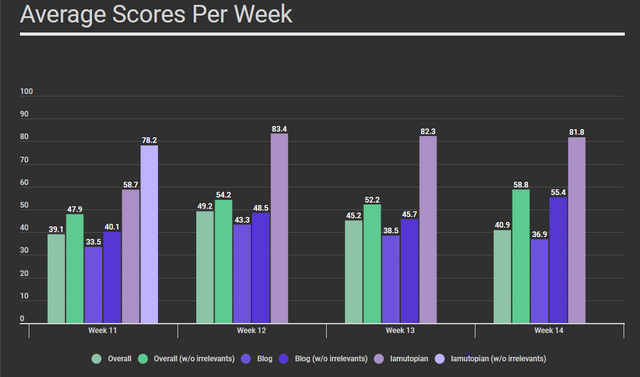 I'll go in depth about the effect of the irrelevants later. Right now, I'll focus on the positive: Once you eliminate the irrelevant posts, the Blog category had the best scores since the new questionnaire was put in place. I think folks are getting it, and that's great!
Top contribution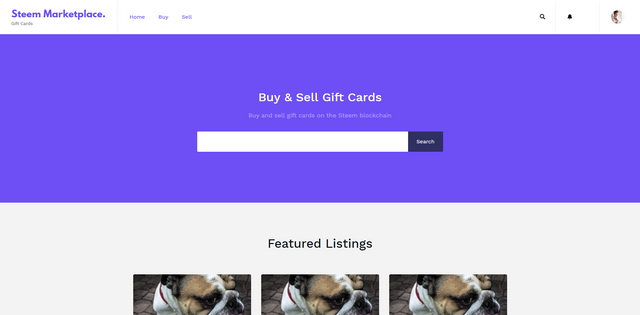 While it wasn't as rich in screenshots as we like, the Gift Card Marketplace: Project & Development Update #2 post by @beggars was a terrific update, and one that was pointed out to me immediately by the moderator as a staff pick candidate. Which it got. It hits all the major points we like: It's well written, it's informative, it's editorial. This is what we want to see more of, folks!
Contributors and Contributions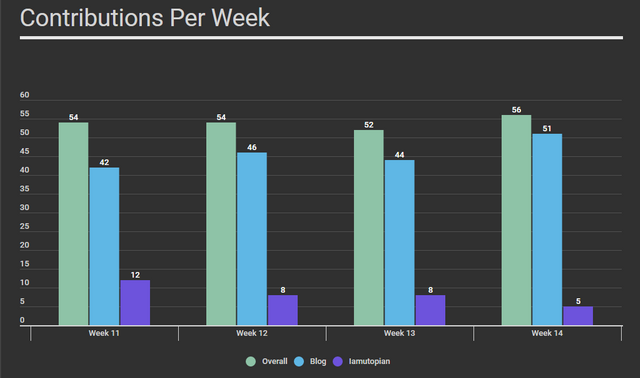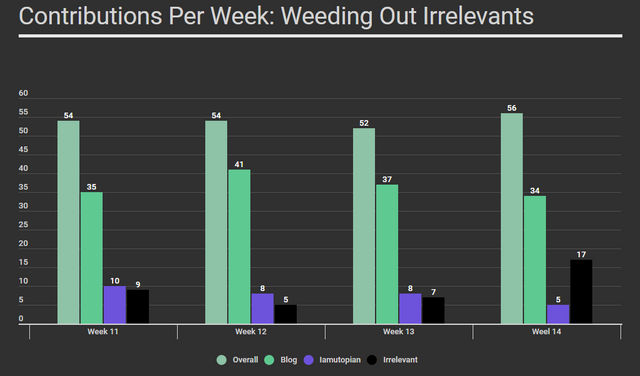 Two notable points here: We've had fewer #iamutopian posts than we've gotten used to, and the attack of the irrelevants. I got the impression many of our CMs have been otherwise engaged recently, so that may account for the first point. As to the second, I'll definitely get to it.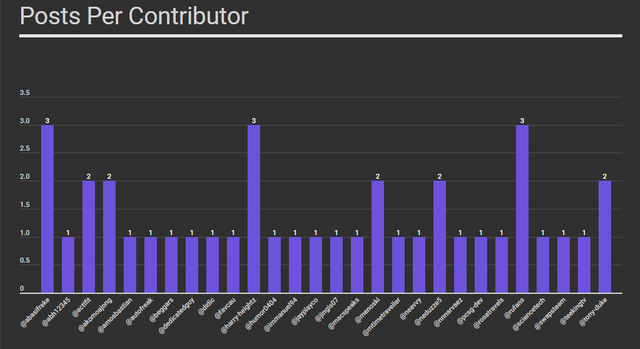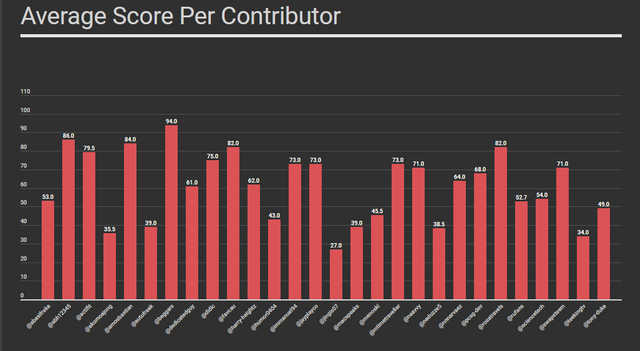 It is important to note that these are the numbers for the relevant posts only. All the irrelevants were scored zero, of course. But we've had no relevant posts scored below 27, and a nice number of reasonably scored posts. While few posts get high scores, I feel the floor is rising a bit.
Moderators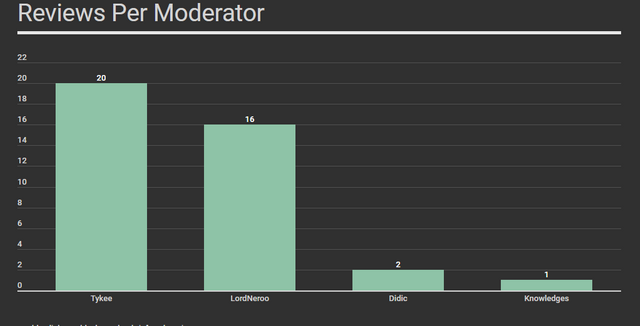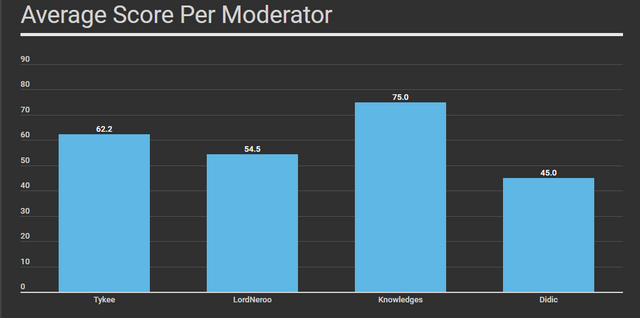 @lordneroo was unavailable for some of the week - about which he told the team in advance - and STILL managed to review 16 posts. @tykee picked up his slack - what little slack there was - and knocked out 20 moderation posts. In addition to my 2 reviews, I also handled some of the irrelevant posts. @knowledges, as usual, helped out by reviewing my own weekly post.
Days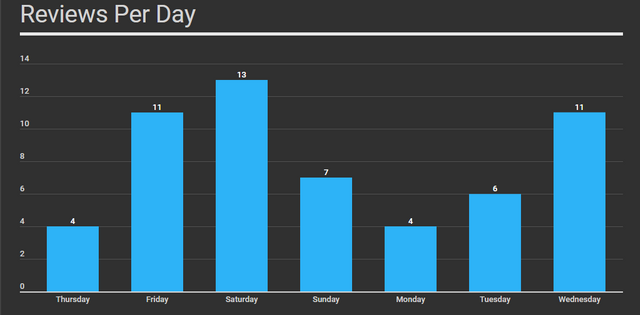 I've decided to eliminate the review times graph. Frankly, it was super repetitive. We work at night. We know this. The days may be more useful. This week, you can see big spikes in the day before @lordneroo went away for a bit, and in the day he returned.
Final Thoughts
And now, let's talk about irrelevant posts. We've had an onslaught of them this week, and I was curious to see why. So I made a brand new graph!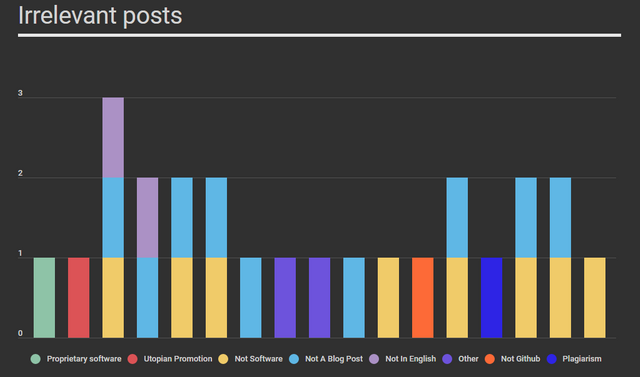 What we have here is a representation of the 17 posts that were marked as "irrelevant," "ignore," or "banned" in the review sheet. I always bunch these together in the weekly posts, for convenience's sake. I looked over all of them, and found 8 different reasons for marking them as such.
As you can see, we had only one post that would have been entirely valid if it weren't about proprietary software, and another that's the same but was for open source software on Gitlab, which we don't currently support. Out of the 17 posts, 9(!) were not blog posts. These were either pictures, or a short paragraph. Most of those had other issues as well.
We had one case of plagiarism, where the poster basically edited the information in the project's repo and presented it as a review. That one got a short ban.
We had two unique cases, where a poster wrote three very similar posts. Now, those were all legitimate posts, and there's SEO value in splitting them. But as content, they should have been one post. We rated one of them, and ignored the rest.
We had two posts that weren't in English. Now, both posts would have been irrelevant regardless, due to other issues. Which is case, as the language issue is a limitation we have that we definitely want to get past in the future.
We also had one post that was a promotion of Utopian's indiegogo campaign. We super appreciate these posts, but they would be better formulated as Visibility posts. Not just by using that tag, but also using that category's guidelines.
These 17 posts are by 15 contributors. Most of them are brand new to Utopian. I hope these new folks can and will submit quality relevant content in the future. I don't know why they decided to jump on our bandwagon this week. Perhaps just because the #utopian-io hashtag was trending. I would hope that folks pay more attention to what a tag means.
Have a great week, everybody, and keep blogging!
Previous posts
2019
2018