Weekly overview of the Blog category - Week 12, 2019
The new Blog category questionnaire is now live, and being used to score contributions to both Blog and #iamutopian. I am inordinately proud of this questionnaire. While it is likely to be tweaked in the future, I think it is a much better tool to score our contributions. This questionnaire will also serve as the basis to the questionnaire for all Articles division posts in Utopian Colony, with additions for the relevant categories. This means we'll be using these quality metrics to judge and score all posts that are not a result of a task request. Our mission to support and encourage open source software demands that we continue to elevate the contributions to projects in whatever form they take, and make them more accessible to all. This questionnaire - detailed in the Week 10 overview post - is a step towards that.
And speaking of Utopian Colony, we're still funding that on IndieGogo and Fundition. Your support is critical for our next stage.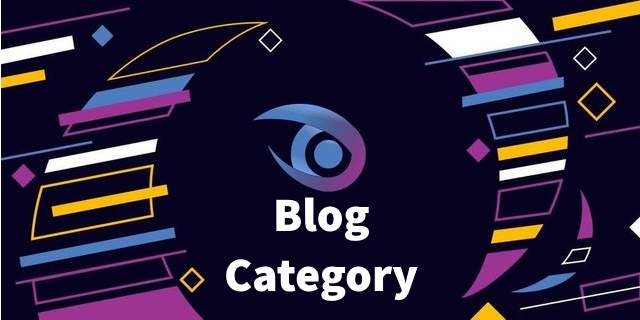 Scores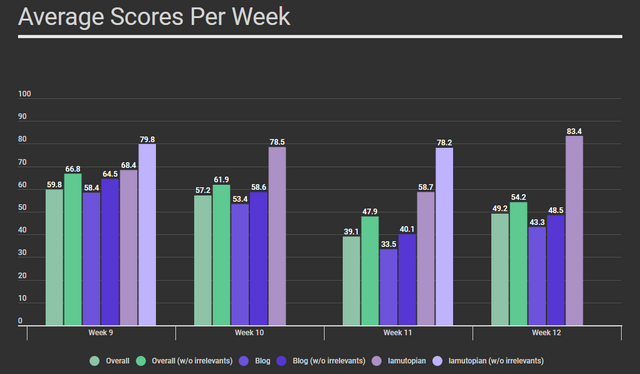 This week has seen quality improvements across the board. While we're still not back to previous levels, folks are stepping up.
Top contribution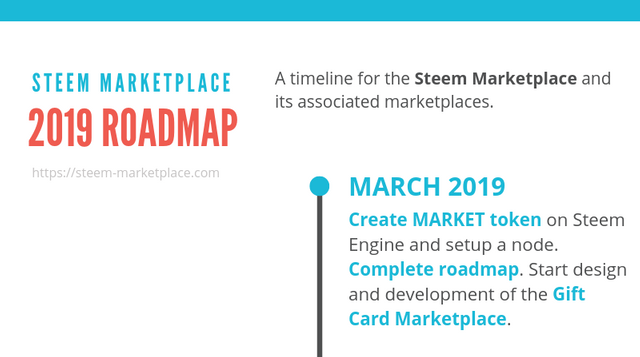 This week, our top contribution in the Blog category is also our staff pick.
@beggars
is a relative newcomer to the category, and this week was a dominant contributor, with four posts averaging a score of 75.3. The best of those was also the most important impactful. All of the posts are about the upcoming Steem Marketplace, but the top one,
The Steem Marketplace Roadmap
- which was scored 84 - gave an overview of what to expect from it, and when. Projects such as this are crucial for the evolution of Steem as a platform, with Steem Engine taking the place of the long awaited SMTs. I look forward to seeing more about this project.
Contributors and Contributions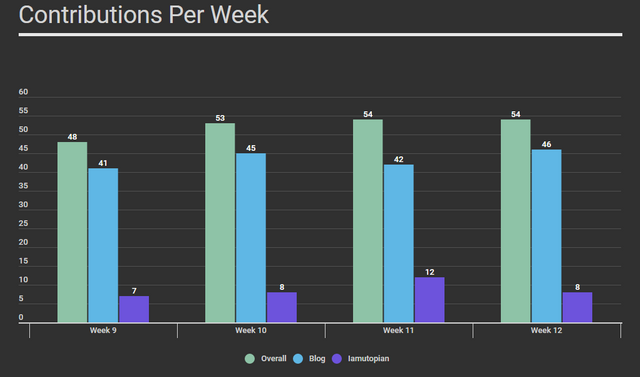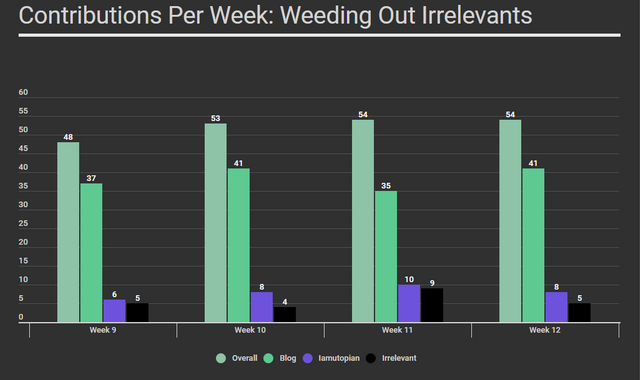 We've had scored contributions from 36 individuals and projects this week, a new record! I've decided that while irrelevant posts will still not appear in this post, nor be calculated in the individual's averages, I will be including posts scored 0. This is not to shame those contributors, but to more accurately reflect the goings-on in the category. As you can see, four contributors had scored contributions that scored 0. We don't enjoy giving this score, but it is our duty to provide the most accurate score and feedback we can.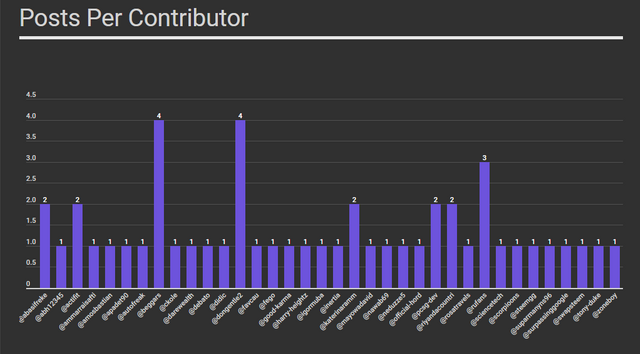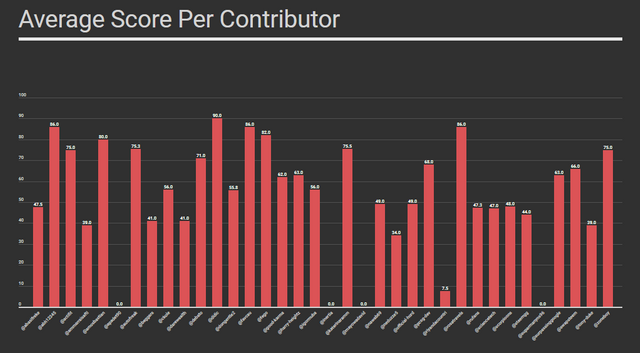 While we had the same number of posts as last week, we had a higher number of scored, relevant posts. 49 scored posts ties the record from two weeks ago. As mentioned in the Top Contribution section above, @beggars was our MVP this week, with 4 posts and a respectable average of 75.3.
Moderators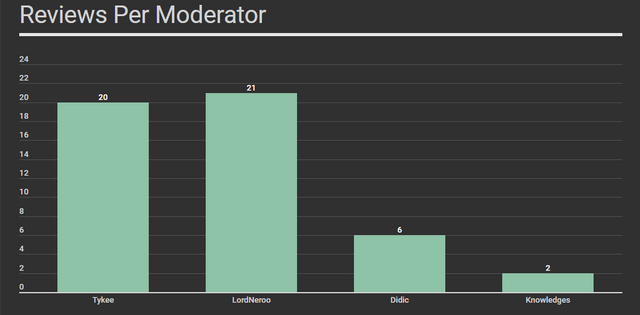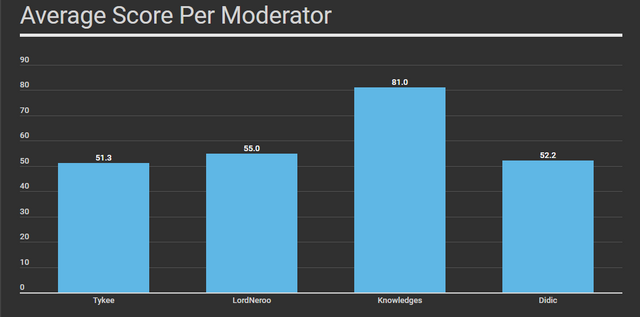 Once again, our regular mods worked super hard this week, both reviewing 20 or more posts. Yay to @tykee and @lordneroo. Shower them with much praise! I also chipped in, both to help with the high volume of posts and because I was keen to test the new questionnaire on live posts myself. @knowledges chipped in with 2 reviews, including last week's version of this weekly post. I am grateful that it received the week's highest score overall.
Days and Hours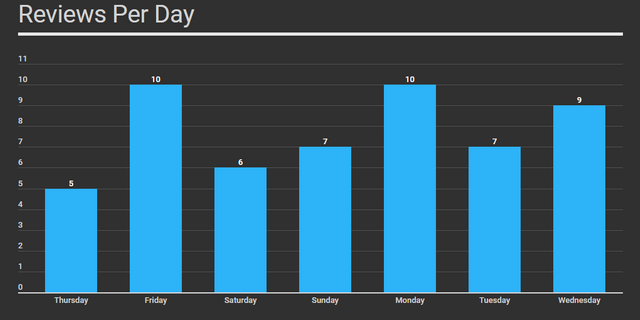 The late night/early morning reviews are back! Mostly because I reviewed posts. What can I say? My hours are weird.
Final Thoughts
Friends, this is the time to get into the Blog category, if you haven't. We want your posts about your experiences with open source software, as a developer or as a user. Promote the projects you love with interesting and unique posts.
But we want them written well. I would strongly recommend that you peruse the earlier Weekly Blog category posts. Many of them have specific tips to help your writing. I know that for many of you, English is not your first language. It isn't mine, either. So, today, my tip to you is this: Read novels in English. If you want recommendations, I'm always happy to provide them. If you wish, write the names of five novels you've liked in the comments, and I will recommend a science fiction or fantasy novel you will love. If novels aren't as accessible to you for any reason, there are many places to read excellent short fiction for free online. Some of my favorites are Uncanny Magazine, Fireside Magazine, and Lightspeed Magazine.
Previous posts
2019
2018