Weekly overview of the Blog category - Week 50, 2018
Here we are again, with all the Blog category data you've been waiting for! This time, I've got a new type of data for you: Time! Which days had the most reviews? Which times of day? The answers await you, along with all the usual data and the Tip of the Week.
The Scores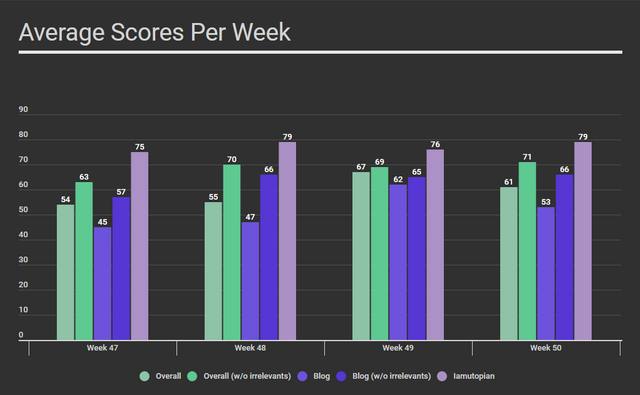 Graphs created using Airtable and infogram
The irrelevants are back to haunt the Blog category this week. But once I weed the out, consistency remains the byword for the category. Contributors rotate in and out, new ones arrive, but the averages remain steady and quite decent. If anything, there's a very mild upswing!
Top Contribution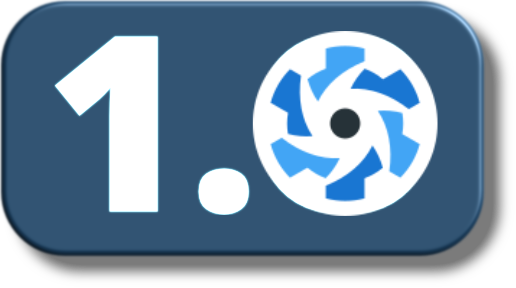 We had two staff picks this week, a nice improvement over last week's zero. One of them, by @ramp was featured in Top of Utopian. The other was posted just a bit too late for that, but was - to my mind - the very best post of the week in the category. I'm talking about @quasarframework's massive announcement of their upcoming 1.0 milestone. This is an excellent post, and one with major impact for the project. We're very glad to have @quasarframework as friends and partners, and can't wait to see the update go live next month.
Contributors and Contributions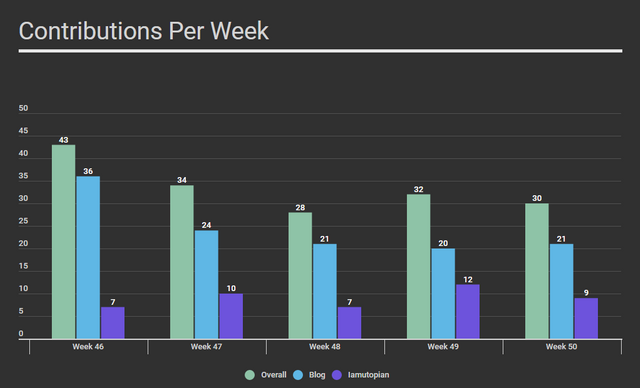 Once again, consistence is the name of the game in the category. While some may view this as stagnation, I'm happy to have stability in this bear market.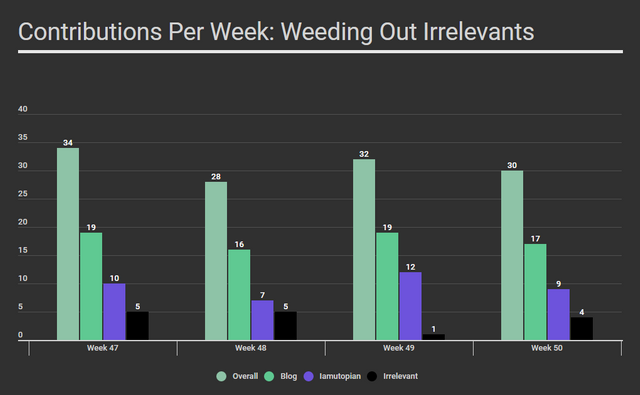 As previously mentioned, the irrelevants are back. I want to say something about irrelevant posts here. Saying a post is irrelevant for Utopian isn't a personal judgement. It isn't even a judgement of the post. It's just an explanation as to why the post won't be getting reviewed. We figure it's best to let people know rather than leave them in the dark. This week, a certain contributor took great offense after getting an "irrelevant content" moderation comment, and reacted quite rudely. Don't be that person. Instead, write a post that is relevant. Write a great post that's relevant. We're looking forward to reading it.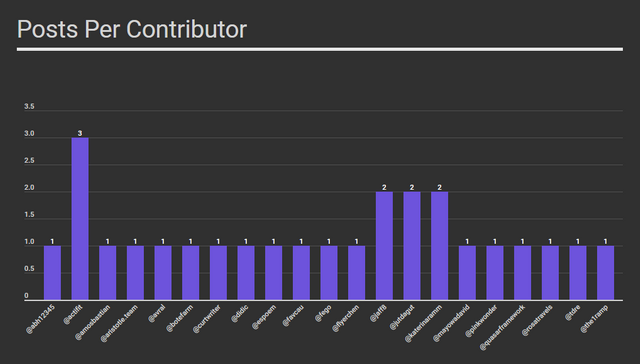 Perennial standout @actifit had 3 contributions, and excellent regulars @jaff8 and @katerinaramm had two. We also had two from category newcomer @jutdagut. While their posts weren't up to par with the regulars, I think they definitely have the potential to improve. They just need to work a bit on punctuation and bring more of a personal and/or editorial touch to their work.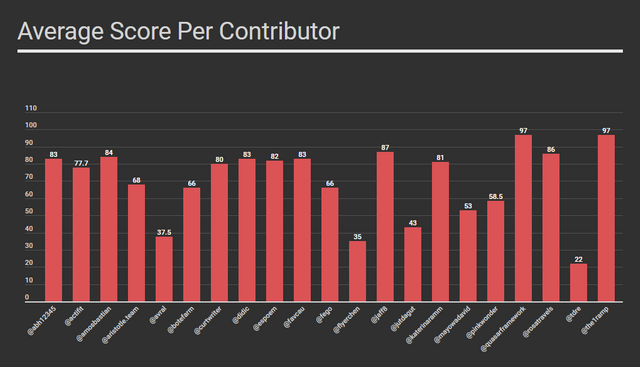 We have so many rock-solid contributors, and that really makes me happy. This week, two major platforms stole the show with big announcement posts, but most of the contributors did fine work.
Moderators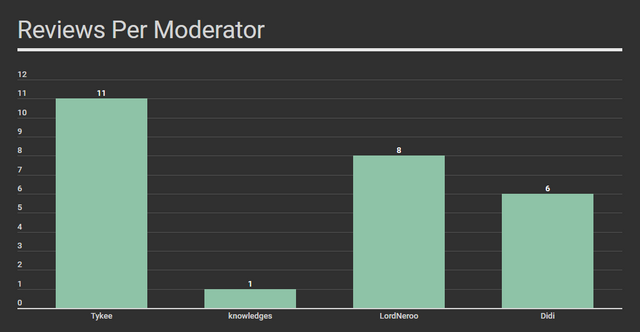 As I mentioned last week, my draft of the new Utopian guidelines is done. While I have a different project that's taking much of my Utopian time, having finished that project - for now - has allowed me to help out a bit more with moderation, which hopefully lightened the load a bit for reigning reviews champ @tykee.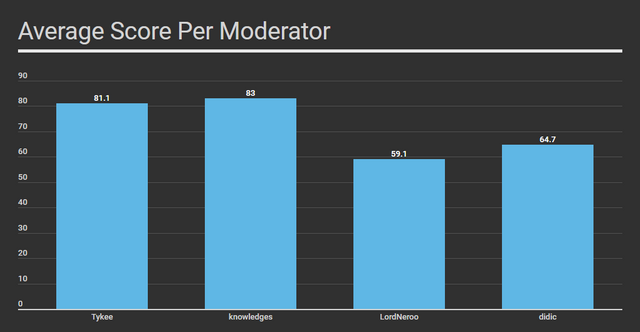 This week, @lordneroo and myself drew the short straw when it comes to quality posts. The lowest scoring post on @tykee's plate was still quite decent, whereas we got some posts with very marginal scores.
Days and Hours
As promised up top, I've got new graphs to share. Sadly, the data I'm using doesn't include publication time, so I'm only tracking review times here. The days chart does give a decent idea of which are the active posting days, as most posts are reviewed relatively quickly, but the times-of-day chart is pretty much only informative about when the mods post their reviews.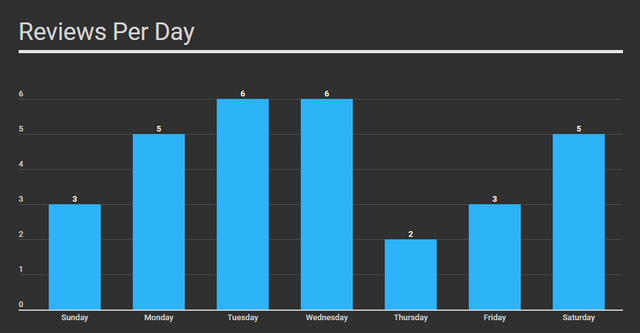 As this is my first week tracking this, I won't attempt serious analysis of this information quite yet. That said, not surprised to see mid-week days Tuesday and Wednesday have the heaviest load.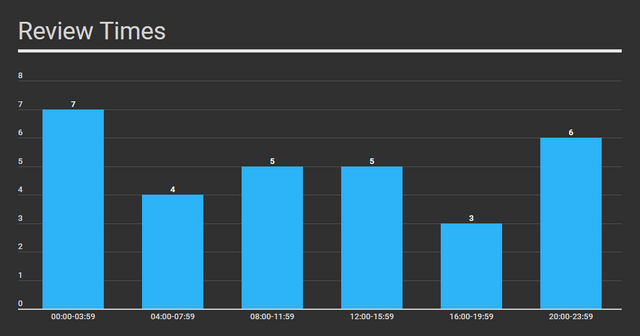 This one caught me a bit off-guard. I had no idea that the night time is so very much the right time for reviews. Well, the night time in UTC, anyway. Will be interesting to see if this trend holds up.
Tip of the Week: Commas Are Your Friends
There are many rules governing the use of commas in English, and I won't burden you with them (though, if you want to know more, click, click, click). Basically, here's what you need to know: Where you would take a tiny pause in speaking, that's where the comma goes. Now, some non-English speakers take pauses in odd times, so let's get a bit more technical: Anytime you're using "and," and it isn't there to separate between two (and only two) listed items, you should probably put a comma before the "and." So, whenever there's a list of three or more things, and whenever the word "and" (or, say, "or," or any other word that separates two distinct parts of a sentence) is there to separate between two distinct parts of the sentence, put a comma before. As I wrote, there are many rules, but this will take care of most of the cases. Also, do click those links for rules and more cases when you should and shouldn't use a comma.
Final Thoughts
Any week where you have two posts that score 97 and get staff-picked is a pretty good week. A time will come when we seek to increase the volume of posts in the category. But right now, all things considered, I'm happy with where the category is.
Previous posts