Weekly overview of the Blog category - Week 6, 2019
This week, as the currency failed to perk back up, still saw a very nice number of contributions, with the quality ticking up a bit compared to the last two weeks. We're still dealing with an influx of new contributors, and they're learning the ropes.
The Scores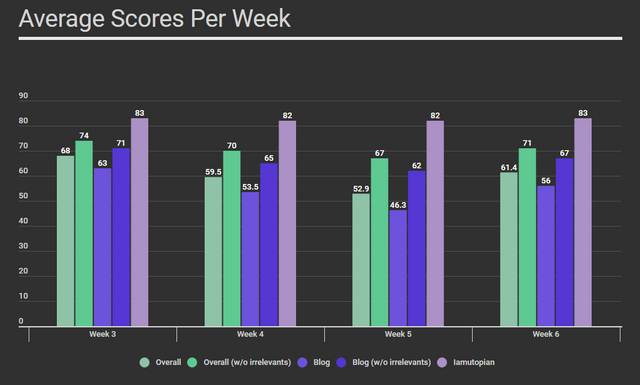 A nice trend reversal in the scores, as the Blog category recovered a bit, even when discounting the irrelevants.
Top Contribution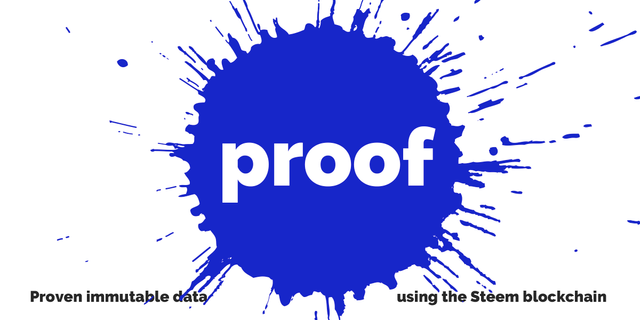 @roelandp makes both this post and Top of Utopian for a second consecutive week. Last week, he had a major update to an existing project. This week sees a brand new project, and the post about proof.ink once again contains what we love to see. It is both informative and personal, and the combination of that with the project's potential significance made it an easy selection for staff pick.
Contributors and Contributions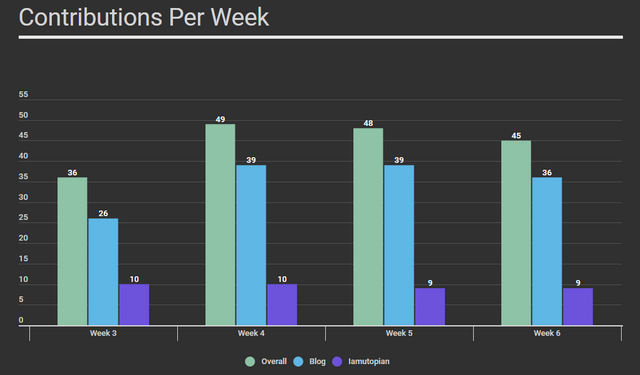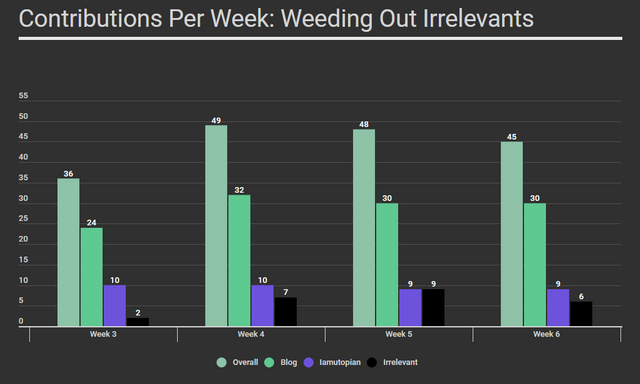 Weeks like this are exactly why I created the "weeding out the irrelevants" graph. If you only look at the first graph, you may think we've had a decline in quantity from last week. In fact, we had the same exact number of relevant posts! The 3 post drop was entirely in the "irrelevant" category, which makes me a happy CM.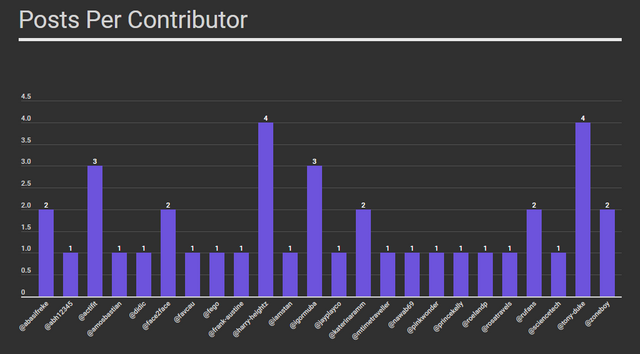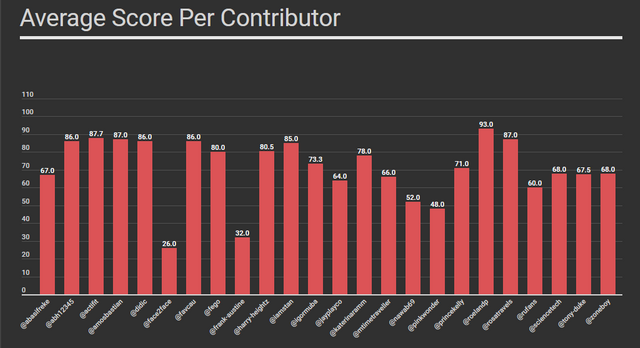 Of the 25 contributors whose posts got scored, 10 received an average vote of 80 or more. 8 of those were #iamutopian posts, showing our home grown talent's consistency and hard work. But 2 were in the Blog category, including the overall highest scored contributor. The significant number of contributors whose posts were scored in the 60s is where I hope to see the next surge of improvements. While 60-70 isn't a great score range, it represents significant work being put in. If the hard work continues to be there, the improvements will come.
Moderators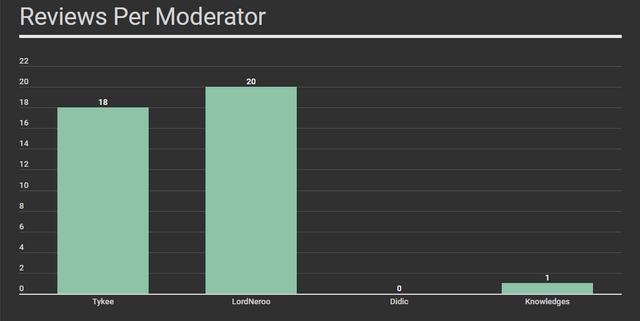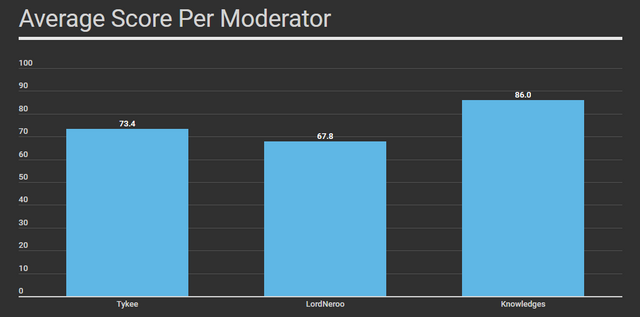 The number of reviews per moderator remains exactly the same as last week, with both @tykee and @lordneroo putting in a ton of work, and me not being a factor. I hope to turn that around a bit soon, but this week has been a LOT.
Days and Hours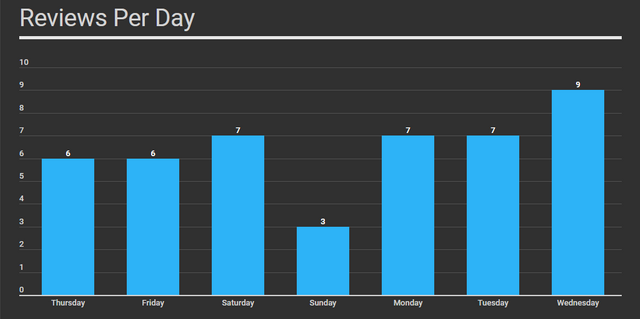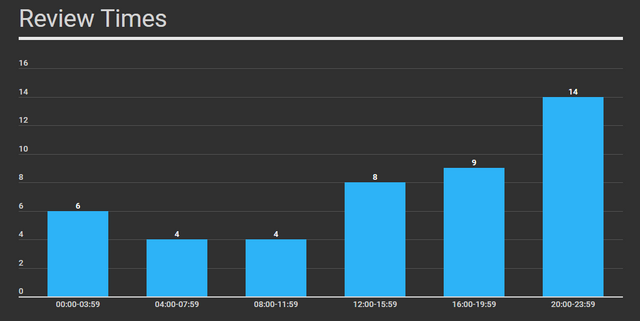 With the early morning hours making a comeback, the night time remains the right time for our moderators!
Tip of the Week: Research Tips #1
Last week, I urged contributors to do their research. This week, I'll give my first tip on the best way to do research. I should say: This may seem basic. Heck, it is basic. But this is about building up a knowledge base, and you've got to start with the basics when doing that. I am not a young man. Before Google launched in 2000, I seriously considered starting a company to do web searches for people, because the tools available at the time were so crappy you actually needed expertise. As an aside, never believe anyone who tells you Google succeeded because of their simple interface. They succeeded because their search worked way better than anything else around. And it still does. So, in 2019, as has been the case since 2000, Google is your best friend when it comes to research. As I said, we're starting with the basics. Hopefully, most or all of y'all know this: If you put two or more search terms in quotation marks, google searches for them as a phrase. If you put one search term in quotation marks, it has to be in the search. If you use "-" before the term (for instance, "-universe") google will look for results that don't have that term.
Final Thoughts
This has been a very taxing week for me, on a personal level. Many different factors combined to make this week harder. As a result, I have not been nearly as present and available as I like to be. Still, things are progressing. You can now find the Utopian Podcasts over on stitcher, which is one of the most popular podcast services around. The crowdfunding campaign is close to launch, as we dot our "i"s and cross our "t"s. We think it's gonna be pretty cool, and hope y'all are happy to support it. Not only will it have some fine rewards, but supporting the campaign may be the most direct way you'll ever have to show your support for our mission to promote open source and provide an avenue through which anyone can contribute to open source projects, whether they can code or not.
Previous posts