Weekly overview of the Blog category - Week 4, 2019
With the currency making a bit of a comeback in the middle of the week, we've had a surge of activity in the Utopian Blog category, giving the category more posts and contributions than at any time since I started tracking things with these daily posts. Sadly, the surge also included an uptick in irrelevant posts, and a decreasing of the average score. I'll be talking more about that and what it means further on.
The Scores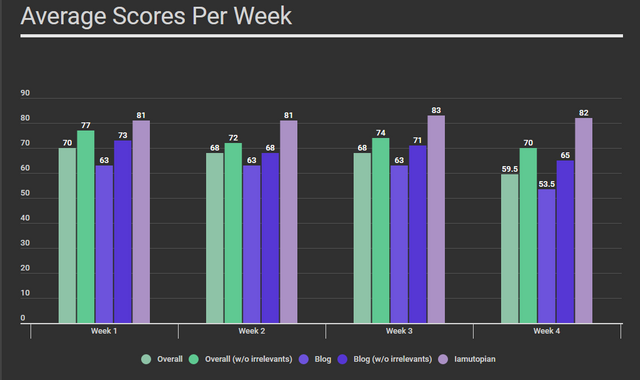 Graphs created using Airtable and infogram
As you can see, the Blog category has had a decrease in scoring both when factoring the irrelevants and - crucially - when not factoring them in. One factor is that we had a post that got reviewed with a score of 0. Another is that the influx of new contributors has continued, and it takes time for them to level up with the help of the moderators.
Top Contribution
During my time as moderator and CM of the Blog category, there may not have been a more consistent contributor than our friends in @actifit. This week, their post Actifit.io: More "Power" Updates. IOS Updates Halfway. (& Our Daily Updates) was the highest scored non-#iamutopian post we had. This was a big update from a company that is constantly making big moves. It was not our staff pick, however. The good folks at @sndbox had an update that was too brief to receive a truly high score under the current questionnaire, but which had greater impact, and was also more polished in terms of writing. Top of Utopian staff picks are about excellence, not consistency, and the post, Seeking Open-Source Projects [@utopian-io contest 1], was a fine example of that.
Contributors and Contributions
![]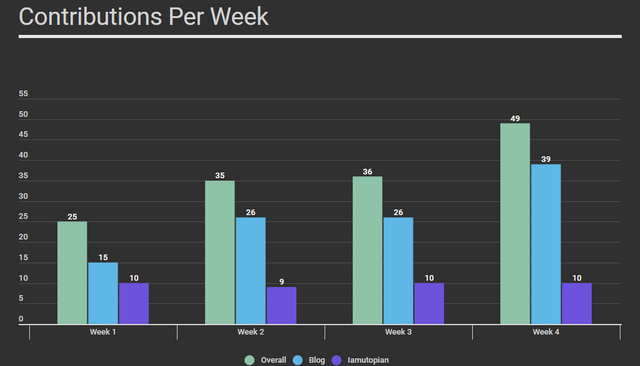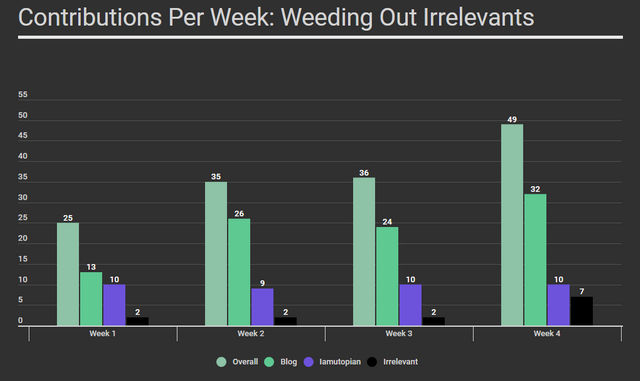 As you can see in the two graphs above, the jump in post quantity is significant even when discounting the jump in irrelevant posts. It'll be interesting to see how much of that carries over, now that the currency has cooled back down a bit.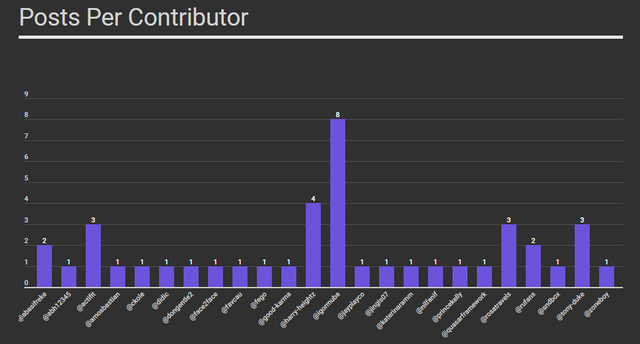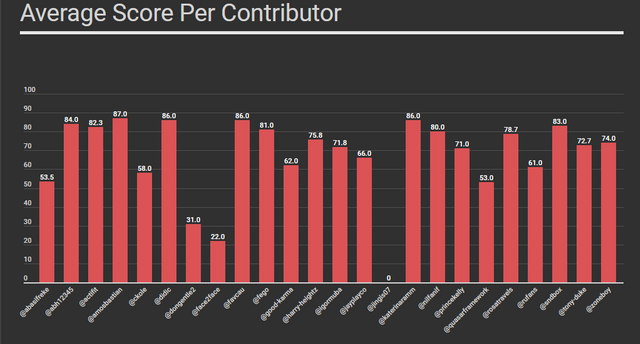 @igormuba and @harry-heightz continue to be absolute beasts in the category when it comes to sheer quantity. And while their average scores aren't stellar, they are very solid. With continued improvement such as what they've already shown, they can be major forces in the category going forward. @tony-duke, who has contributed to Utopian in the past, but has spent most of his energy on Steemhunt, had a breakthrough week with 3 posts, with a respectable average score.
Moderators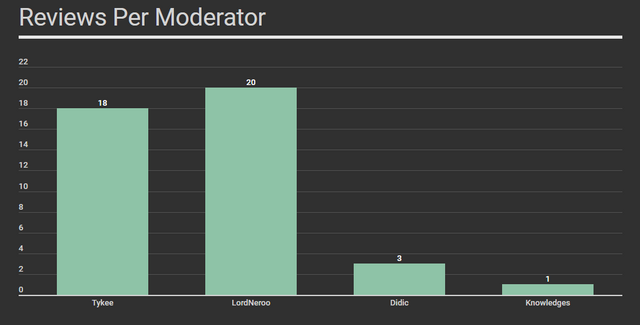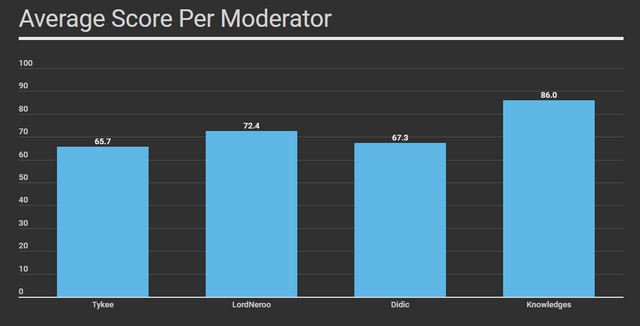 With the mass of posts coming in, it was all hands on deck, and our two moderators delivered in a huge way. With 20 and 18 reviews, @lordneroo and @tykee have really put in the work this week. I also pitched in a bit, with 3 reviews and marking a couple of posts as irrelevant. Our pal @knowledges did his now usual bit of reviewing my own weekly post.
Days and Hours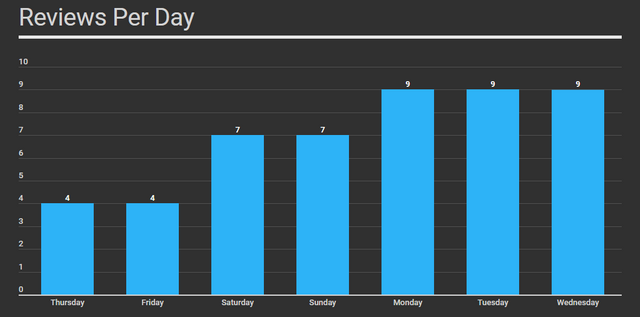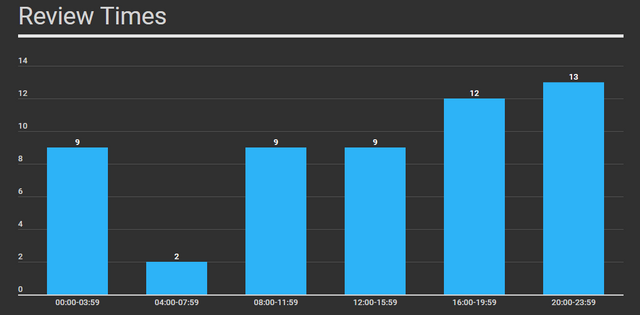 It's pretty incredible to see the workload increase as the currency had a bull run throughout the week. Once again, the evening and night have remained our moderator's busiest times.
Tip of the Week: Pick topics you care about
I am not a huge fan of the old writing adage "write what you know." This is because research is a thing, and one can bridge a knowledge gap. However, I am a big fan of writing about stuff you actually care about. If you base your posts on what you think readers care about, that may lead to a short term spike in readers, but they won't stick around. People can see when you care and when you don't. Follow your bliss and your interests. Make the readers care about the things you care about with the power of your writing and your passion.
Final Thoughts
Last week, I told you to keep an eye out on the @utopian-io account. Hopefully, you did that and didn't miss The Big Behind-The-Scenes Update we posted a couple of days ago. The big news is that we're launching an Indiegogo. OG readers of my blog here will know that crowdfunding is a big interest of mine. I've run several projects, and used to write a weekly column on crowdfunding in Israeli newspaper Haaretz. I've been heavily involved in preparations for our indiegogo project, and will continue to be involved as it launches. This is the biggest reason I'm reviewing fewer posts these days. However, I'm still quite involved, and am happy to see the work being done both by our contributors and by the category's stalwart moderators.
Previous posts