Weekly overview of the Blog category - Week 51, 2018
We're one week away from the end of the year, the holidays are in full swing, and the Blog and #iamutopian category contributors are still going strong! Let's have a look at those numbers, shall we?
The Scores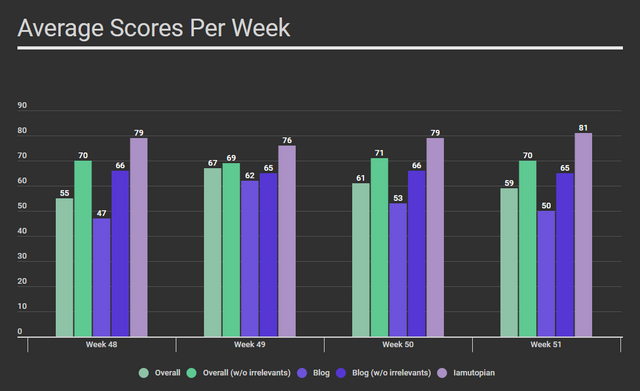 Graphs created using Airtable and infogram
Every week, as I prepare the data for this post, I am amazed by the consistency shown by our contributors.
Top Contribution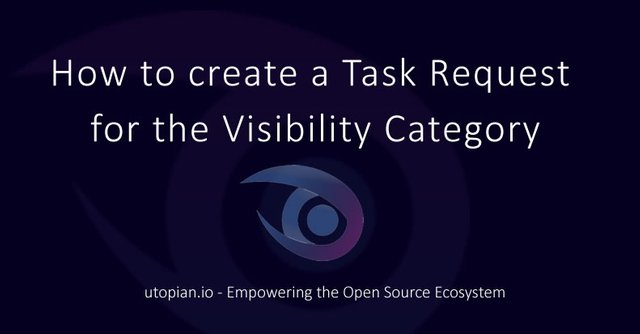 While I usually highlight Blog category posts, here and on Top of Utopian, this week's top post by @katerinaramm stood clearly from the pack, and was unique among both Blog and #iamutopian posts. In this post, our Visibility CM built upon the work previously done by former Visibility CM @techslut and myself to create a very useful guide for Visibility task requests. Visibility may well be the most underused category we have. It has tremendous potential as a tool, and that potential has not yet been tapped. Posts such as this one may be the way to solve this issue.
Contributors and Contributions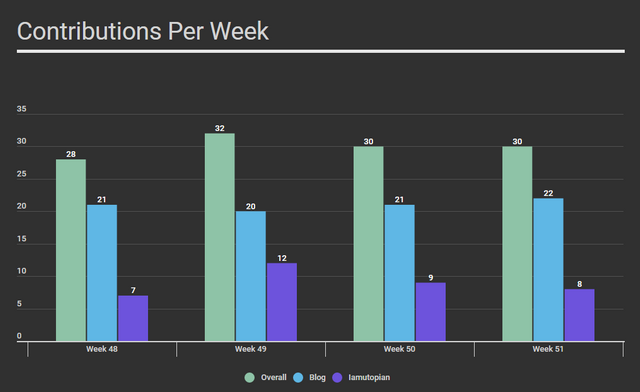 The market goes down, our contributions are stable. The market makes a small recovery, and... our contributions remain stable. At some point one wants to see a change just so I could have something to comment about in these weekly posts, but consistency is a good thing.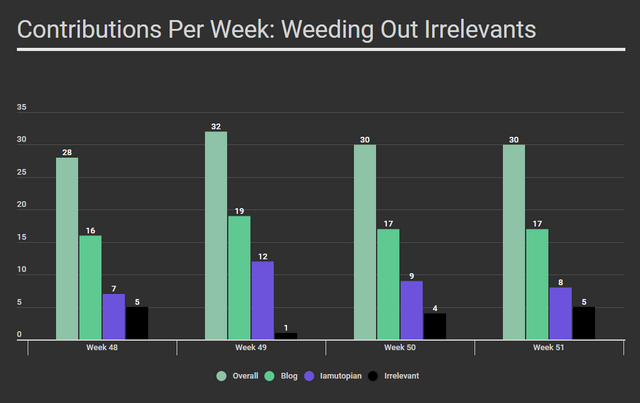 As I wrote last week, the irrelevants seem to be making a return. This saddens me. The Utopian Blog category's remit is a wide one. There is a very large variety of posts which we are happy to review. The fact that a sixth of our contributions this week were things we could not review - nor pass to a different category - means we still have a way to go in communicating that. Which we're definitely working on.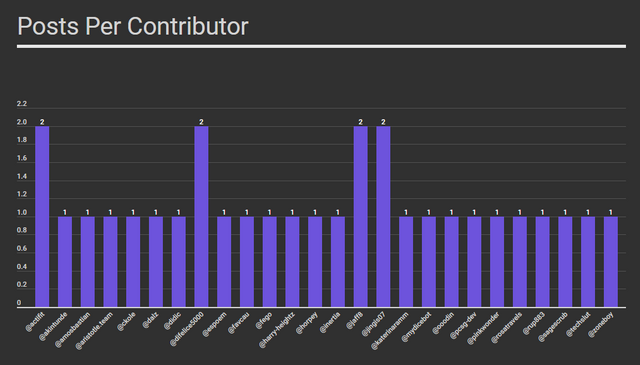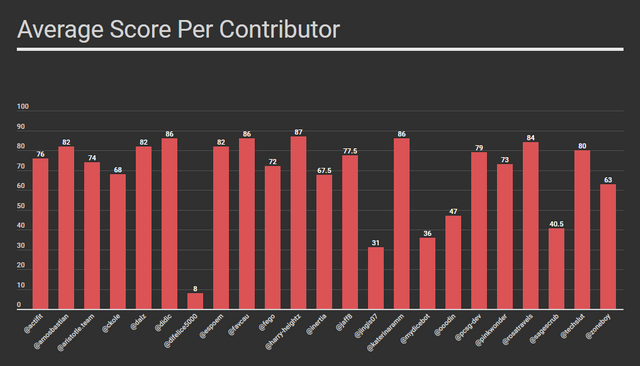 I'm commenting on both the number and average score of the posts together this week, because it was a strong illustration of how the two can sometimes have no correlation. We are delighted to have multiple posts by contributors who provide consistent quality. But our two contributors with the lowest average scores this week were also on the more prolific side. To those I would say this: Better to work twice as hard on a single post than to post two weak ones.
Moderators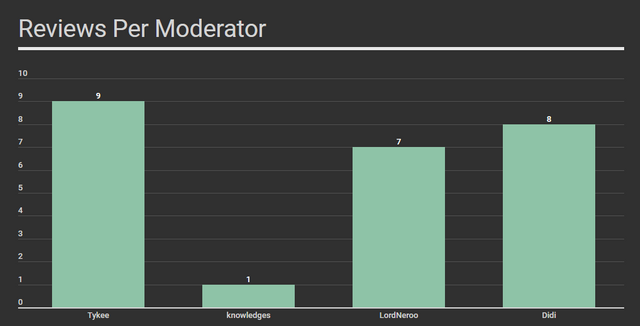 This week, we had some nice balance in the workload, with our two moderators and myself all doing between 7 and 9 reviews, and the ever helpful @knowledges reviewing the one post I can't review and wouldn't ask the two moderators to review: Mine.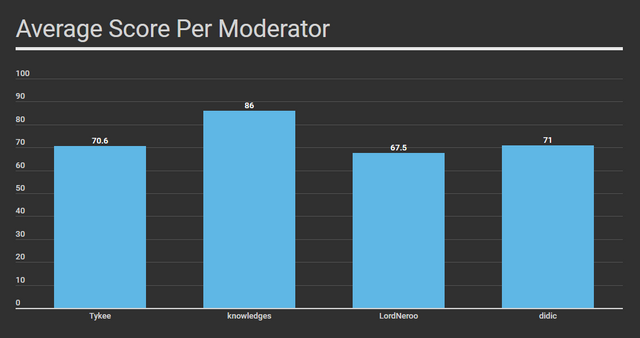 The balance was also in full force when it comes to quality of posts reviewed. Less than four points separated the lowest average from the highest - not counting @knowledges' one review - and I like that.
Days and Hours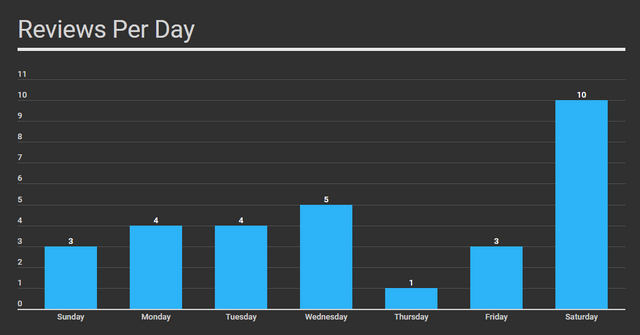 This week, I don't have to wonder why the day distribution looks the way it did. I had some spare time last Saturday, and used to to knock out quite a few reviews, as well as a bunch of irrelevants.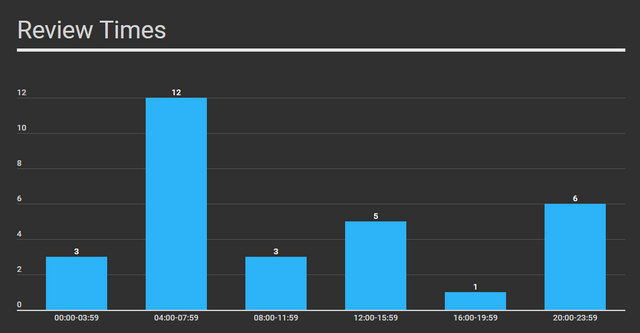 It really looks like your friendly neighborhood Blog moderation team are a bunch of night owls, huh?
Tip of the Week: Make it personal
I was recently given an Instant Pot for my birthday. This sent me down a rabbit hole of recipe posts all over the internets. And I noticed a pattern: In most cases, before you get to the actual recipe, there's a story about the recipes creation. Why is that? Because that makes it personal, which makes it a more compelling read Our posts aren't recipes. We don't have the delineation of story to start and recipe at the end. Your post is your story. If you're presenting your new project, I want to know why you created it. If you're reviewing a project or promoting it, I want to know your personal history with it. Make your content uniquely your own.
Final Thoughts
I'll have thoughts about the year we've had next week. This week, I'm here to wish you very happy holidays. We'll still be here in the coming week, though I do expect a bit of a dip in activity.
Previous posts