Weekly overview of the Blog category - Week 1, 2019
It's a new year! With the holidays safely behind us, it's time to rev the engines again. But, first, a recap of the last week of holidays - and post-holiday hangovers.
The Scores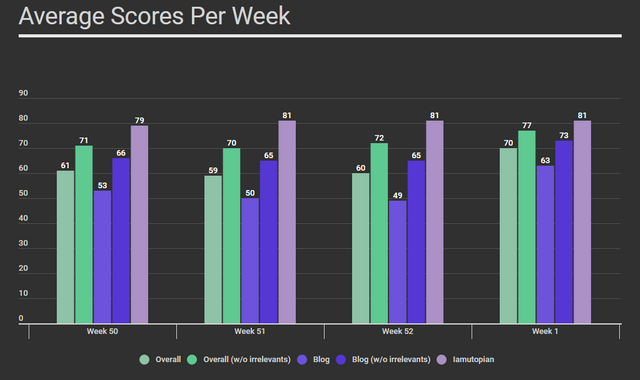 Graphs created using Airtable and infogram
While #iamutopian has remained stable, the Blog category had a nice improvement in average score. This is partially due to a decrease in irrelevant posts. But as you can see, the scores without irrelevants are still higher than they've been. An average score of 73 for relevant posts is really quite nice!
Top Contribution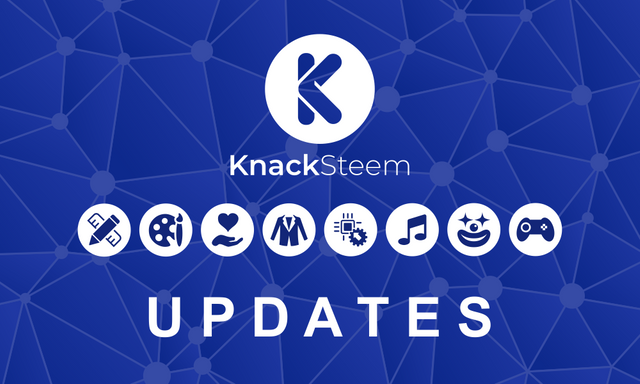 Much like last week, this week's top post - and staff pick - was a huge update by a major dApp on Steem. This week, it was the tremendous Welcome "Knackstore" and "Knacktokens" to Knacksteem! post by our friends at @knacksteem.org. While not clean of style and grammar issues, this is an update that provides tons of valuable information in a very readable fashion. And the graphics are very well done.
Contributors and Contributions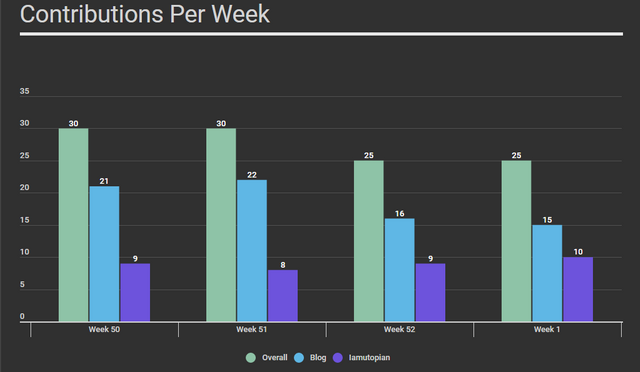 When it comes to volume, New Year's week was pretty much identical to Christmas week. I definitely hope to see a rise in these numbers in the coming week, as we all get back to our routines. But I remain happy with the number of contributions for the holidays.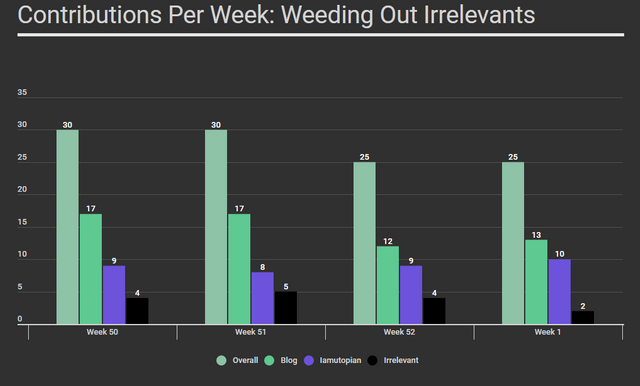 Oh, hey! A dip in irrelevants! I expect that number to rise in the new year, sadly. But I'm happy to see at least one week with a drop.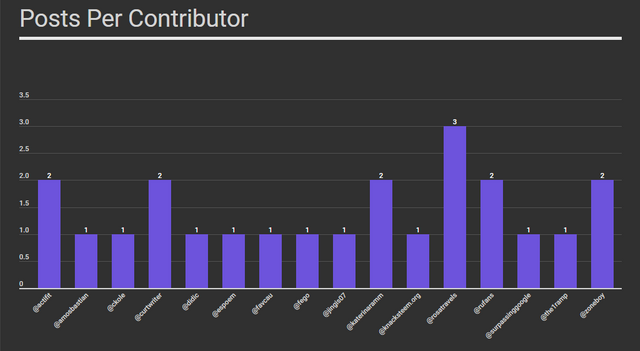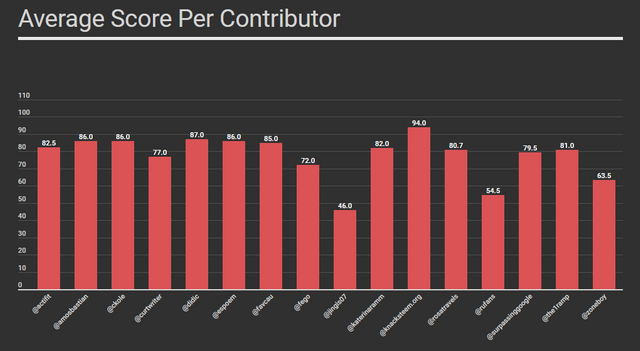 One significant way in which our contributions have remained stable is the influx of posts by major Steem dApps, reporting on future plans and current affairs. Posts by @knacksteem.org and Steemgigs have joined regular and irregular contributors such as @actifit and @the1ramp to give the Blog category a backbone of quality posts.
Moderators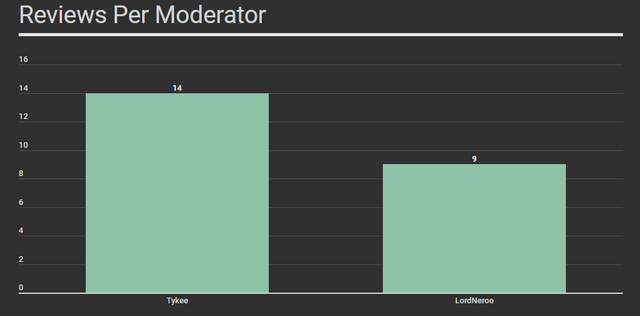 While I was busy doing other things (more information of those will be coming in the next few days and weeks), the Blog category moderators have continued doing their thing. Once again, @tykee was the workhorse of the category.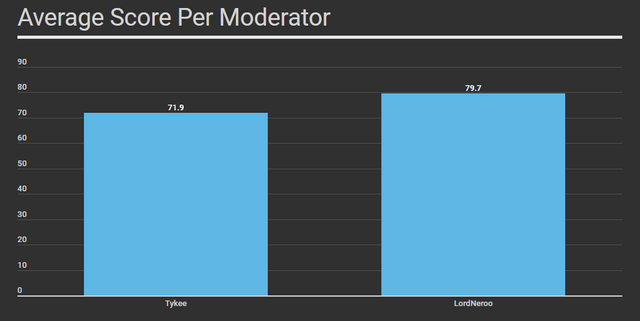 The average score of the two moderators was quite close. Both are within the 70s. @lordneroo had the misfortune of reviewing the three lowest scored posts this week, leading to his lower average score.
Days and Hours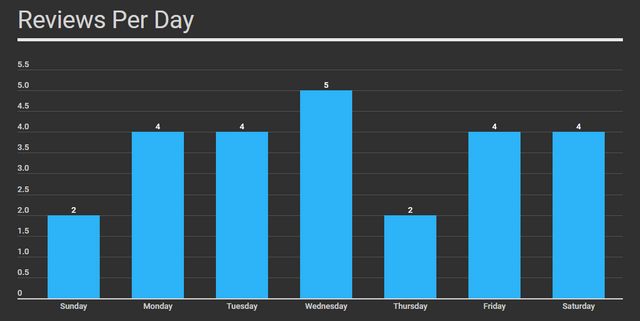 I think I may need to have a word with our moderators about life/work balance. Both put in more work than I would have expected on New Year's Eve and New Year's Day. Which... I appreciate, but also would be happy if they rested on these days.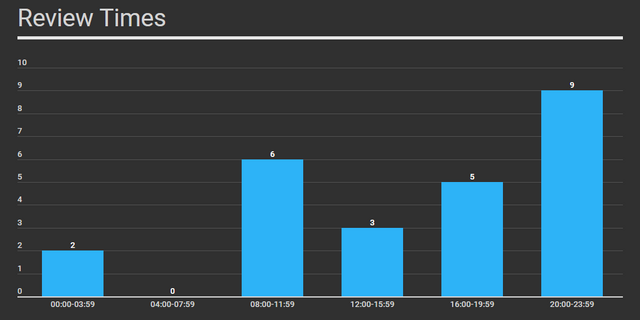 With myself not reviewing any posts, and super late night posts seem to have decreased drastically. I'm not saying the two are related, but they're probably related.
Tip of the Week: Don't pad your posts.
I know we have a wordcount element in our scores. It won't be there under the new guidelines. But even for now, the way to get to a higher wordcount is not to start telling us about the internet being important. So many posts I've reviewed have started with an entirely unneeded preamble about social media being powerful or the internet being important. We know. We're on a blockchain based social media platform on the internet. If you want to have a higher wordcount, give us more of the things that are valuable to readers. More editorial and personal content that is unique to you.
Final Thoughts
It's a new year, friends. We've had some relatively quiet weeks lately, due to the holidays. But this is the time to start revving up those blogging engines. I'm excited to see what the new year will bring to the Utopian Blog/General category. I can't wait to read your original, unique, and valuable contributions.
Happy new year!
Previous posts