This is the story of my life so far: 68 years and counting.
Prequel: A Brief History of my Family in France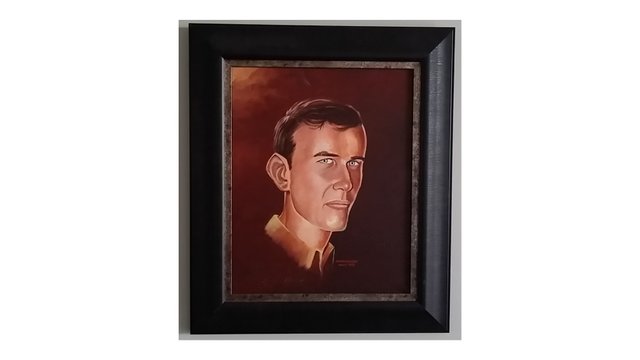 The story starts here
Previous episode: Part 58
In January 1979, I had finally decided to get married
I had taken me a long time to go against the will of my parents, but I finally decided to get married in January 1979.
Geneviève was not sure that I was serious this time, as I already asked her to marry me twice in 1974 and 1977, but I did not follow suit in both cases. However, she said yes.
She had already finished nursing school and was working as a replacement nurse in various hospitals in the Parisian region.
In 1978, I had moved from the Manoir de Lossulien to a house in Guipavas that I shared with the commissaire of the Georges Leygues, Antoine Leroy.
Antoine was a very good cook and knew how to get good food for a party ... or a wedding.
Initially, I wanted the wedding to take place on a Saturday, April 21st. However, I had not realized that it was the birth date of my father, who accused me to have chosen the date on purpose. So, I moved the wedding to a week later, April 28th.
April 28th 1979, we are getting married
Geneviève and myself had been visiting my uncle Étienne, a Jesuit priest and a brother of my father, who initially told us that he would be proceeding to the religious wedding. However, probably under pressure from my father, he later decided to not do it.
In France, there are two kinds of weddings: the civilian wedding at the town hall of the city, and the optional religious wedding at your place of worship. The civilian wedding must always take place before the religious wedding.
Of course, my parents did not come to my wedding.
I had invited my 10 brothers and sisters to the wedding.
Three of them were minors and were living with my parents, so they were forbidden to come.
Two others decided for personal reasons to not come, and I understood very well why.
So, those of my siblings that came were my sister Monique and my brothers Bruno, Antoine, Benoît and Grégoire.
My witness for both weddings was my colleague and friend Dominique.
I followed the tradition for Navy officers: civilian clothes for the civilian wedding and uniform with sword for the religious wedding.
Only close friends and some of my siblings came to the civilian wedding at the town hall in the morning. There were much more people at the church for the religious wedding, including most of the officers of the Georges Leygues in uniform with their swords.
They even did what is called a "voûte d'acier" (a steel vault) outside of the church at the end of the ceremony.
I don't have any picture from this, but it is something similar to this: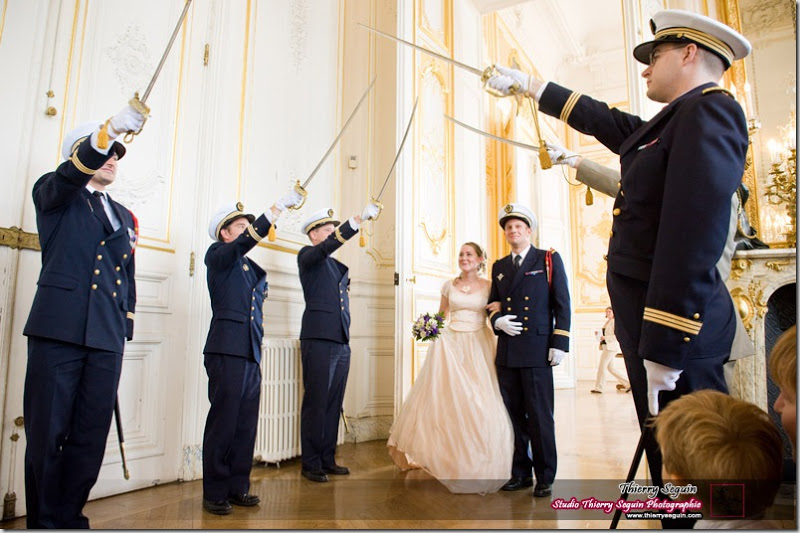 Voûte d'acier at a wedding of a French Navy officer
source

The reception after the religious wedding took place in the house that I was sharing with Antoine Leroy.
I believe the wedding only cost me less than 5,000 francs, that is approximatively US$1,000. Not a very expensive wedding.
Geneviève and myself, we left around midnight for three days of honeymoon in southern Brittany.
My next post in the French Navy was in Halifax, Nova Scotia, as a NATO exchange officer.
So, I had only two months after the wedding to sell my car, and to organize our move to Canada in July 1979.
Continue to Part 60
---
If you like this story, please consider to follow me
Summary
Part 1 - Part 2 - Part 3 - Part 4 - Part 5 - Part 6 - Part 7 - Part 8
Part 9 - Part 10 - Part 11 - Part 12 - Part 13 - Part 14 - Part 15 - Part 16
Part 17 - Part 18 - Part 19 - Part 20 - Part 21 - Part 22 - Part 23 - Part 24
Part 25 - Part 26 - Part 27 - Part 28 - Part 29 - Part 30 - Part 31 - Part 32
Part 33 - Part 34 - Part 35 - Part 36 - Part 37 - Part 38 - Part 39 - Part 40
Part 41 - Part 42 - Part 43 - Part 44 - Part 45 - Part 46 - Part 47 - Part 48
Part 49 - Part 50 - Part 51 - Part 52 - Part 53 - Part 54 - Part 55 - Part 56
Part 57 - Part 58