This is the story of my life so far: 67 years and counting.
Prequel: A Brief History of my Family in France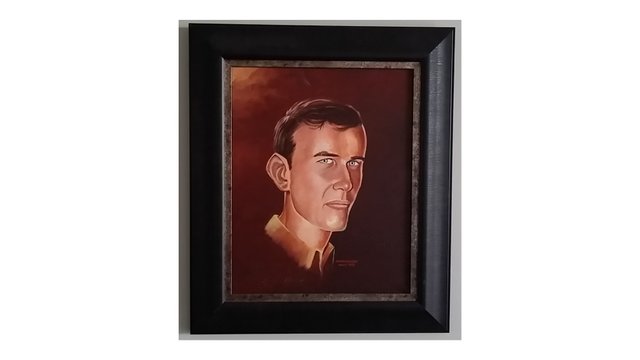 The story starts here
Previous episode: Part 17
Classes Préparatoires aux Grandes Écoles
While still in high school, I had decided that I wanted to be a Navy officer. There were two way to have such a career: École Polytechnique et École Navale.
École Polytechnique is one of the most prestigious grande école in France, created during the French revolution and made a military engineering school by Napoléon. École Navale is the French Naval Academy in charge of the education of the officers of the French Navy. All graduates of École Navale become Navy officer, while very few from École Polytechnique do. However, it was my goal to try to go to École Polytechnique and become a Navy officer, École Navale was my back up plan.
To get to these prestigious schools, you have to compete in a very selective examination and that requires at least two years of very intensive preparation after high school in classes préparatoires (preparatory classes) in specialized high schools.
One of the best high schools in Paris is the Lycée Saint-Louis in Paris, and this is where I went in September 1966.
My brother Philippe had been a student for two years (1964-1966) in lycée Saint-Louis to prepare for the French military academy, to become an army officer. While I was starting to be student at lycée Saint-Louis, Philippe was starting to be an army cadet in the École Spéciale Militaire in Brittany.
Lycée Saint-Louis
Lycée Saint-Louis is the only public French lycée exclusively dedicated to classes préparatoires.
It is located in the Latin Quarter of Paris (le quartier latin), at the corner of Boulevard Saint-Michel et [Rue de Vaugirard](https://en.wikipedia.org/wiki/Rue_de_Vaugirard], 150 metres from the Sorbonne, one of the oldest French universities.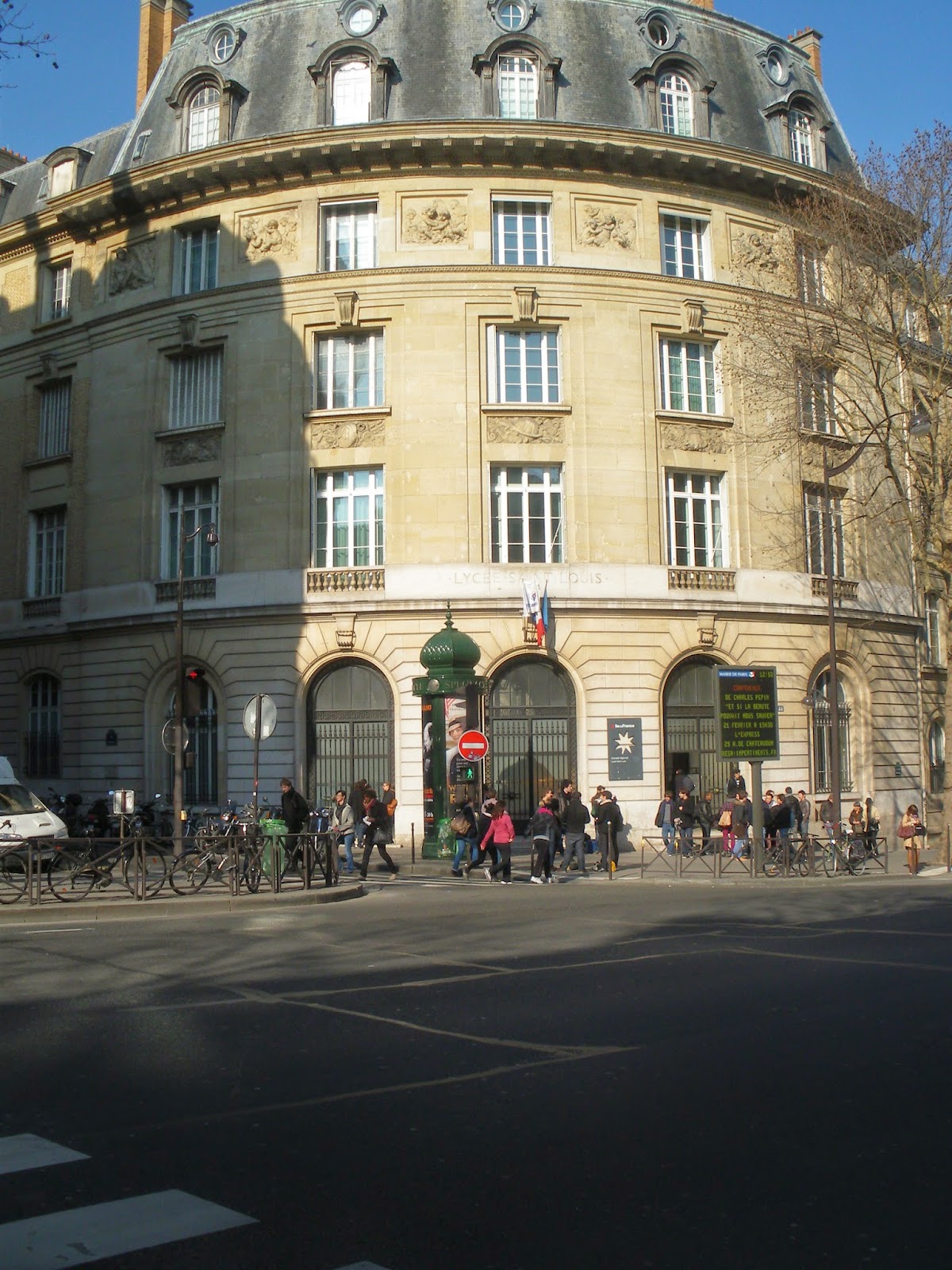 Entrance to Lycée Saint-Louis
source

The lycée Saint-Louis is the successor of the "Collège d'Harcourt" that was founded in 1280 on this same location. The original building was demolished in 1795 and the present one erected on its site in 1814. It is only in 1820 that the name was changed to "Collège Royal Saint-Louis", that eventually became "Lycée Saint-Louis".
Maths Sup 2
In September 1966, as I was not yet 17 years old, I started to attend the class of "Mathématiques Supérieures 2" (superior mathematics) best known as "Maths Sup 2". As I remember, there were 4 classes of "Maths Sup", numbered from 1 to 4.
I was probably the youngest student in the class.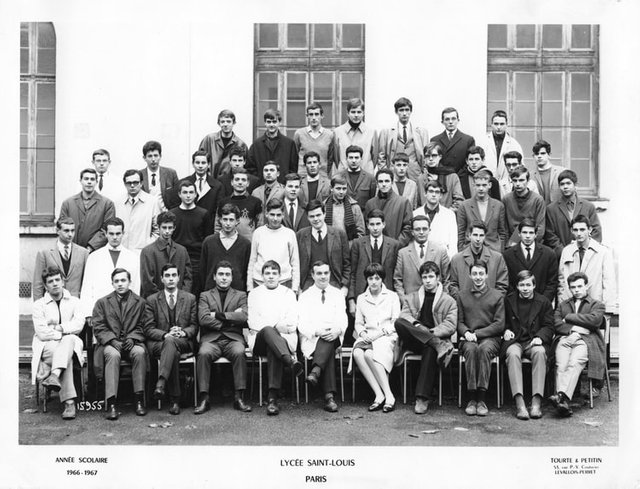 Lycée Saint-Louis - Maths Sup 2 - 1966-1967

On this picture, I am the third from the right on the third row. In the middle of the first row is Monsieur Cros, the physics teacher.
You will notice that there is only one girl for 50 boys. Nowadays, according to [Wikipedia]. 43% of the students at the lycée are girls.
From my comrades, there were two that I was friends with: Jean-Noël Prein and Bernard Chatreau. Bernard is the one immediately behind Mr Cros, and Jean-Noël is the most left on the last row. There are others whose names I remember: Michel Bordet, Schlumberger, Goulesco.
With Bernard and Jean-Noël we formed a strange group.
Bernard was a convinced Maoist, who was carrying the little red book, but also a fan of horror movies. He made us discover some interesting movies; I remember in particular this one: Curse of the Demon, that I have bought as a DVD several years ago.
Jean-Noël was politically center right. And I had no political inclination at all.
Jean-Noël was the oldest of the group. He would salute me with "Hello, babe" and I would reply "Salut, vieux schnock" (hello, old schnook).
I was a good student in math and physics. I fact, I think I had the best marks in math. I was OK in chemistry, and no so good in French literature and English.
We also had a class of "dessin d'art" (artistic drawing), but it was not my forte.
Maths Spé A'1
After Maths Sup, in September 1967, I started "Mathématiques Spéciales A'1" (special mathematics) best known as Maths Spé".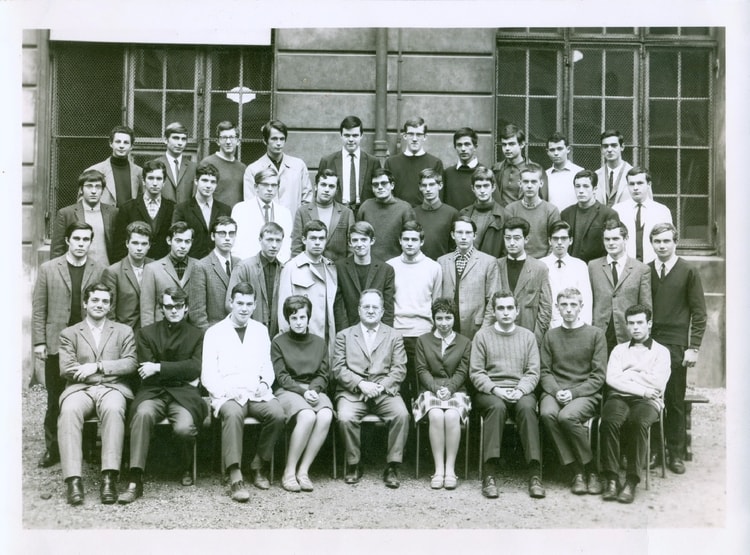 Lycée Saint-Louis - Maths Spé A'1 - 1967-1968

Progress: there are two girls!
In the center of the front row, we have Monsieur Saint-Jean, the math teacher, nicknamed "le Singe" (the monkey), for obvious reasons. He was an excellent teacher.
I am again the third from the right on the third row, Jean-Noël is immediately behind Mr Saint-Jean on the second row and Bernard behind him on the fourth row.
Once again, I was the best in math in Maths Spé.
I was 18 years old then, but still a minor, as the age of majority in France then was still 21 years old. In 1974, it was changed to 18 years old.
I had almost no money and because of that, I was some times not able to follow my comrades in cafés in the Latin Quarter after school. Our parents never gave us any allowance, and the little money I had, I probably had stolen it from my mother's purse.
In the spring of 1968, around the end of the school year, the May 1968 events occurred and they will have a major influence on the rest of my life.
Continue to Part 19
---
If you like this story, please consider to follow me
Summary
Part 1 - Part 2 - Part 3 - Part 4
Part 5 - Part 6 - Part 7 - Part 8
Part 9 - Part 10 - Part 11 - Part 12
Part 13 - Part 14 - Part 15 - Part 16
Part 17