Fifty-word short story challenge - story round-up and new prompt
Welcome to the 50-word short story challenge, where each week micro-fiction authors rise to the challenge to write a short story in just 50 words. This post provides some tips for writing micro-fiction, a review of last week's 50-word stories, some highlights of the week, and a new prompt for the coming week.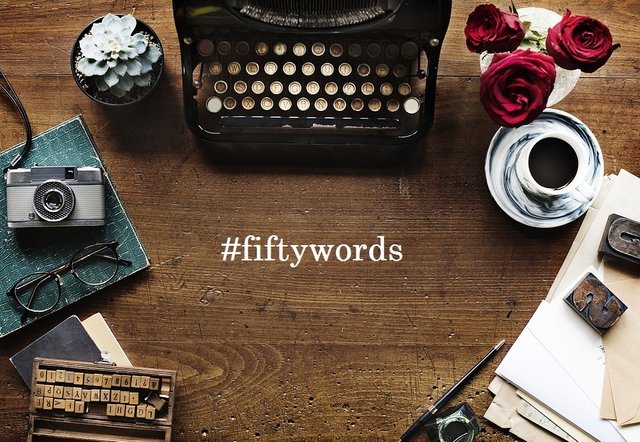 (Image credit: Original image by rawpixel, Pixabay)

Micro-fiction writing workshop
Writing micro-fiction is a fun and challenging way to practice tightening your writing and making every word count.
How do you write a 50-word story?
There is no one right way. But it might help you to follow some basic steps:
Study the prompt and think about its meanings. Last week, for example, the prompt word was "money." Money has so many implications, and the Fifty Worders explored many themes -- from cryptocurrency topics to people not having enough money to money used as a vehicle for a deadly toxin.
Draft your story. Just write the story that comes to mind. Once you have words written down, you have something to work with.
Edit the story to get it just right. Make sure the story has a story line and at least one character. Make sure it has an impact for the reader. Swap out words that don't work well, or that don't feel meaningful, and swap in better, stronger words.
Make sure that it came to 50 words exactly.
Find an image that represents what you want to convey. (Note: An alternative method is to start with an image that represents the prompt word. That also works well.)
If you like, add a "backstory." For example, this could be information clarifying the impetus behind the story, such as a real event in your life, an historical event, or thoughts about the theme of the story. For example, in my story this past week, "One for the money," I shared some thoughts about the complex issues that families can experience because of money.
Tip of the week:
Before you post your story, have someone else read it. Ask your reader to explain the story to you. If you are not getting your meaning across, you may want to do some more editing.
Last week's story collection
I'd like to welcome our newest contributors,
@aleli
,
@anutu
,
@aresbon
,
@emergehealthier
,
@erh.germany
,
@four20
,
@marciabon
, and
@yeceniacarolina
. Thanks for joining the Fifty Worders!
Here is the complete list of stories inspired by last week's "money" prompt:
If I missed yours, please let me know and I will add it! I always try my best to list them all, but I do occasionally miss one.
Highlights of the week
Each week I highlight a few intriguing stories from the previous week's collection that I hope will inspire current and new Fifty Worders. There were so many great stories this week, I really struggled to choose just a few highlights. To do so, I went with a theme — poignant, touching, heart-wrenching and uplifting stories about money. But there were so many more!
This one is not for the faint of heart.
"Not enough, kid." The clerk pushed the money to the edge of the counter.

Bobby clutched the stuffed rabbit. His baby sister was born too small. She needed a toy to play with in Heaven.

He dropped the rabbit and left. He would give her one of his soldiers instead.
In this sweet story, the author describes a child's spunky determination.
Boy Jeremy stood on the blue balcony, when grandfather visited. "What will you do with the money I gave you for your piggybank?"

"Buy time!"

"Why?"

"Mom works hard and barely has time for me. With money I can buy one day with her. With money I can buy everything!"
For those who need their faith in humanity restored....
Trembling, eight year old Sally extended her fist. The box at her feet held a kitten with a broken foot, mewling pitiably.

Sally opened her hand slowly, revealing a quarter and two dimes.

"Can you fix Mindy's paw?"

Vet Parker picked up the box.

"Sweetheart, your money's no good here."
Sometimes we couch the truth inside some gentle fiction.
"What is life about?" The girl asked.

The young man didn't know how to answer the question. His life was full of work, no luxury, no rest. His employers were only seeking one thing: money; but she was too small to know the truth. Therefore, he said "fun" smiling kindly.
In this touching story, the author shares the anguish a child feels when something wonderful is off limits.
Lights, colours, laughter! It looked so much fun! Tugging at her mother's skirt, Alexandria pointed.

"Sorry, hon... not enough money; next time."

This was the seventh 'next time', she had counted. Her tears welled as she was dragged away. One day, she would build her own funpark! With free entry.
In this historical fiction piece, the author creates a fictionalized account of a real (and devastating) event from the 1500's.
The table collapses under the accumulation of ransom.

And still the flow of gold into the room continues. More than a horse could carry. Maybe more than an elephant could carry, if we'd brought one on the galleons.

What a naïve fool this man is, thinking we'll let him live.
Excellent work, everyone!
This week's 50-word story prompt
The prompt for this week is "water." I look forward to reading your stories, Fifty Worders!
Guidelines
Please review carefully. Images must follow the Proper use of images guidelines below.
Write a story in 50 words. (It's especially cool if you can hit 50 words exactly!)
Use the #fiftywords tag, and post the link in the comments of this post.
Be sure to read and upvote the work of the other participants. It's all about community!
Use only artwork that you have the right to use, and attribute it properly. See the following guidelines.
Proper use of images
Proper use of images means one of the following:
The image is public domain, or under creative commons licensing rules.
It is your own image.
If it is not one of the above, you must have actual permission.
Be sure to properly attribute the image's source or mention that the image is yours. And if it's not public domain, under creative commons license, or your own image, be sure to state that you have permission.
I have two resources for you, from my friends at @thewritersblock:
And speaking of @thewritersblock, it's a great place to hang out and rub elbows with other writers. Check them out on Discord.
Deadline for this week: Saturday, September 8th. (With a grace period until the new prompt is published.)

The 50-word story clan
I'm mentioning you here if have participated in the
#fiftywords
short story challenge in the past. Please let me know if you would like your tag removed in this or future posts. (Note that I do trim the list. Those who have not participated for a long time or are not active on Steemit will eventually drop from the mentions.)
@ablaze, @adigitalife, @aggroed, @agmoore, @ahmadmanga, @akdx, @aksounder, @aleli, @alexandered, @alheath, @anikekirsten, @anixio, @anonymummy, @anutu, @aresbon
@bagpuss, @beginningtoend, @bex-dk, @blueteddy, @botefarm, @brectar, @bryarose23
@caleblailmusik, @carn, @celsius100, @cheekah, @cizzo, @clacrax, @creatr
@damianjayclay, @dbzfan4awhile, @deirdyweirdy, @desmoniac, @diebitch, @dirge, @donnest, @drahries
@eaglespirit, @elbrujo, @elementm, @emergehealthier, @emwalker, @enjar, @erh.germany, @eroticabian, @esttyb, @evgsk
@fairyhedgehogg, @feebie, @felixgarciap, @felt.buzz, @ficciones, @four20, @foxfiction, @foxyspirit, @fromage
@gaming-stuff, @girlbeforemirror, @gmatthe2
@haisa, @happyhairdays, @henry-gant, @hlezama
@jadams2k18, @janine-ariane, @jasminearch, @jayna, @jluvs2fly, @jonknight,
@kaelci, @kally, @khadija14, @kimberlylane, @kingspiration, @ktfabler
@lightoj, @liverussian, @lucylin, @luiskrupaz
@Mammasitta, @marciabon, @marie-jay, @mark-dahl, @mgaft1, @mineopoly, @miniature-tiger, @mizdais, @momzillanc, @mydivathings
@paintingangels, @papacrusher, @phillyc, @pixiehunter, @pizzachain, @poeticnest, @preparedwombat, @prydefoltz, @purpledaisy57, @pyrowngs
@ravencorinn, @riottales, @rodrigocabrera, @roxy-cat, @rvag5
@sidequest, @spalatino, @stbrians, @steemgiant, @steemitdiversify, @sue-stevenson
@tanglebranch, @thatlovechild, @theironfelix, @therosepatch, @thinknzombie, @tiatu, @tinkerrose, @tuwore, @tygertyger
@wa2qr, @yeceniacarolina, @yimiipsa, @yoganarchista, @zen-art
Thanks so much for reading! I hope you try the 50-word challenge. It's so fun to see what can unfold in a mere 50 words!

---
Posted from my blog with SteemPress : https://jaynalocke.com/2018/08/31/fifty-word-short-story-challenge-story-round-up-and-new-prompt/
---