Hi sweethearts! I wish you all a wonderful new week! I just came home from an energizing power run at 6 am. I decided to challenge myself for 21 days and build new habits that will help me to work more focused and bring me closer my goals. One new habit I want to have, is to wake up at 6 am, put the shoes on and run for 10 minutes to just get my body activated.
I started 3 days ago, and so far I love it. Right now we are having such a warm summer weather in Austria, and it is easy to wake up at 6 am when the sun already is shining. The fresh air, the quiet mornings, I have missed that. My little boy is still asleep, and I have some time for myself. That is pure luxery!
My bad habits since many months have been to wake up late and go to bed late, no time management, late to appointments, and no clear goals for myself. So its time to change those habits and replace them with some good instead!
Remember, if you have some bad habits that doesnt bring you forward, instead of trying to get rid of them, simply replace each bad habit with a good one. Otherwise it will be hard to succeed.
My best tips for a good morning routine and to work effective:
wake up early, the earlier the better.
drink a big glass of room temperature water with some lemon juice (or apple vinegar) to boost your immun system and to hydrate your body.
jump up and down at least 50 times or until you are out of breath, or go out for a quick walk or run - to wake up and activate your body, and get some fresh air .
make a to-do list for the day. The detailed the list is, the more you will get done. But keep the list simple and dont try to put a whole week in one day. Be kind, and also plan some free time and offline time for your day. If you have kids, one task or 2 can be enough for a day. You dont need to mangage as much as a person without children can manage. Remember that. The clearer your goals are defined, the easier it will be for you to stick to your plan and focuse on what really brings results. I make a goal list for each week, and for each day. I write down the details the evening before, or after I wake up. Otherwise I can get lost in time and dont know where to start when I have some time left for my work.
start the day with the most challenging tasks and finish the biggest part of your work before 10 am. (for parents with small kids, try to find some time in the morning before the kids wake up for yourself and the things you cant do when your kids are awake, you will feel so much more effective if you can do that,)
eat when you feel hungry, start with fruits.
How do you start the day in a optional way? Let me know below in the comments!
---
Now its time for me to share an other pancake recipe with you guys, cant get enough of them and make pancakes at least once a week! So how about to start this week with a stack of healthy delicious pancakes that will make every morning happy!
Those pancakes are made with millet flour (by now you know my love for millet!) and roasted hazelnut flour that you easily can make by blending roasted hauelnuts. The roasted hazelnut flour gives the pancakes and very nice nutty flavour that I really like.
Monday Pancakes with chia and hazelnuts!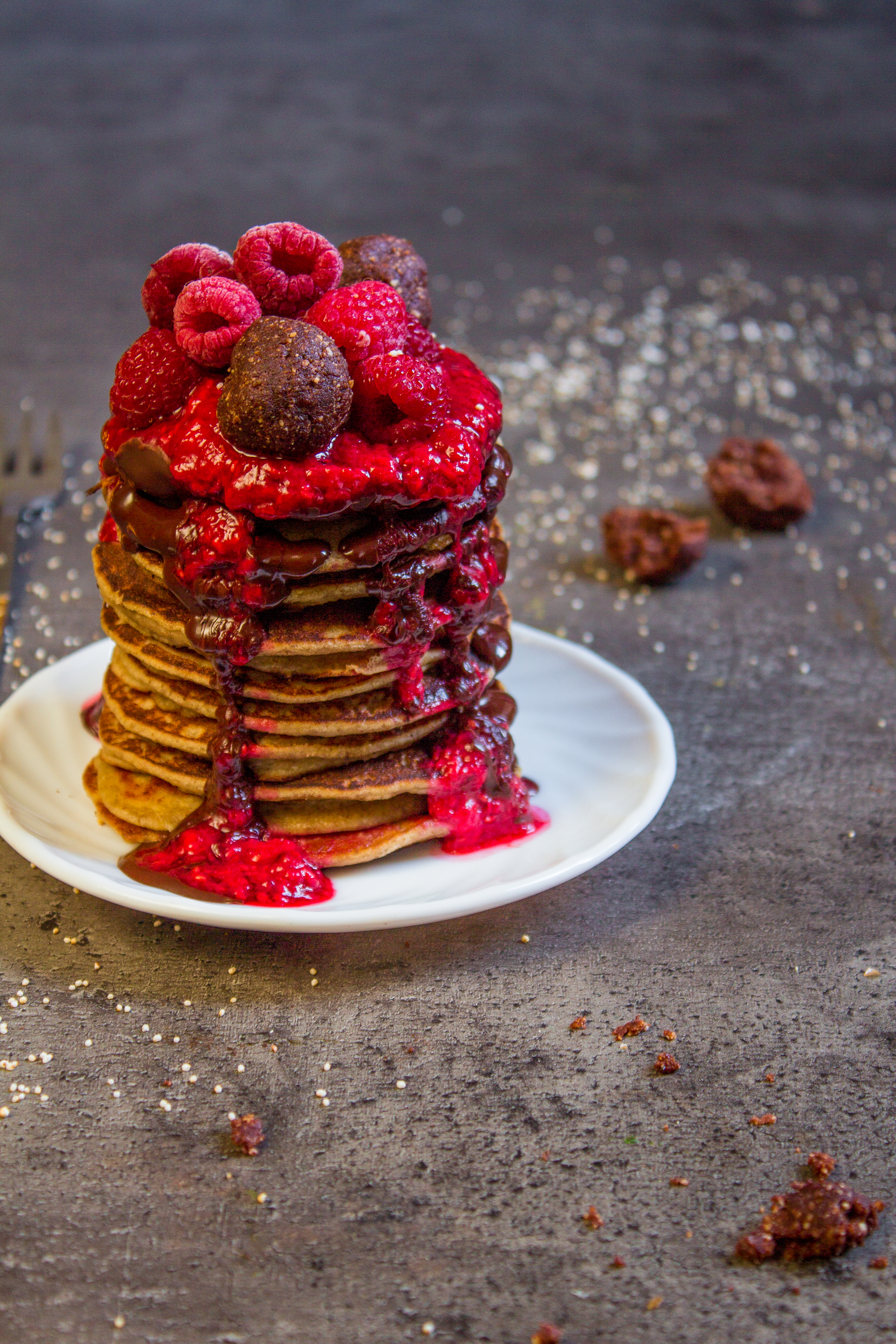 I love to serve my pancakes with homemade berry jam and this I also made some healthy nutella bliss balls made of roasted hazelnuts, cacao and dates. I also added some melted chocolate to these pancakes, I know how to treat myself well.;)
Recipe
Ingredients:
1 cup rolled oats
1 ripe banana
1 tbsp chia
40 g hazelnut flour (roasted hazelnuts, blended to a fine flour)
1 cup plantbased milk (I use oat milk)
pinch baking powder
Method:
Blend all the ingredients in a blender of food processor until the batter is smooth.

Heat a non-stick pan on medium heat, add a little coconut oil to the pan.
Take 2 tbsp from the pancake batter for one pancake. Flip when you can see bubbles on the surface.
Tips: You can add some slices of banana or berries on the pancake and than flip to the other side. Cook until through.
Serve with warm berries, fruits or something else. Enjoy!

This is my support for my dear Lena´s @lenasveganliving #fruitsandveggiesmonday ! Be sure to join her contest, and check out all wonderful entries! I am the guest judge this week and will help Lena to select the winners!! Very exciting task and I feel honoured to have this opportunity.
---
I wish you all a glourious monday and new week! Much love!
I am a proud member of: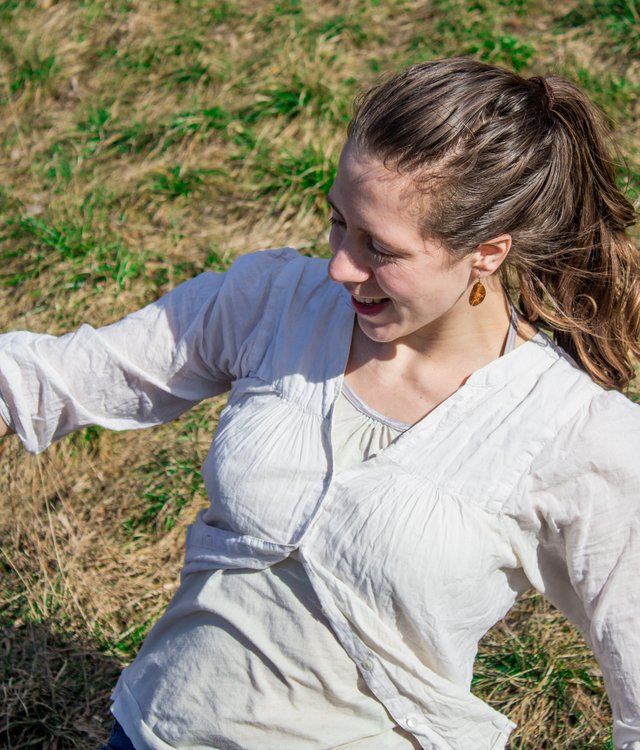 Love, Niina
---
Cant get enough? You can alo find me here:
---
While you are still here, take your time to check out my other recipes and recent posts:
Granola in 10 minutes! Recipe

PEANUT BUTTER-CHOCOLATE CUPS with roasted hazelnuts Recipe
Pancakes:
---
Life & Inspiration:
---
Thank you all! ❤
I want to inspire you to live your dreams, eat delicious, wholesome, nourishing, healthy food, and keep a creative mind. We all can do that, now!❤
Health starts inside our mind.
---
All content and images are mine and original. If you want to share my work, you are welcome. Just remember to tag me.