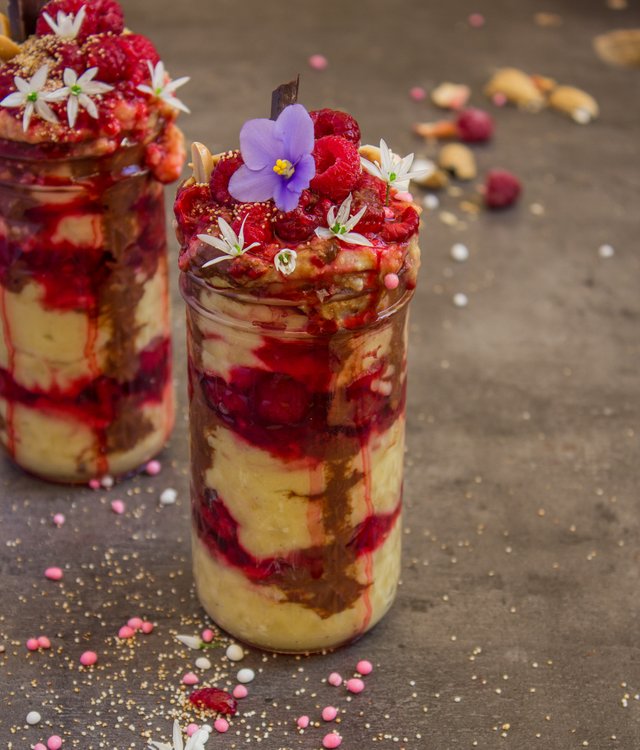 Hi lovely friends! Today I am going to share one of my all time favourite breakfast recipes with you guys (because I want you to have a wonderful breakfast experience)! We eat this porridge for breakfast or lunch at least 4 times a week! Its a filling and creamy porridge, and the mango makes it sweet and fruity. You know my addiction for warm berry jam by now, so of course I make some to have with the porridge.
Simple... but perfect!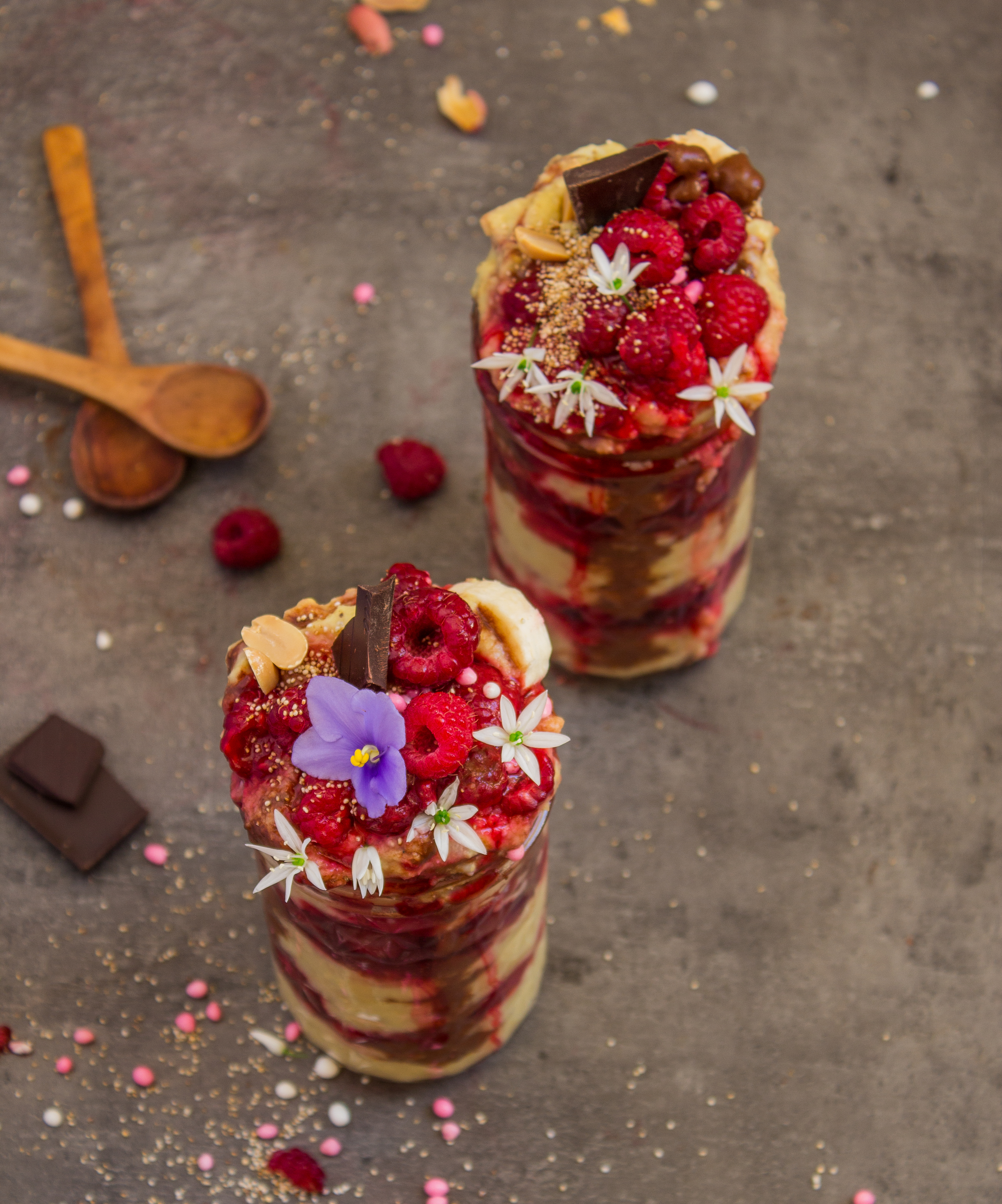 Some nutrients fact about millet:
High content of magnesium, zinc, copper and a good source of manganese. These minerals are essential for a normal metabolism and help to build bones and supports the growth of new cells.
A good source of protein (if you combine millet with beans you get a complete protein with high quality)
Millet is digested slowly by your body, which provides you with long lasting energy and saturation.
prevent breast cancer
helps prevent gallstones
high content of vitamin B
a great alternative to rice, and cheap to buy in grocery stores.
you can make your millet creamy, or fluffy,
gluten free grain, and can also be added to bread and dessert recipes if you ground it.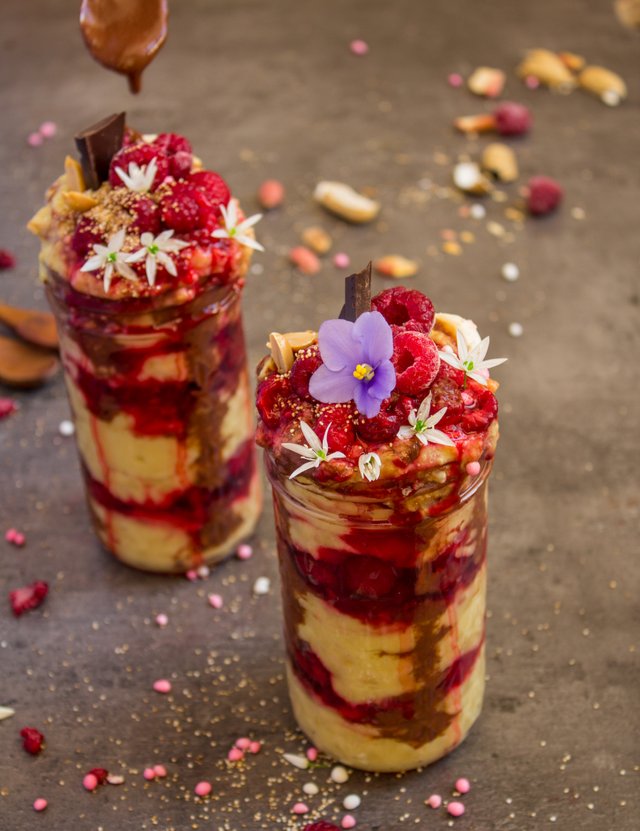 Wanna start your day healthy? Make some millet porridge!!
This is such a great and filling breakfast that even your children will love, my little boy devour this breakfast every time, and I always feel very happy about that, because I know he gets his nutrients and proteins already in the morning.
I never add any kind or sweetener to my breakfast, because for me sweetener are for desserts (even dates), but what I do is to add a lot of fruits and berries to it. I have a sweet tooth, and with berries and fruits every breakfast turns into a heavenly meal!
Here is one other millet breakfast recipe to check out!
Let me tease you with one more picture of my mango-millet porridge before I share the recipe below!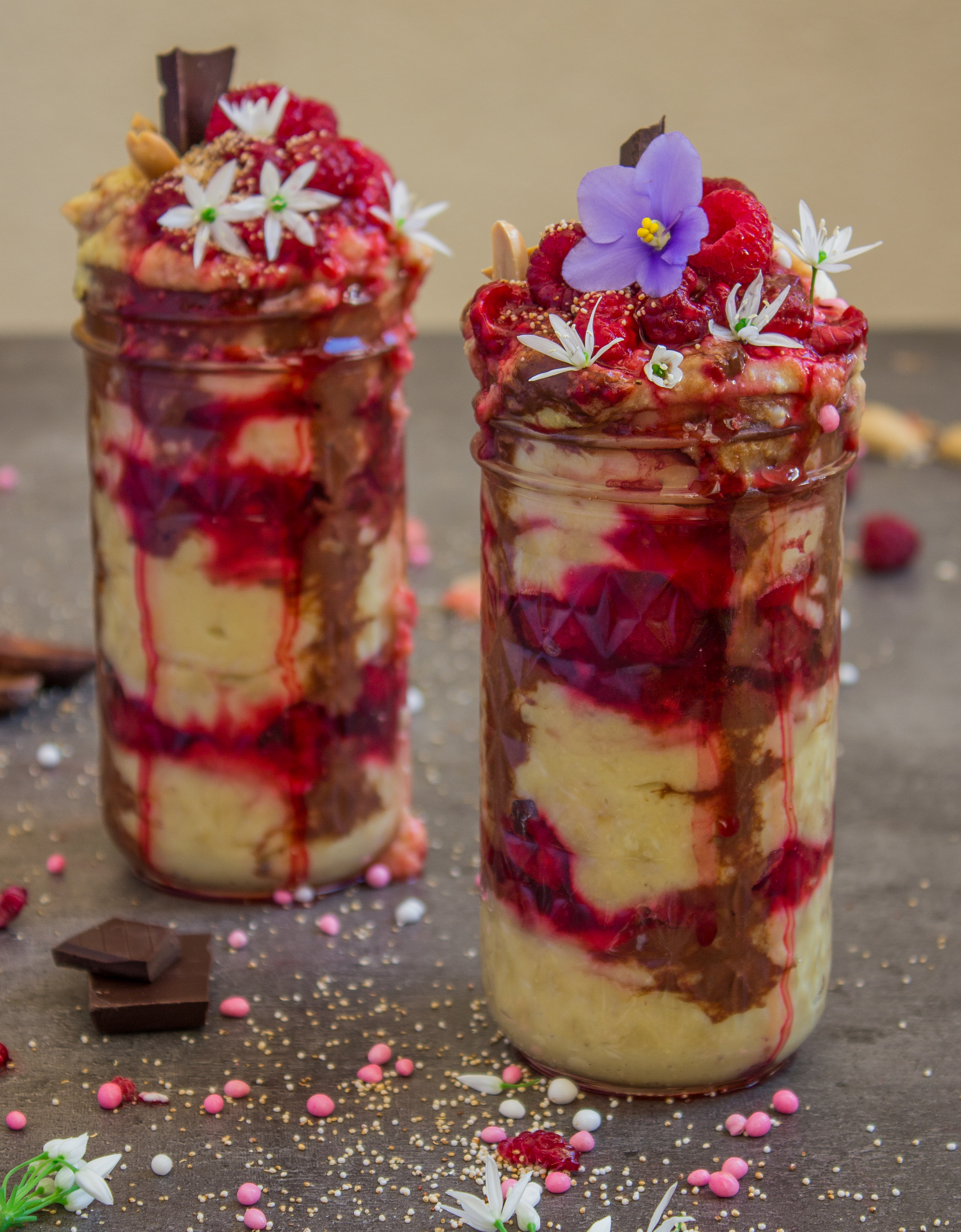 Of course you can make a healthy dessert out of this breakfast meal, simply make your own vegan chocolate and drizzle some on your parfaits. Top with beautiful and delicious nuts and berries, and you have the perfect breakfast (dessert)!
Recipe:
Makes enough for 2-3 portions.
Ingredients:
1/2 cup millet
1 cup water
1 ripe banana
1 cup dairy-free milk (I use oat milk)
1 ripe and juicy mango

Jam:
1 1/2 cup raspberries or other berries (frozen or fresh)
splash lemon juice
(for a thicker texture: add 1 tbsp chia seeds)

Method:
Rinse the millet thoroughly under running water.

Cook the millet on high heat, with the water and the mashed banana until all the liquid is absorbed.

Turn of the heat and add the plantbased milk and let it set until the plantbased milk is absorbed. Stir a few times with a spoon to combine the liquid with the cooked millet.

Cut the mango in pieces.

If your toddler wants to help, let him/her do it, but watch the knive!;)

Blend the mango with the porridge. (For this step you can use a handmixer or a regular blender.)



Heat the berries with some lemon juice and mash the berries with a fork.

Layer the warm berries with the mango-millet porridge and top with more warm berries.

Enjoy!!!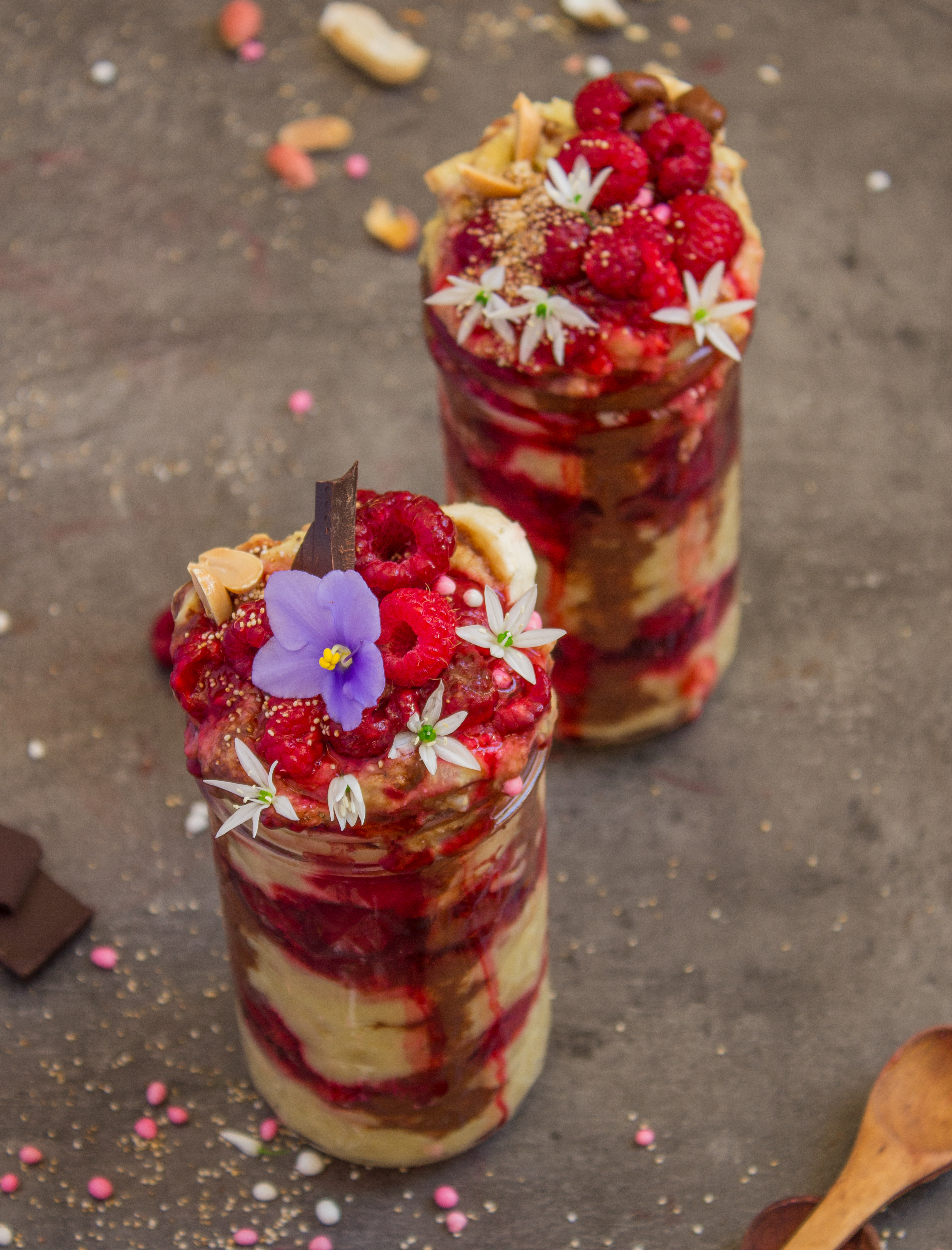 ---
Lovely people out there in the Steemit world! What kind of recipes would you like to see more of? Let me know in in the comments! I have many ideas, but would also love to know what your cravings are;)
I have been thinking about something very important to me, about my inner strength and my conviction about what I do. Some days ago I started to show myself in my instagram stories, because I wanted to make my account more personal and share my lifestyle and thoughts with my community. Until that point I had only posted my pictures and made some short stories about my foods, but not so much more than that. But I am always learning and finding ways to improve my work and develop my skills through challenges. I have always concidered myself as shy and not good at being in front of the camera (such a bullshit idea!), so this was a big step for me and I really stepped outside my comfort zone, and what happened first was that I got nervous, laughing uncontrolled, made myself small and so on. But I can see how I am getting more self confidence by doing this now. And I have got so much positive response. But not from parts of my own family.
I have choosen to believe in myself and continue my journey the way I want to. I choose the importance of comments from others, doesnt matter from whom. I decide for myself if my believing is more valuable than the opinions from others. Its only my choice. So I dont take it bad when someone close to me, dont agree with me and my doings, it is their opinion, and they have the right to have one. I am the one who can decide which effects their opinion has on me. If I get upset, it would mean that I believe in it, otherwise it wouldnt upset me.
---
I am a proud member of: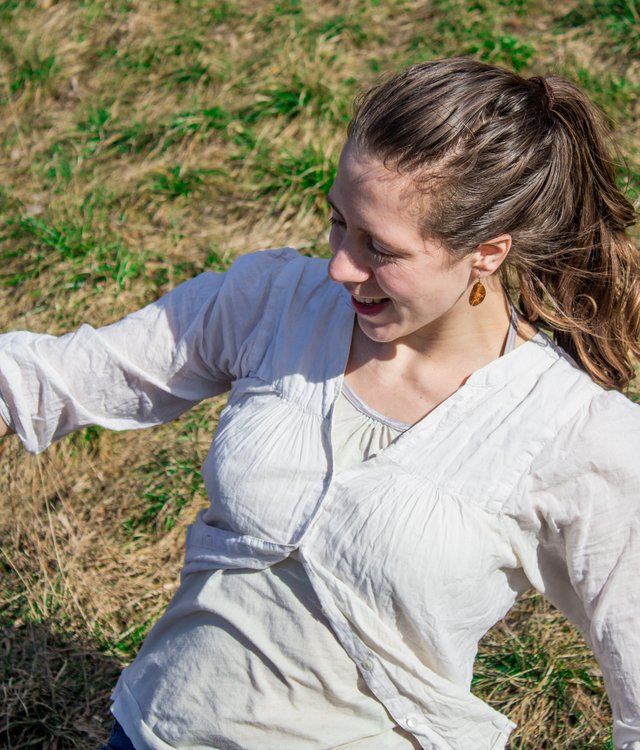 Love, Niina
---
Cant get enough? You can alo find me here:
---
While you are still here, take your time to check out my other recipes and recent posts:
Granola in 10 minutes! Recipe

PEANUT BUTTER-CHOCOLATE CUPS with roasted hazelnuts Recipe
Pancakes:
---
Life & Inspiration:
---
Thank you all! ❤
I want to inspire you to live your dreams, eat delicious, wholesome, nourishing, healthy food, and keep a creative mind. We all can do that, now!❤
Health starts inside our mind.
---
All content and images are mine and original. If you want to share my work, you are welcome. Just remember to tag me.