Hi guys!! Today I am freewriting from my heart and soul. No recipes in this post, but pure inspiration for life and dancing thoughts.
First: VEGAN
So what do vegans eat? The simple answer: We eat everything! The only thing we dont eat is dead animals along with all kind of living beings, breastmilk from other species than our own, and cruelity.
Can you stay healthy when you dont get proteins and nutrients from meat or dairy?
Answer: You will even get healthier when you limit your meat and dairy consume, and feel lighter, energized and more connected with the universe and all living beings.
Second: LIFE
Today I just want to motivate you all to inform yourself, to step out of your comfort zone, to question your believes and to spread love whereever you are. Start with yourself. Go outside your routine. Break yourself free. Leave an unpleasent environment.
Ask yourself two questions:
who do I want to be?
what do I want to do?
---
Live the life at it fullest! Dance, create and dont care about what others might be thinking about you, you are thinking that about yourself.
Are you afraid of being old? Or to die? What is there to be afraid of, except for your thoughts? Nothing. The worst thing that could happen, is a thought.
---
Waiting... for what?
Yesterday I was celebrating my birthday, and you know what, I love to get older! I love to celebrate life! I love to live!
I do what I love, and the only thing I can imagine can be hard when you getting old, is the regret of not lived your life at it fullest.
What are you waiting for? Your exam? Your marriage? That house you dream about, or your dream job? Or just the right partner, why not wait until you are having children, then you can live. Many wait for the retirement. Or for the government to be replaced, next year for new possibilities. That day when I am old enough. But I need disappoint you. You will never find that right moment if you are waiting to change your life and live happy. Because the moment is only now. Either you want it or you dont want. Dont come with excuses. You just fool yourself.
Sorry (I am not sorry), for writing the truth, my truth. I need to do that from time to time. And today is monday, the perfect day for life changing decisions. Just kidding. Every day is the perfect day for it!
I hope you feel excited, or uncomfortable when you read this, than you are looking at something you need to pay attention to.
I got the question many times yesterday, how does it feel to get older? (I am now 28 years old, born 1990.)
I think that is fantasic! Dont we all want to live until we are very old, feel happy and know we have lived thelife we wished for? Who wants to die young? Not many want to die young, but so many want to stay young forever. What does that mean? Are we in a waiting modus? Do we want our life to be in the future but wait for living it?
Life is an adventure, we are travelling and when our journey ends, we´ll come home, and who knows whats waiting for us, isnt that just as much exciting as it is to live? So why not just learn about our self, do what we are burning to do, and dance through life with that fire inside us?
Dont wait! Your life is now, right here, right now.
You are a truth seeking spirit, and you feel it deep inside when something is right for you, and when it is now. It is like this for me right now, I am writing as fast as I can and just follow my thoughts, the fingers dance over the keyboard, because I know that these words are truth for me, and I dont need to think twice to know that. When something doesnt feels right, just dont do it, change it, choose your life in this moment.
---
I choose my belives
I dont need to waste my life by doing things I dont like, love. I dont need to waste lifes because I am hungry. I dont need to waste the planet because I am unsecure about my look.
I take charge of my life. Now. And so do you.
Noone else is responsible for your anger, for your sadness. You are. Or rather the thoughts you belive in are responsible for your misary or heaven. Replace destructive thoughts with loving thoughts, you dont need to force away bad belives, just question them (my tips: Byron Katie and The Work) and find a belive that is more aligned with you.
If you think you are stuck in your life right now, you probably are. But the good news is, even small changes have huge impact on your daily life, and step by step your life will transform the way you imagine.
If you cant change the outside world, dont worry, you can ALWAYS change your inner world. In every situation, everywhere. Noone can take away your freedom, only you self have that power. Freedom is your birth right.
You are awesome, you are amazing.
---
So, lets take a quick look at this beautiful spread of natures gifts: Fruits and Vegetables from our mother earth. Thank you.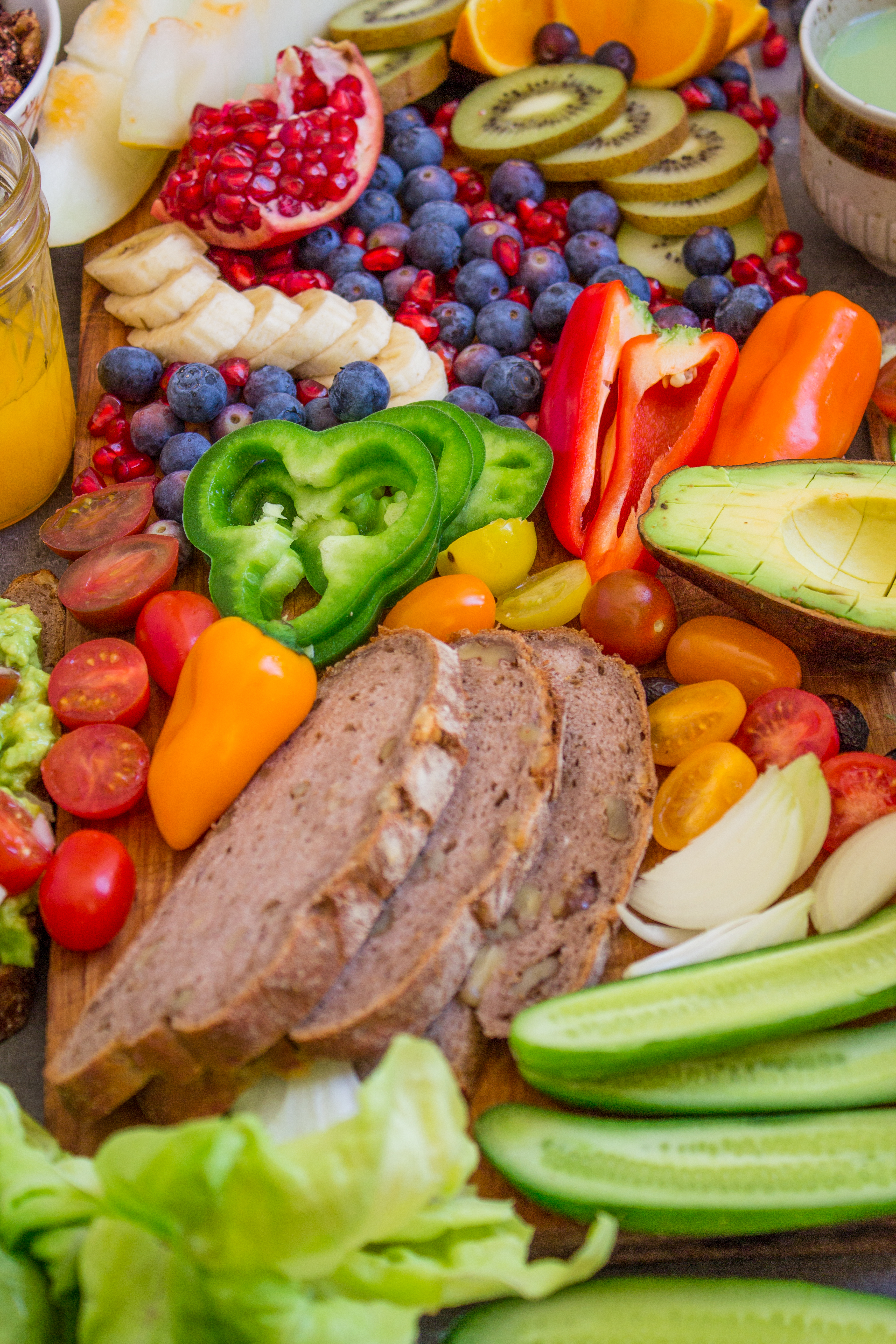 As you probably can imagine, this was my birthday breakfast/brunch/lunch, yes all of it!! We just kept eating, it was no ending of the yummines. Food porn overloaded! And to be honest, this was just the beginning, later I made a heavenly pizza with all my favourite toppings and my own homemade cream cheese, and in the evening, me and my loving partner (thanks Ebi), enjoyed HALF of the cake I made (creamy texture, vanilla, chocolate, roasted hazelnuts... cant tell more about it at the moment, as I dont want to make you drool to much), it was (yes today we ate the rest of it, not a crumble left!), the best cake I have made so far. Of course I took some pictures for you, so I can share the recipe later this week, perhaps in my next post, so really stay tuned! You dont want to miss it. It is pure heaven. I know, I shoudnt have told you, because you will start dreaming about it, and be unpatient with me until I share it. Sorry again, not a bit!!;) Lol. I am having so much fun right now. Would love to get into you mind.
Until then, see you!!

Of course I didnt forget about my dear friend Lena´s @lenasveganliving weekly challange that I love to support and join today with my fruit- and veggie platter. #fruitsandveggiesmonday
Check out my friends contest here!


Love, Niina
Check out my instagram and blog for many simple and healthy vegan recipes.
---
While you are still here, take your time to check out my other recipes and recent posts:
Pancakes:
---
Poetry & Inspiration:
This MOMENT- POETRY AT THE AIRPORT
How to find your inner purpose in life❤
---
Thank you all! ❤
I want to inspire you to live your dreams, eat delicious, wholesome, nourishing, healthy food, and keep a creative mind. We all can do that, now!❤
---
All images are mine. Please dont use without my permission.