Hi sweet souls on Steemit! Its already time for the third part of my Ramson Food Series, and I have at least two more to come! This week I am going crazy about this amazing plant and showing you a lot of ideas how to eat it!
If you have missed part 1 or part 2, check them out!
What about a different kind of pizza today, with a ramson spread, grilled eggplants and tomatoes, and a nice avocado dip!
The combination is really worth trying! I love eggplants baked or grilled, and this was the first time trying it on pizza. With baked tomatoes and a tasty avocado dip on a pizza crust with a ramson spread, it tasted just fantasic! If you have been following my blog for a while, you know how much I love to add avocado on my pizza, it just top it all in taste and texture! (Here is one other pizza recipe I have shared before.)
My pizza is:
100% gluten free
filled with nutrients
healthy
easy to prepare
sooooo delicious!
Before you are getting very hungry, I will share the simple recipe with you guys!
Ramson Pizza with Baked Eggplants, Tomatoes and Avocado dip!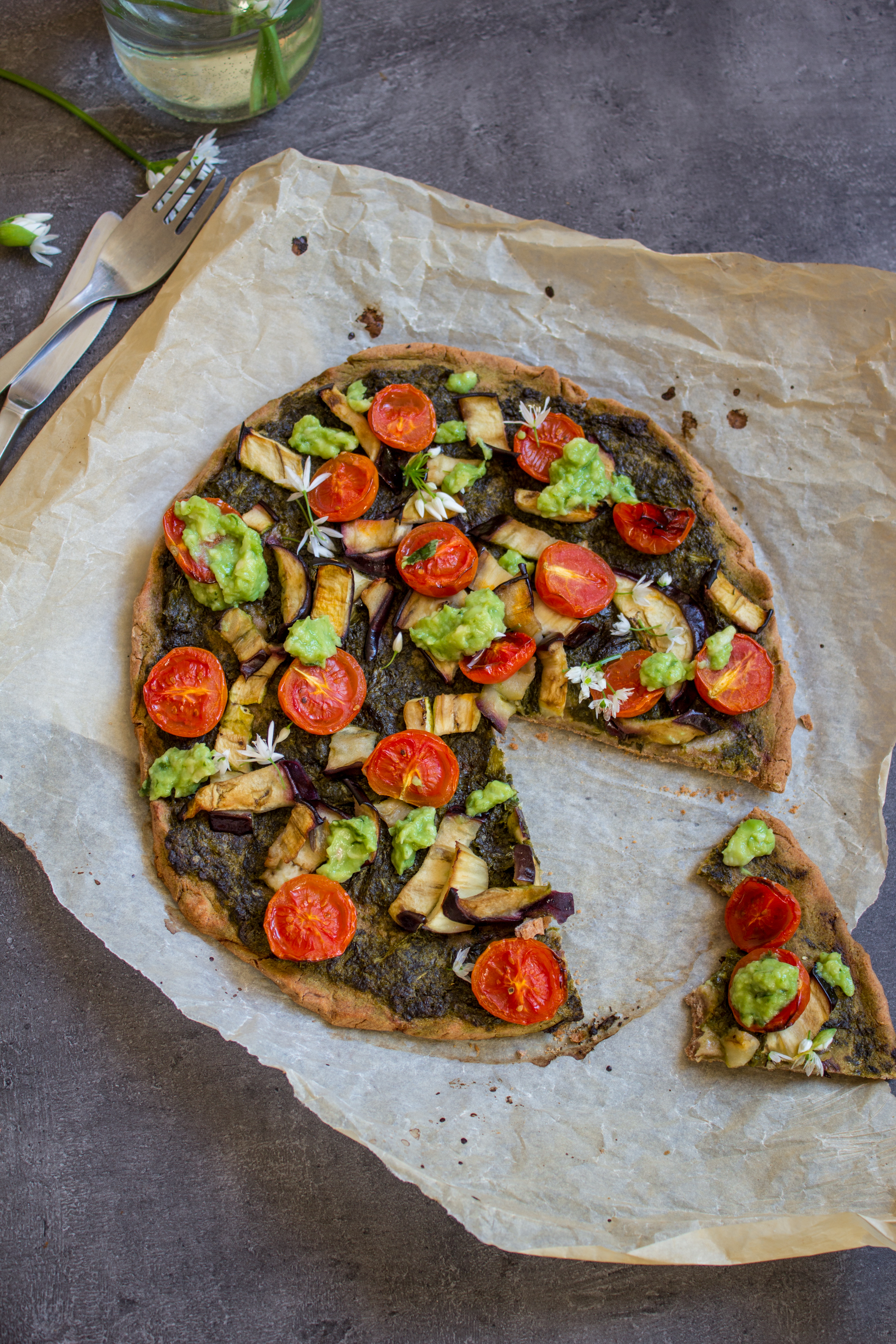 Recipe:
For the ramson spread:
1 bunch ramson leaves
1 garlic
1/2 lemon (the juice)
2 tbsp virgin oilve oil
sea salt to taste
Toppings:
1 eggplant
100-200 g tomatoes
Avocado Dip:
1 avocado
some ramson leaves
juice from 1/2 lemon
sea salt and pepper to taste
dash virgin olive oil
Base:
225 g mixed gluten free flours (almond, buckwheat, or any all purpose gluten free flour)
1/2 tsp sea salt
2 tbsp virgin olive/virgin coconut oil
water or aquafaba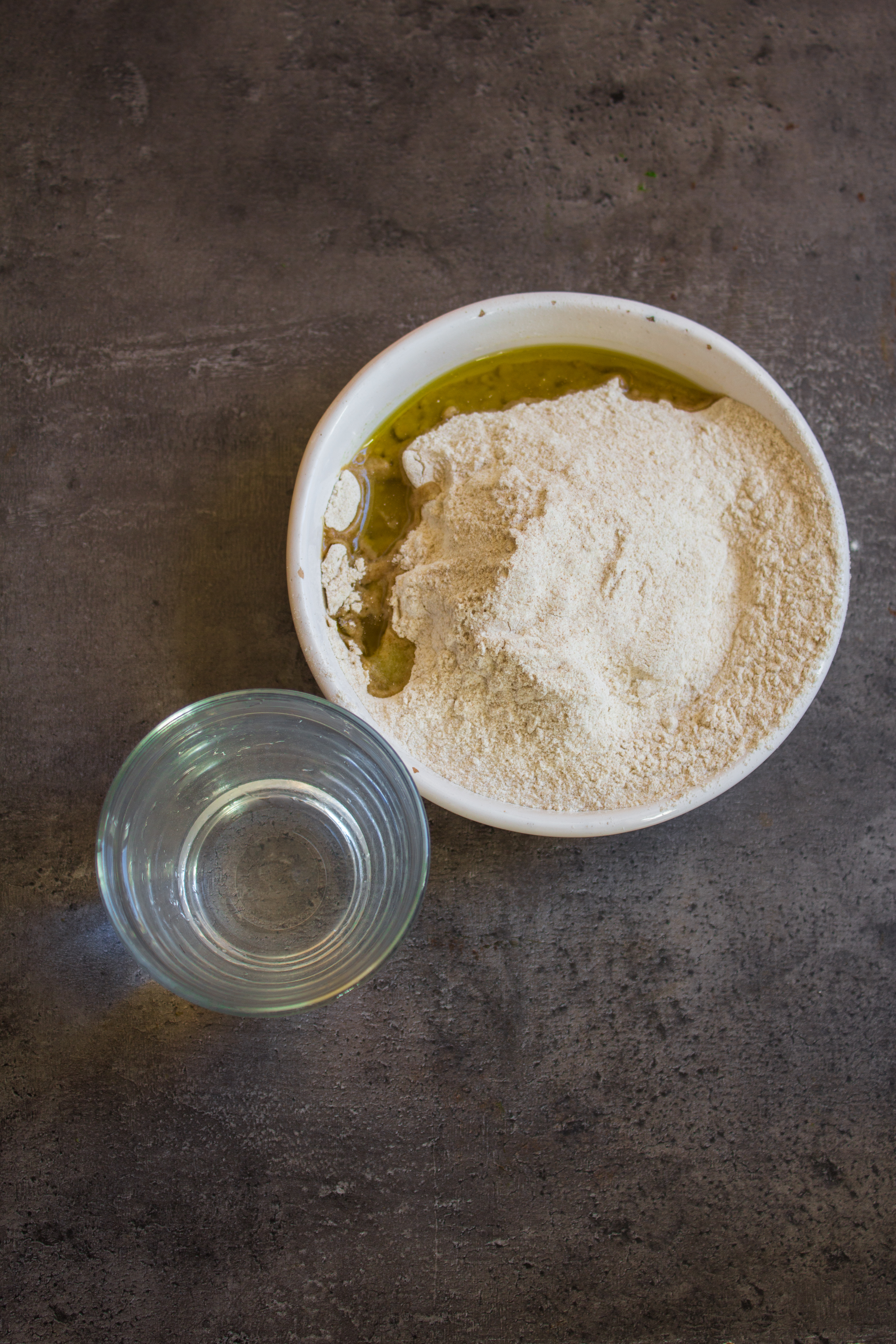 Method:
for the base: mix the ingredients for the dough in a big bowl by hand or with a wooden spoon. Add water little by little until the dough sticks well together. Knead the dough for a moment or two.
press out the dough on a parchment paper.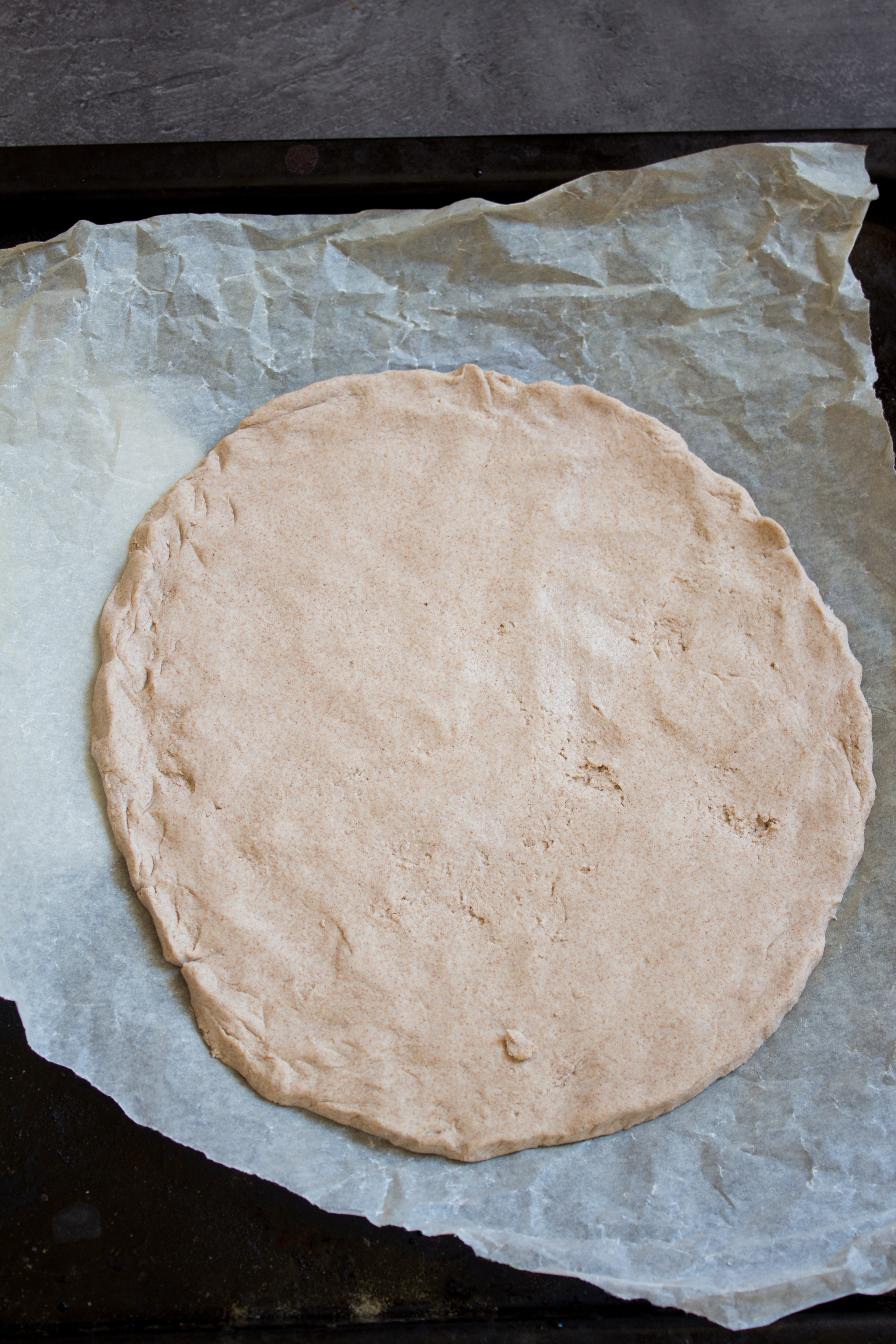 Blend the ingredients for the ramson spread in a blender until smooth.
spread out the ramson pesto on the pizza base.
chop the eggplant in even pieces and knead them in some sea salt and coconut oil. Add as much as you like on the pizza. Chop the tomatoes and add them also on the pizza.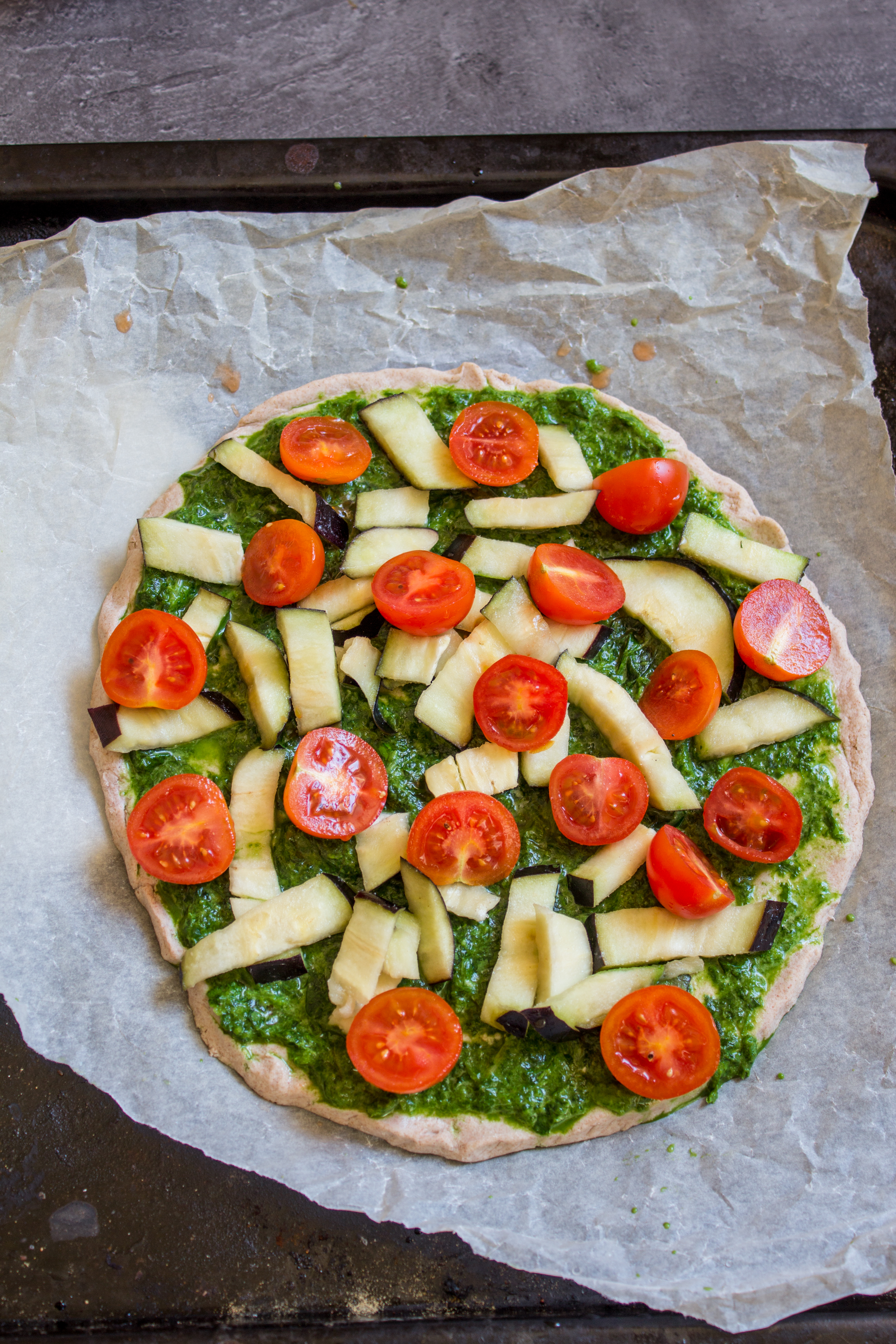 Bake the pizza at 180 degree celsius for 40-50 minutes.
Blend the ingredients for the avocado dip and enjoy it with the pizza. (Btw, you can of course also top your "pizza" with vegan cheese or anything else, its really up to you! I would love to add some olives the next time I make this one! Olives is so tasty on pizzas!)
Enjoy!!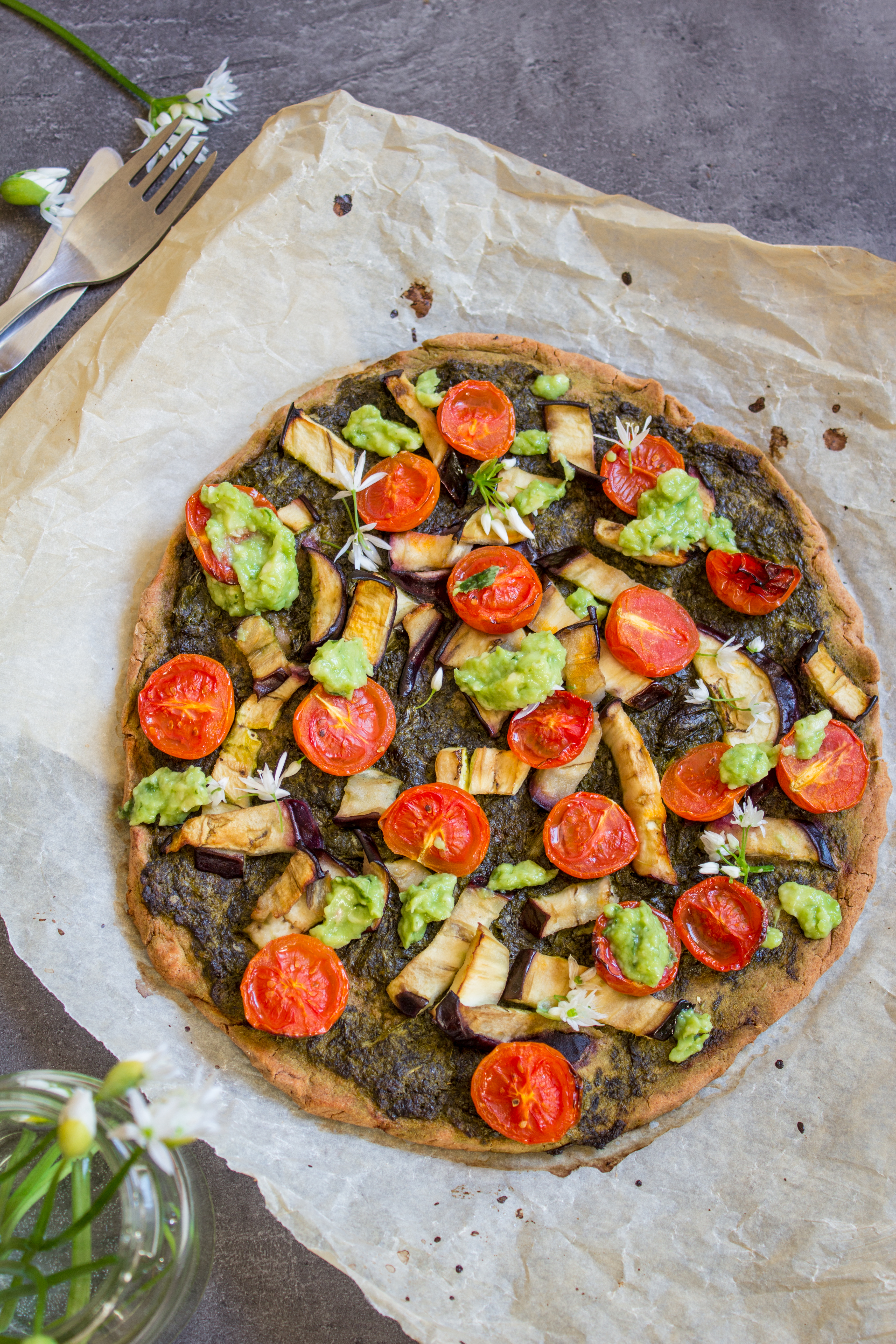 So how did we enjoy this pizza? On a picnic! Because we have wonderful sunny summer days right now in Austria and spend as much time as possible outside! I have also noticed that I am craving light food at the moment, more cold dishes and soups, so the next part of the ramson food serie will focus on that!;)
I want to send this pizza virtual to my dear @heart-to-heart (missing you girl!!) and her amazing contest #VeganWednesday ! Wish I was on Bali with you to enjoy this pizza and a glass of fresh coconut water!;)
Until then, enjoy your weekend guys! Love you all, you are simply the best, and I am always happy to connect with you here on Steemit and outside Steemit! Thank you for being part of my foodie journey!;)
---
I am a proud member of:



Love, Niina

---
Cant get enough? You can alo find me here:
---
While you are still here, take your time to check out my other recipes and recent posts:
Granola in 10 minutes! Recipe

PEANUT BUTTER-CHOCOLATE CUPS with roasted hazelnuts Recipe
Pancakes:
---
Life & Inspiration:
---
Thank you all! ❤
I want to inspire you to live your dreams, eat delicious, wholesome, nourishing, healthy food, and keep a creative mind. We all can do that, now!❤
Health starts inside our mind.
---
All content and images are mine and original. If you want to share my work, you are welcome. Just remember to tag me.