Hi guys!! Wow, did I just wrote Cream Cheese? But how can it be VEGAN? I will show you how to make it possible with a few steps. But first let us admire the beauty of the food I made today:
Why this pasta with Creamy Dreamy Vegan Cream Cheese is the one and only for lazy days:
Secret number one: it took me only 10 minutes to make my pasta and cream cheese!
Secret number two: my little boy absolutely loved it!! He got a plate with the legume pasta and cream cheese while I was taking the pictures, and he was quiet all the time, which means he devoured it! (He wanted more when I came with my plate.)
Secret number three: this pasta is made out of yellow lentils and is 100% gluten free and full with proteins and nutrients. (Kids love pasta, so why not choose a healthier one the next time.)
Secret number four: this is my method to make sure my little one get all the nutrients he needs from seeds and nuts. (He dont eat whole nuts, because its difficult for him to chew.)
Secret number five: I am sure you will love this dish as well when you try it out!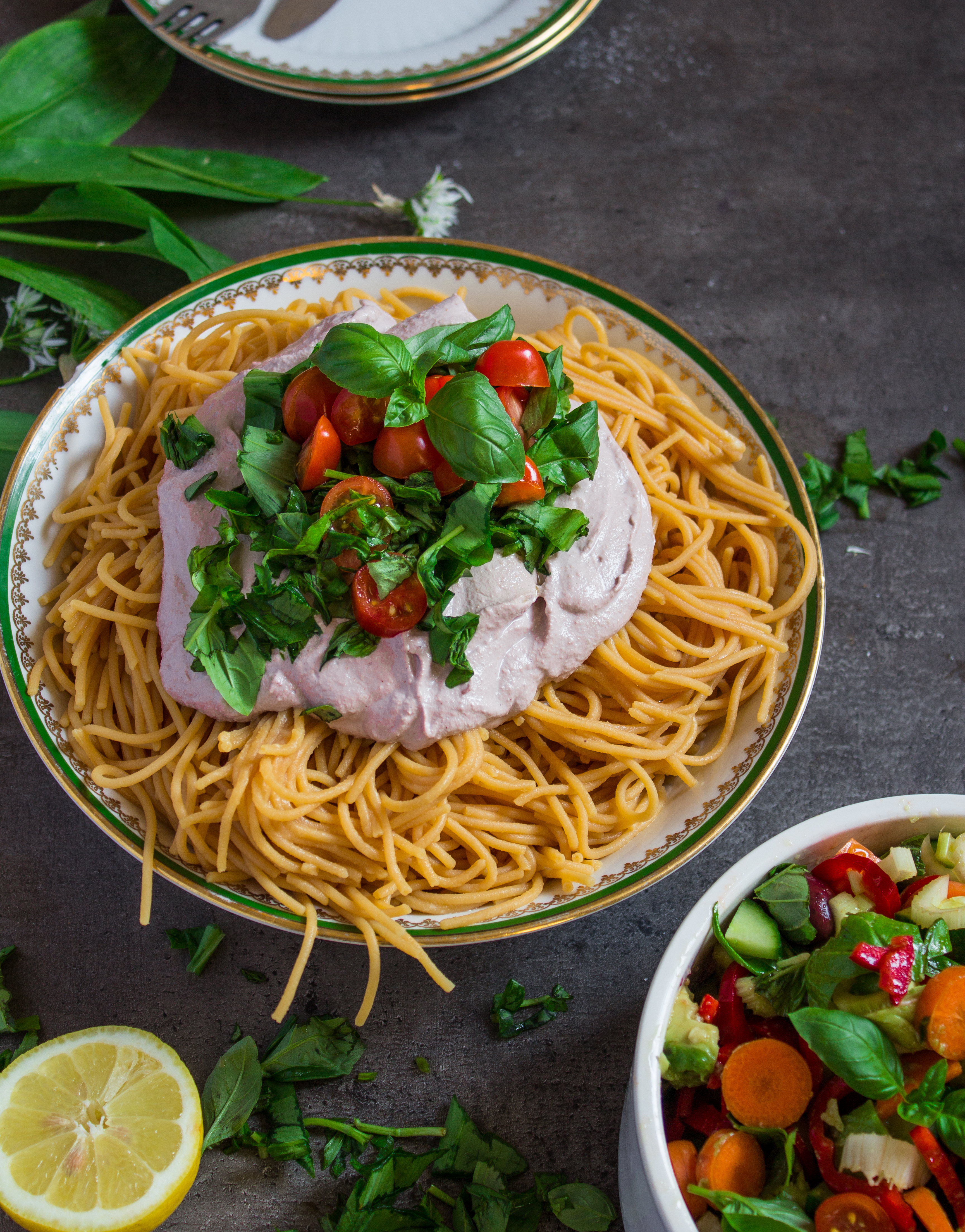 Sometimes (or actually very often), I make a simple pasta dish like this one with a creamy sauce to add to it. The great thing about sauces you make in a blender, is that you can add everything healthy, and everyone will eat it!
So lets go straight to the recipe!
Vegan Cream Cheese and Legume Pasta
Cream Cheese Ingredients: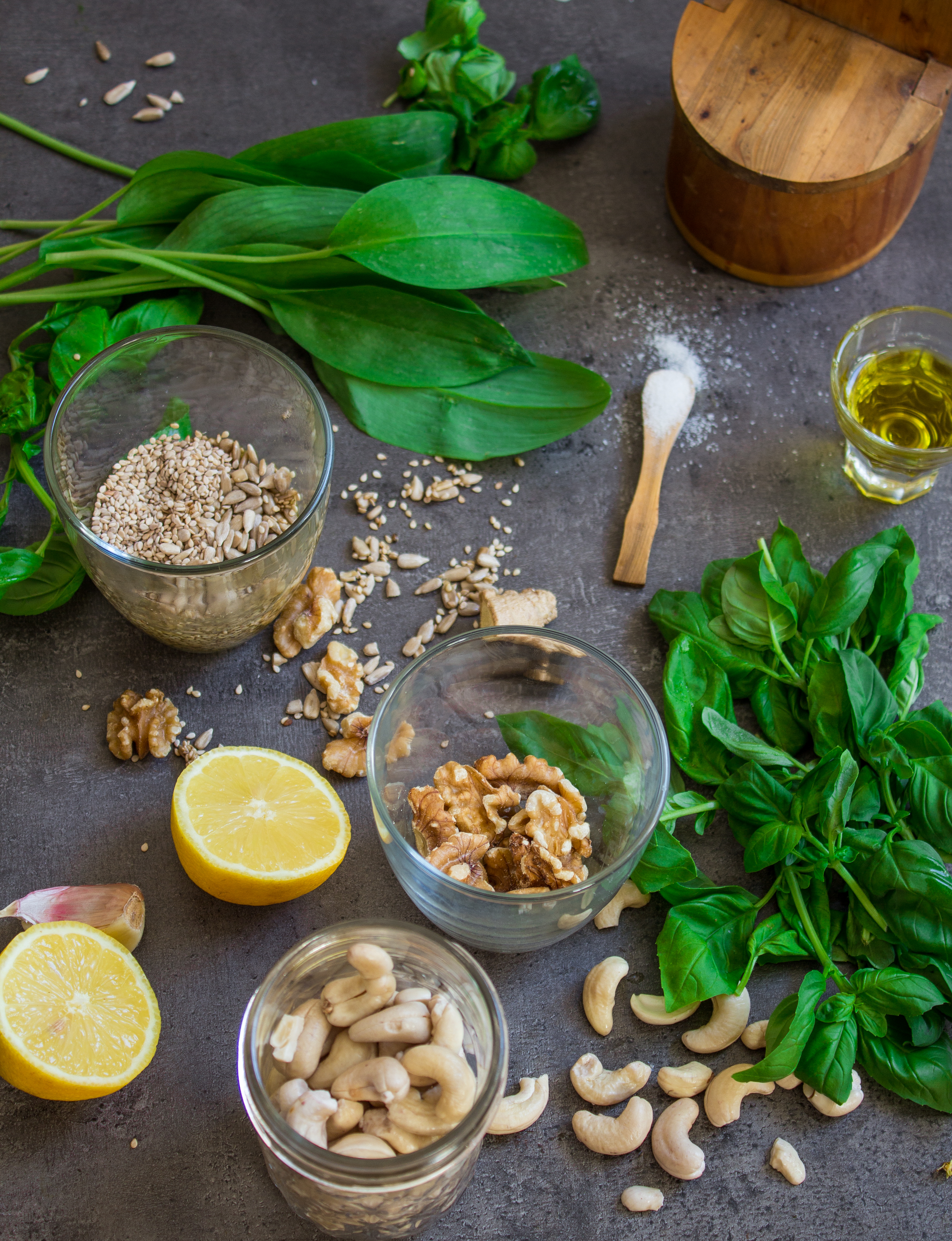 1/2 cup cashew nuts (soak them overnight or at least 3 hours)
1 garlic
juice from 1 lemon
1 small piece of ginger
sea salt and pepper to taste
2 tbsp virgin olive oil
1 handful sesame seeds
1 handful walnuts
1 handful sunflower seeds
1/2 cup of water
Optional:
Basil, ramson and small tomatoes to garnish.

Yes, he loves to eat and play with the food. Always a good sign!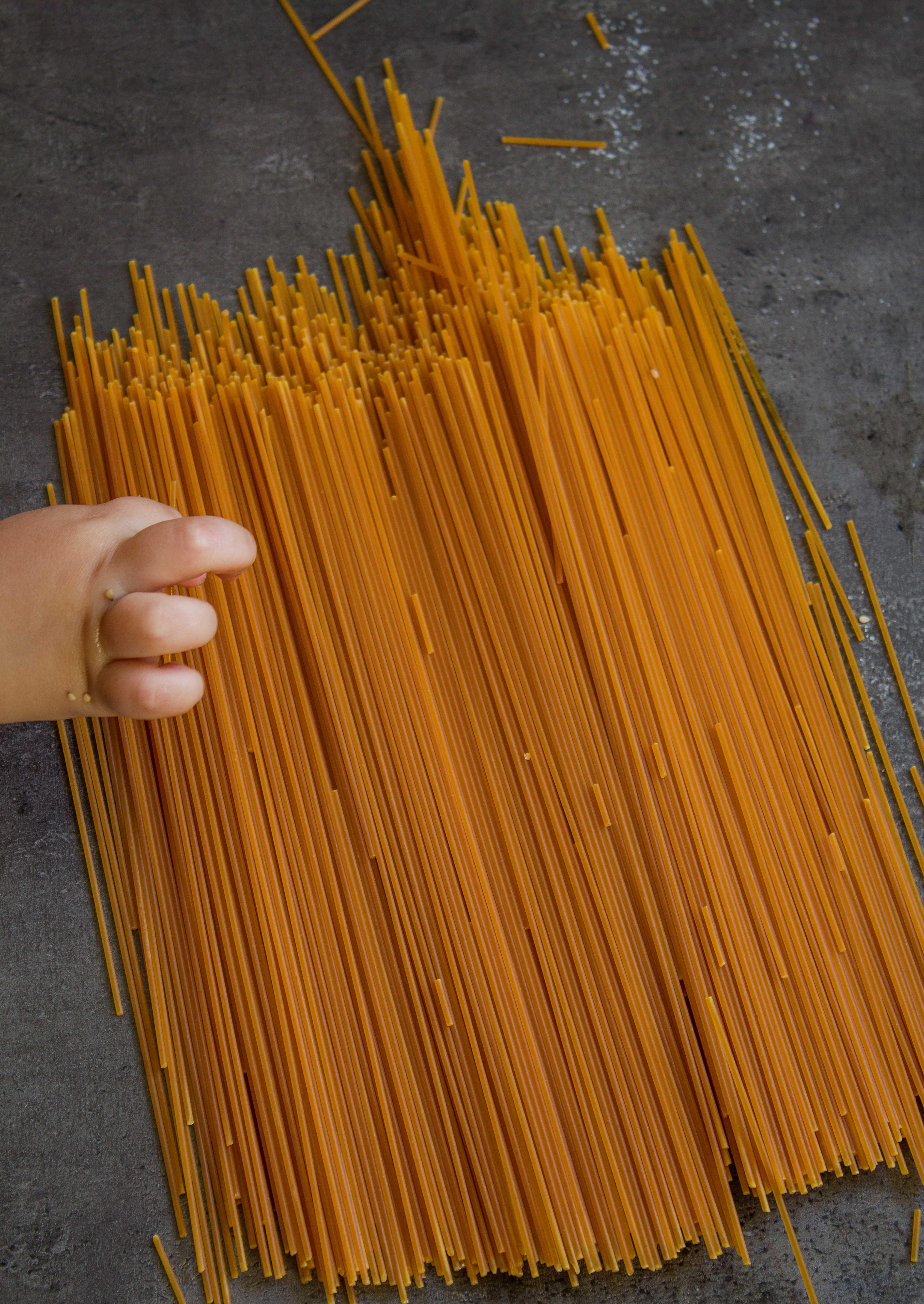 Prepare the pasta (optional made of legumes!). Cook until al dente.
Blend the ingredients for the cream cheese in a blender or food processor until very smooth.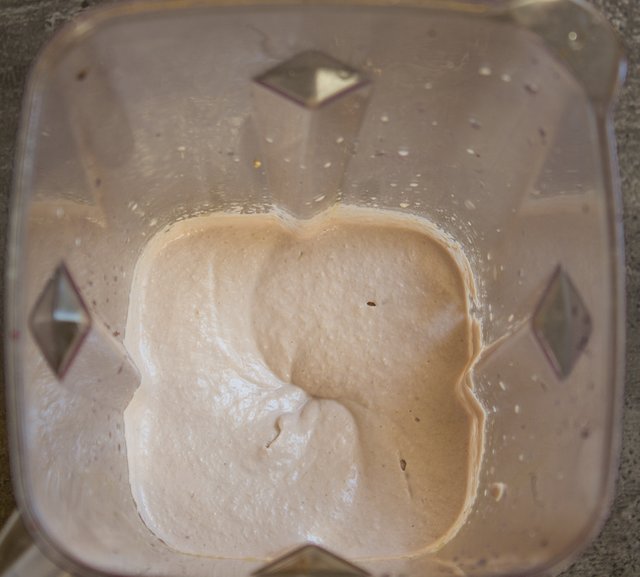 Add the cream cheese, chopped basil, tomatoes and ramson to the pasta and enjoy!
Serve with a rainbow salad filled with fresh veggies and herbs!
Simple and delicious meal in 10 minutes for hungry people ;)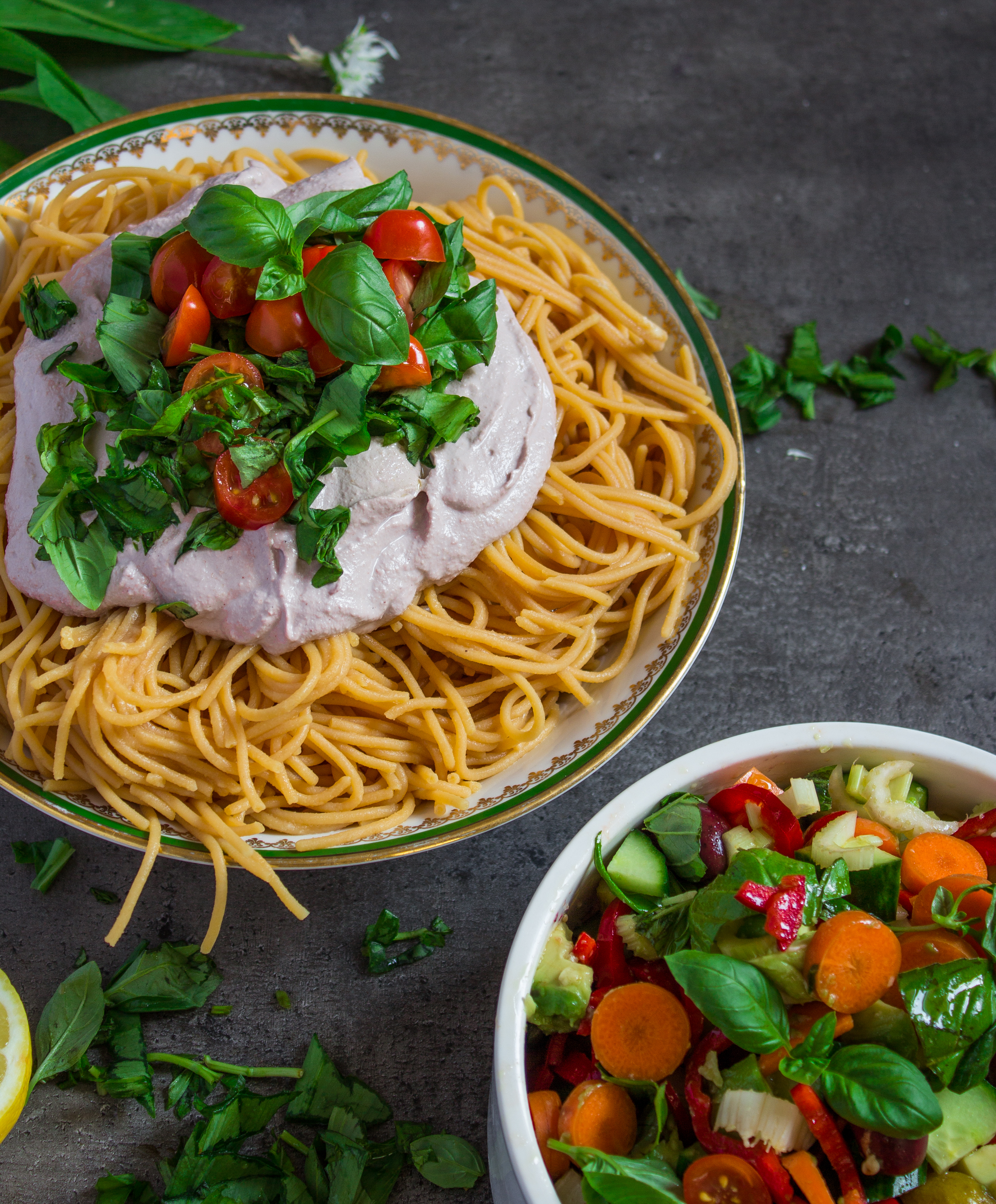 I hope I have inspired you to create healthy and beautful food, a bless for the eye and for your gut!
Today I have created 2 new recipes, but before that we spent some hours in the forest. Its summer time in Austria, so it feels so great to stay as much as possible outside in the nature. We also had a lazy morning in bed, the three of us, which was just what we needed middle of the week;)
This is my entry for this week #veganwednesday by my dear and very talented girl @heart-to-heart !!!
---
I am a proud member of: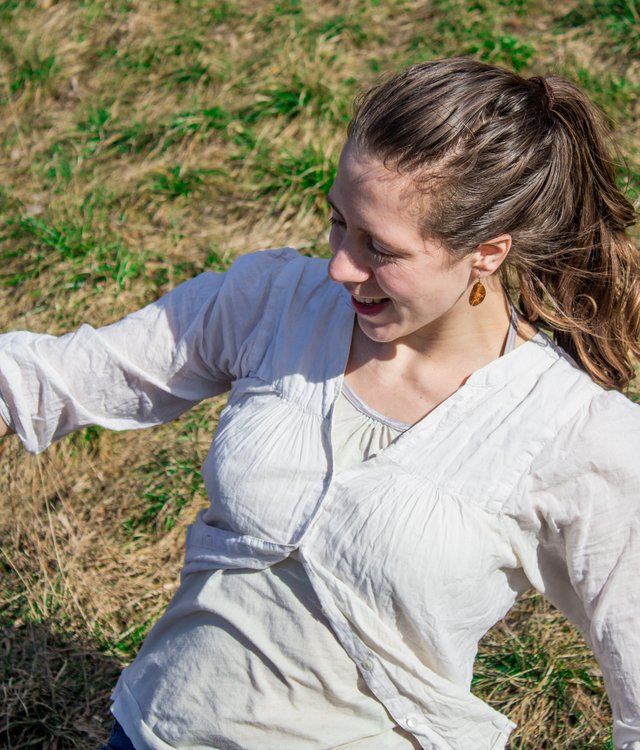 Love, Niina
---
Cant get enough? You can alo find me here:
---
While you are still here, take your time to check out my other recipes and recent posts:
Granola in 10 minutes! Recipe

PEANUT BUTTER-CHOCOLATE CUPS with roasted hazelnuts Recipe
Pancakes:
---
Life & Inspiration:
---
Thank you all! ❤
I want to inspire you to live your dreams, eat delicious, wholesome, nourishing, healthy food, and keep a creative mind. We all can do that, now!❤
Health starts inside our mind.
---
All content and images are mine and original. If you want to share my work, you are welcome. Just remember to tag me.